Delta 8 THC Florida
In Florida, there's no shortage of fun things to do and adventurous places to go. Family-friendly destinations and slinky nightclubs dot the sunshine state everywhere you look. And luckily, Delta 8 THC Florida laws are clear about one thing: hemp is legal! Why not take advantage of that while you're soaking in the sun? For those that want to add a little kick to their time down in the US tropics, Delta 8 might be the thing to do just that.
Delta 8 comes from the hemp plant and packs one heck of a punch. What exactly is it, and what does Florida law say about Delta 8 THC? Read below for these answers and more.
What Is Delta 8?
Delta 8 (also called Delta 8 THC or D8) is a compound made in the hemp plant that occurs in very small quantities. D8 THC is a potent substance that can cause euphoric feelings. Delta 9 THC is the compound present in marijuana in large quantities that cause you to feel high, but it is different than Delta 8. Though they are structurally similar, the difference is that Delta 8 is more stable and is less likely to cause negative side effects like paranoia.
Delta 8 influences the body's endocannabinoid system (ECS), affecting how our minds and bodies work. The ECS plays a role in brain and heart function, memory, nerves, digestion, and more. Delta 8 works with the ECS to help regulate this system and cause desirable effects on your mood and focus.
Delta 8 THC is in all hemp plants, albeit in less than about 1% of the plant's total composition. Since Delta 8 THC comes from the hemp plant, it is legal under federal law. A lot of Delta 8 THC is needed to make quality, potent products, so a manufacturing process called isomerization is used to obtain more. This process converts cannabidiol (CBD) into Delta 8.
CBD and Delta 8 THC are hemp-derived cannabinoids with similar structures, making it (relatively) easy to change one into another. If you create a double bond on the 8th carbon chain of CBD, you get Delta 8. We achieve this through a simple chemical process.
What Delta 8 Products Are There?
We can make many products with Delta 8 THC, ranging from vape juice you can smoke to edible gummies you can eat. There are many Delta 8 products to suit the consumer's every need and desire, making it a hot agricultural commodity in the United States.
Delta 8 edibles are desirable for those that want longer-lasting effects in easy to take formulas. Edibles like gummies are very popular because of their delicious fruit flavors and the fact that they look like any other candy, providing consumers with discretion. Other edibles exist for convenient consumption, such as pre-dosed soft gels and even oil tinctures! Oil is a versatile product because you can get so many uses out of it: as a stand-alone product or as an additional ingredient in your next meal or drink.
For those who would prefer to smoke or vape their Delta 8, many strains of D8 flower and flavors of carts are available on the market.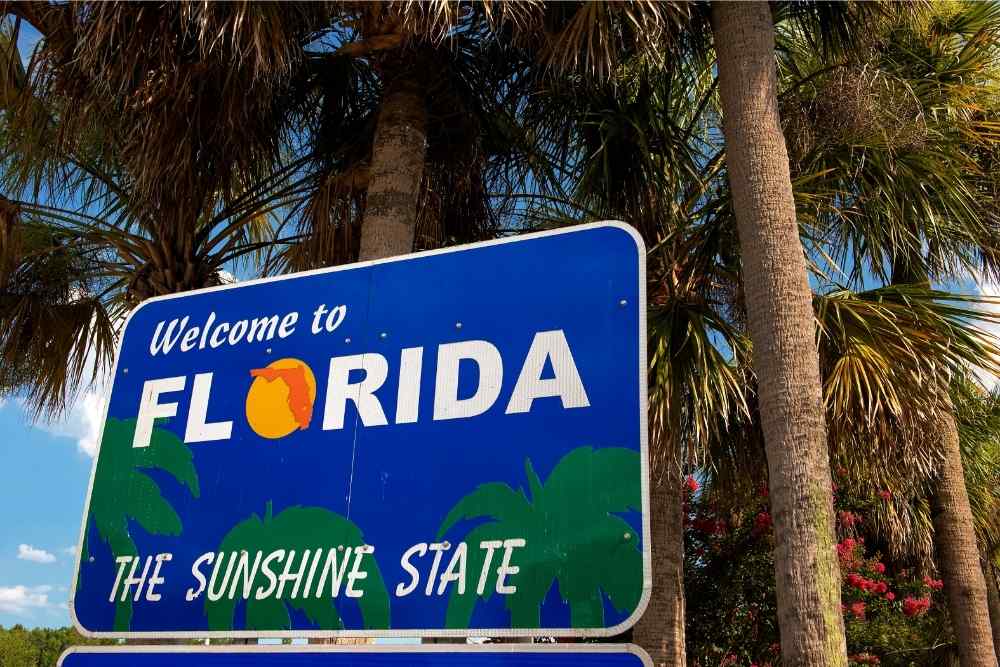 Is Delta 8 THC Legal In Florida?
Yes, Delta 8 THC is legal in Florida! You can travel to Florida with Delta 8 products as well as purchase and consume them in the state. However, they must meet the federal guidelines regarding hemp: 0.3% Delta 9 THC or less.
Previously, any products derived from the plant Cannabis Sativa were deemed controlled substances in the United States. The federal government passed the 2018 Farm Bill, which classified industrial hemp as federally legal. This means that any hemp-derived products—including Delta 8—are federally legal. Each state gets to decide on their own hemp laws.
Senate Bill 1020 was passed into Florida state law in 2018, which removed all hemp derivatives like cannabinoids, terpenes, and flavonoids from the Drug Abuse Prevention and Control Act, declassifying Delta 8 THC as a controlled substance.
How Old Do You Have To Be To Buy Delta 8 in Florida?
Generally, you need to be at least 21 years or older to buy Delta 8 THC in Florida. You can find products containing D8 made from hemp in limited stores around Florida, but you can also legally purchase them online and have them delivered directly to your door.
Where Can I Buy Delta 8 THC In Florida?
Delta 8 THC is available in many stores that also offer CBD products, such as smoke shops or dispensaries. Of course, you can always hunt down Delta 8 in a physical store. But the easiest and best way to find your favorite Delta 8 products is at Exhale Wellness!
Exhale's mission is to fill the gap in the industry where organic and quality Delta 8 products should be. To do this, we only source our hemp from US farms and have each of our products tested for potency with third-party laboratories. Every bud we sell is organic and packed with rich terpenes for a unique flavor in every flower strain. These same qualities extend to our vape carts, gummies, and dabs.
Of course, we want you to find not only the best products but also at the best prices. Use the code FLORIDA15 at checkout to get 15% of your entire order!
Still, we understand wanting to look at your options before making a decision, so be sure to check out these highly-rated Florida shops if you'd prefer to browse in-person:

Canna Ocho
1829 SW 8th St Unit A, Miami, FL 33135
Phone: (305) 409-4230
Tallulah CBD + Juicebar
1410 Market St C-4, Tallahassee, FL 32312
Phone: (850) 320-6465
LGH Dockside Dispensary
63 Baymont St, Clearwater Beach, FL 33767
Phone: (727) 600-8681
Leafy8
360 Wilshire Blvd Suite 103, Casselberry, FL 32707
Phone: (855) 453-2398
Can Delta 8 Products Be Shipped To Florida?
Exhale Wellness ships to many states in the US, including Florida! This is because hemp is legal according to Florida laws. And to make the experience even easier for you the consumer, services like free shopping and a money-back guarantee add to your confidence when shopping. You can find a complete list of where we ship on any product page.
Final Thoughts – Where to Buy Delta 8 THC In Florida
While recreational marijuana has lukewarm reception in most parts of the US, Delta 8 THC has a warm welcome in Florida. The effects of Delta 8 are much milder than marijuana and still have a huge impact on the body. Why would you ever look for another product again with Delta 8? It's legal, potent, and safe to consume. Of course, this also depends on where you purchase from. Brands that are reputable and source their hemp from trusted farms are generally the best, and anything else will be a risk to your wellness (and wallet!).