Mouth-watering flavor, smooth vapors, and high-grade Delta 8 THC.  Exhale vape cartridges are the best way to experience Delta 8 with friends or on the go. Formulated without MCT, PG, VG, or PEG oil, our carts set new standards in the industry. Each cartridge contains 900mg of Delta 8 THC and natural flavors. These Delta 8 vape cartridges include all organic, food grade terpenes extracted from plants and only the best rated 100% Authentic C-Cell Cartridges in the country.
If you're unfamiliar with the jargon, "cart" is short for a cartridge, or more specifically, a vape cartridge. Carts are prefilled containers that hold a combination of hemp-extracted cannabinoids in a liquid form.
These cartridges are interchangeable and work with 510-thread vape pens that vaporize the liquid inside to allow you to smoke it. The carts contain a proprietary blend of Delta 8 hemp extract and terpenes for smell and flavor. This blend brings you all the benefits of Delta 8 in vape form.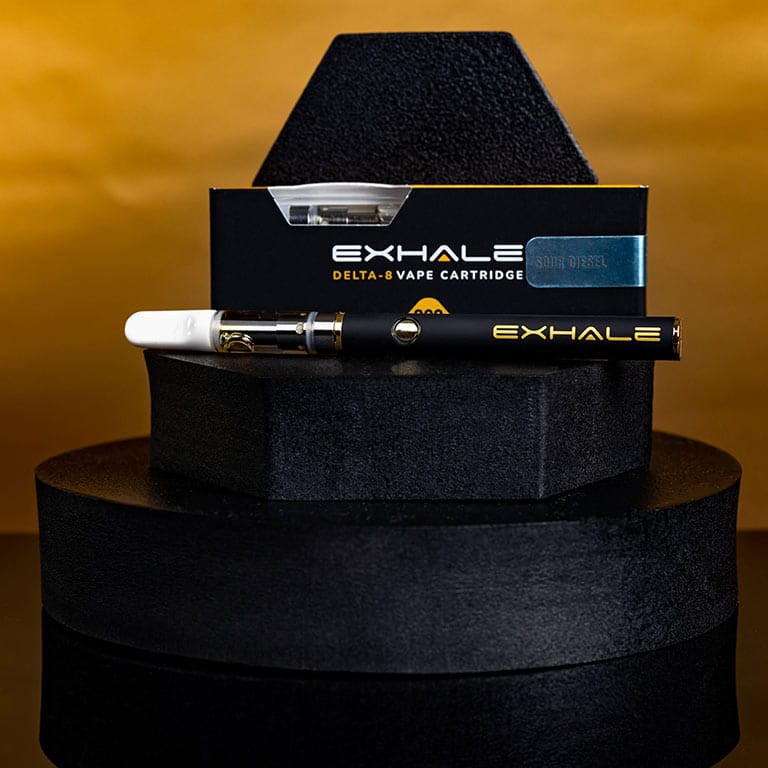 Know about Delta-8 cartridges
If you're ready to unwind but are having a hard time relaxing on your own, Delta 8 carts may be the solution to your troubles! Delta 8 is the latest (and one of the more potent) cannabinoids available on the market today, boasting a variety of products that deliver maximum benefits.
Delta 8 carts are specifically tailored for those looking for an easy-to-use method of Delta 8 THC stimulation that works instantly. Exhale Wellness provides the highest quality Delta 8 products, including our amazing vape carts. Interested in trying vaping? Read more to find out if vaping is the best method for you!
How do Delta 8 Vapes Work?
Exhale Wellness vape carts work by pressing a button that triggers an artificial heat source that warms the Delta 8 vape juice in an internal tank. The juice is a blend of Delta 8 hemp extract and terpenes, which give our vapes their unique tastes and smells. The heated liquid is changed into a vapor that you inhale to feel its effects.
How to Vape
To get started on your Delta 8 THC vape journey, attach an Exhale Wellness Delta 8 vape cart to a 510 type battery. Place your lips over the mouthpiece, press the battery button, and inhale. It's that easy!
Dosing
It's best to start small when figuring out the right dose of Delta 8 THC. As a general recommendation, 10mg is considered a regular dose, but for first-timers, try an even smaller dose and work your way up. For those more experienced, 100mg is considered a stronger dose.
Choosing a Vape
Before buying, make sure you are purchasing from reputable brands that communicate total transparency with their products. Product pages should tell you exactly what is in a cartridge and if it has been lab-tested by a third-party lab.
To ensure a high-quality product, potency testing guarantees the legitimacy and amount of cannabinoids in a Delta 8 THC product.
Storage and Maintenance
Vape carts will arrive with a bit of air in the tank, which is necessary to allow vaporization to occur. Over time, the juice will soak into other cartridge components like the coils, making the tank look even more empty. It's important to know that this is normal. To take care of your vape cartridge, you can also do the following: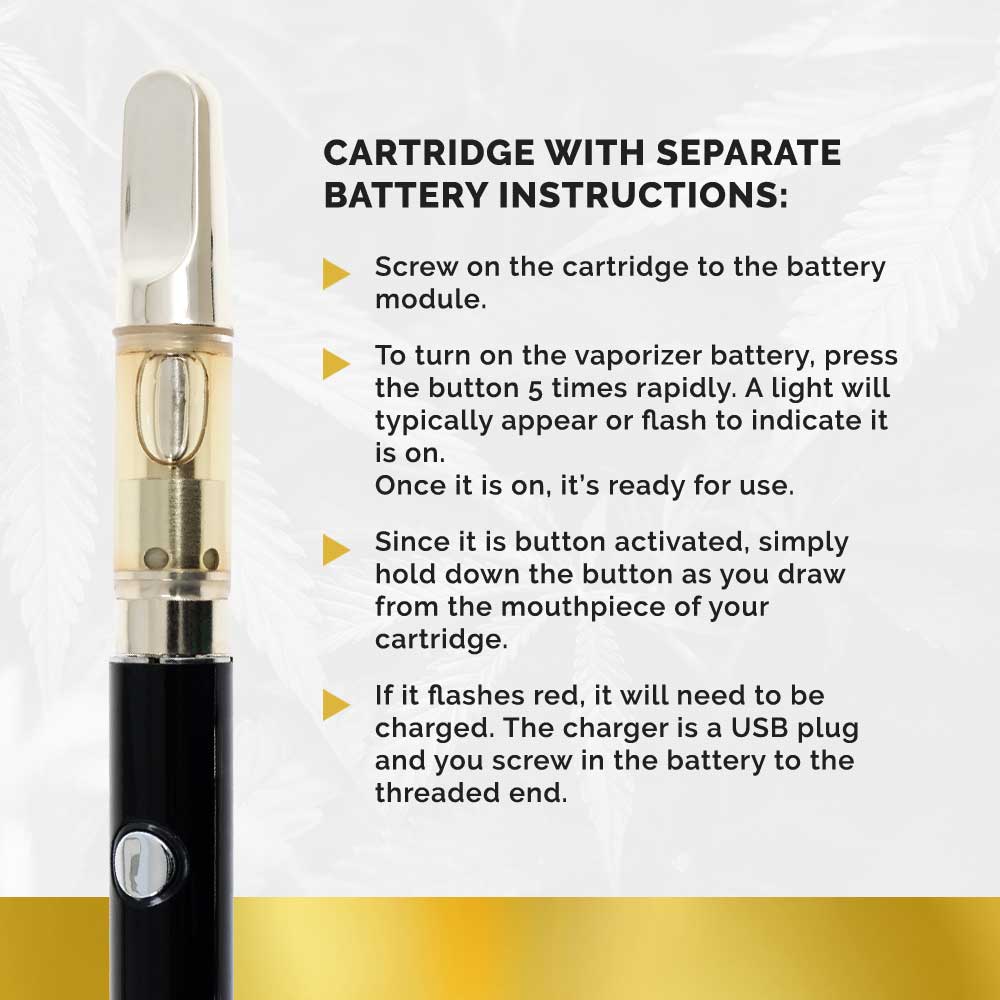 There are many strains out there to choose from, but Exhale Wellness offers the best of the best when it comes to quality Delta 8 carts! The brand offers Delta 8 derived from safe, CO2-extracted hemp and contains no harmful carrier ingredients like medium-chain triglycerides (MCT), vegetable glycerin (VG), propylene glycol (PG), or polyethylene glycol (PEG) oils.
Some of our best flavors include:
How Much Delta 8 is in a Vape Cart?
Each Exhale Wellness vape cart contains a total of 900mg of Delta 8 vape juice, but individual dosing can vary depending on how much you inhale and for how long you draw in the vapor.
Why Choose Exhale's Delta 8 Carts?
When it comes to the many ways to consume Delta 8 THC, vaping is one of the quickest and most diverse methods. Inhalation is one of the fastest ways to enjoy Delta 8's effects. Best of all, vape cartridges come in a range of flavors and smells that make consuming Delta 8 a treat!
Delta 8 Vape Cartridges Near Me
While looking for a Delta 8 source, you may come up with some results on Google Maps simply by searching "Delta 8 carts near me." However, there are even easier ways to find Delta 8 that will yield better results in the long run. Delta 8 is a competitive market where a brand's reputation can mean the difference between accessing a high-quality product or being ripped off by a company with low-quality standards.

To find the highest quality products without dealing with an intermediary, visit a reputable online store like Exhale Wellness. Online shops are more convenient for you because you don't have to leave your house. They also provide users with higher quality than their brick-and-mortar counterparts.

Additionally, looking for D8 products online gives consumers a wider range of options. This will increase the likelihood that you will find a good brand.

Shopping for CBD online will also allow you easier access to information essential in determining the quality of a good product. If you are on a brand's website, they should provide you with lab test results called a Certificate of Analysis (COA). This should allow you to review the chemical continents of all products to ensure your brand of choice is truly trustworthy.

If you'd like consistent access to the highest quality CBD products, skip other brands and try Exhale Wellness. We provide fast and free shipping with a 100% quality guarantee or your money back, so you can trust us when we say we have a product we are confident in. So if you'd like the best Delta 8 coming from the finest labs the cannabis industry has to offer, find us online and experience quality you'll get nowhere else.