Find your ultimate center and experience bliss like never before with Exhale Wellness CBD Cartridges! Here at Exhale, we make sure your vapes never contain any PG, PEG, VG, or MCT so you can enjoy a clean experience with natural terpenes. Whether you're enjoying a puff on the go or sharing amongst loved ones, choose from ten amazing flavors from the #1 hemp company in the country.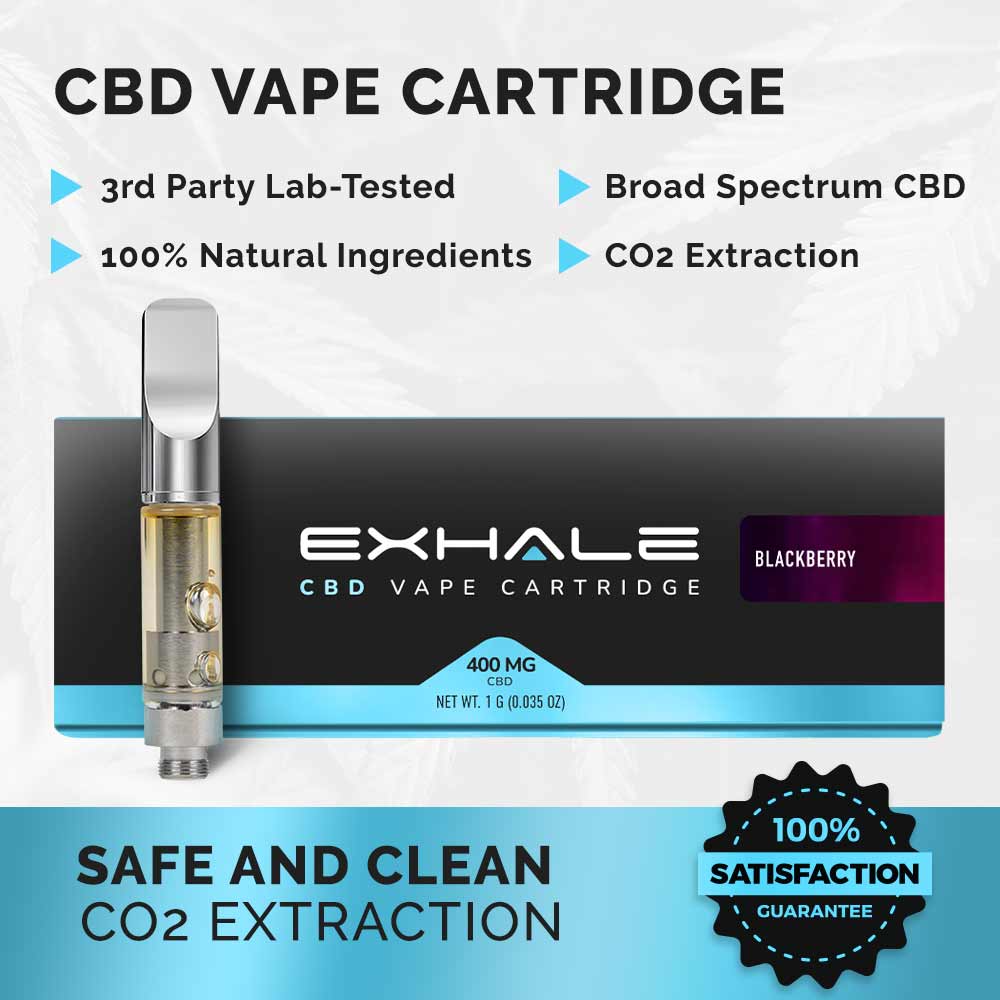 Our vape cartridges contain full spectrum CBD hemp extract, refined through an eco-friendly CO2 extraction method. Unlike many hemp companies, we do not use any VG, PG, PEG, or MCT oil in our vape cartridges. Instead, we only use natural terpenes!
Exhale's disposable vape carts feature an industry-leading atomizer compatible with any standard 510-threaded vape battery. We offer a wide selection of flavors, including popular, unique flavors like Fruity Cereal and Cactus Cooler. Let's take a look at these fan-favorite vapes!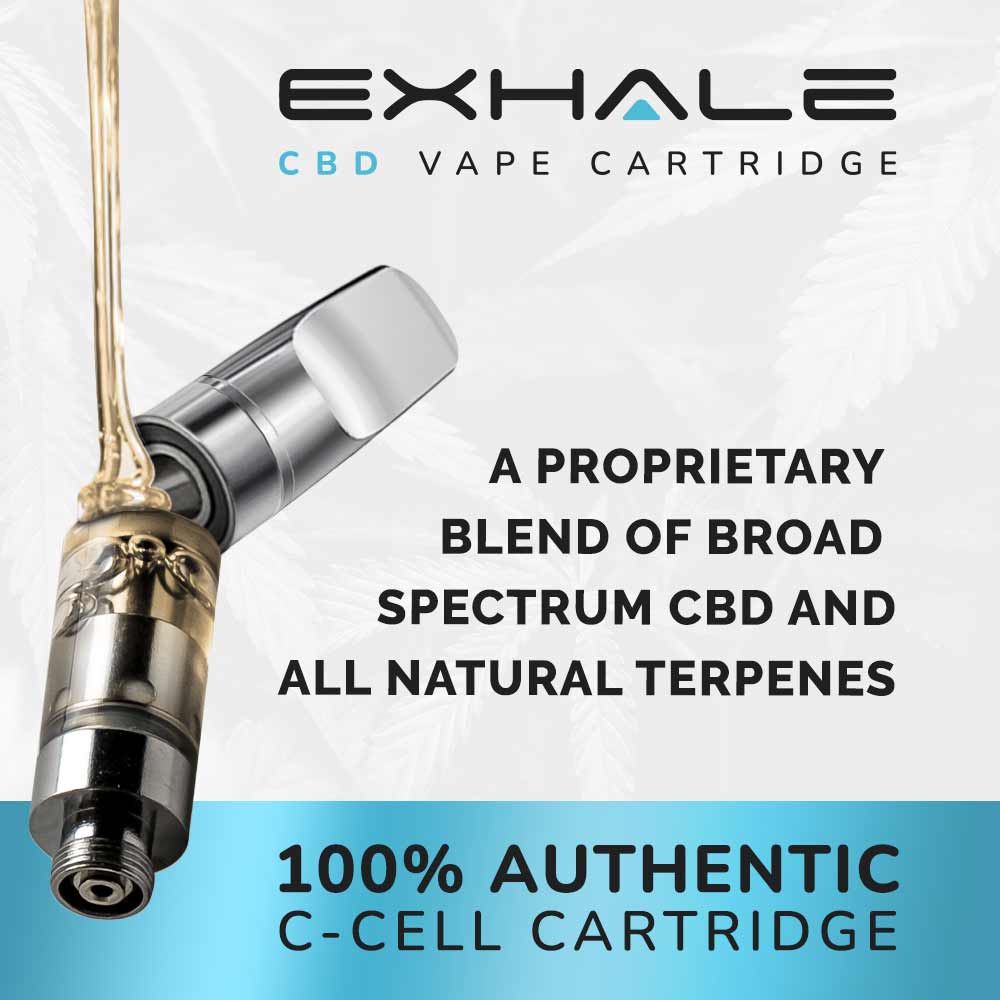 BENEFITS & EFFECTS OF CBD VAPE PENS
CBD offers numerous benefits, no matter what product you consume it in. People utilize it for short-term and long-term relief to the mind and body. Vaping CBD can offer the following benefits:
Calms the body and mind

Supports natural sleep

Soothes aching and discomfort

Promotes appetite and digestion

Maintains homeostasis (internal balance)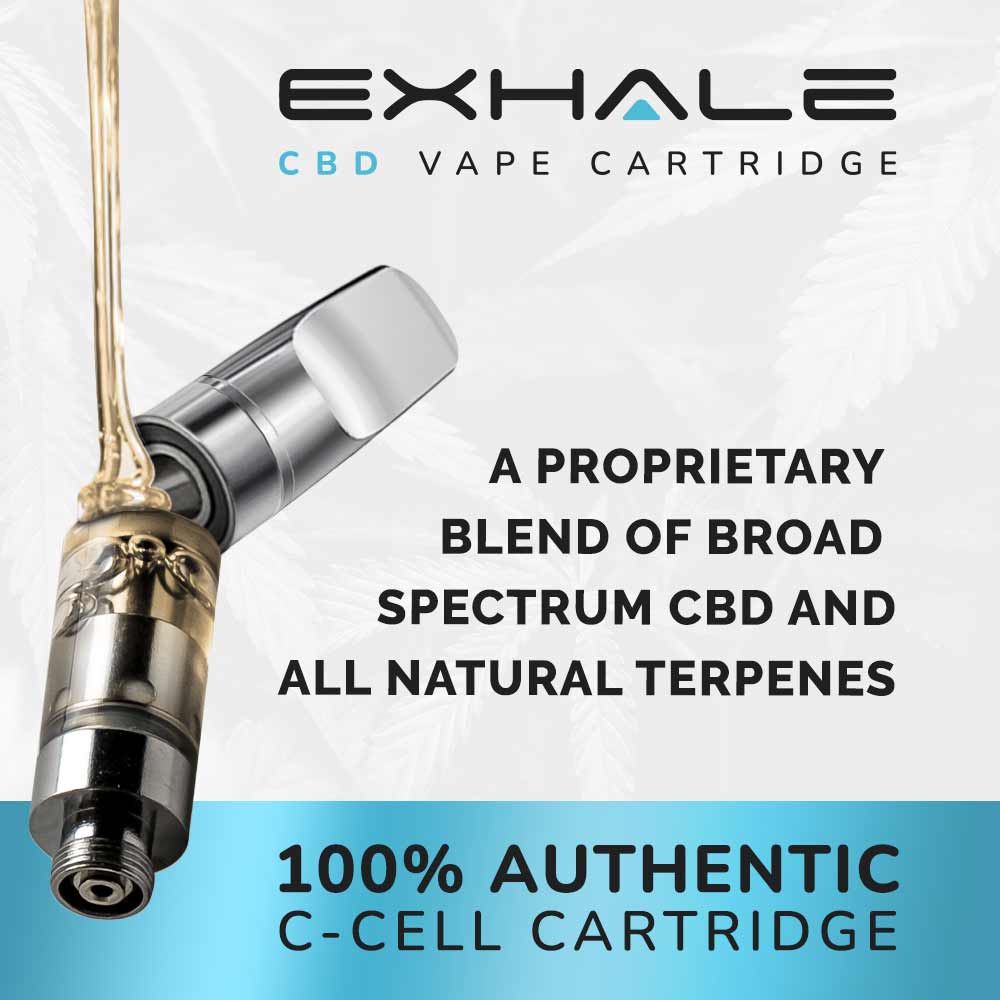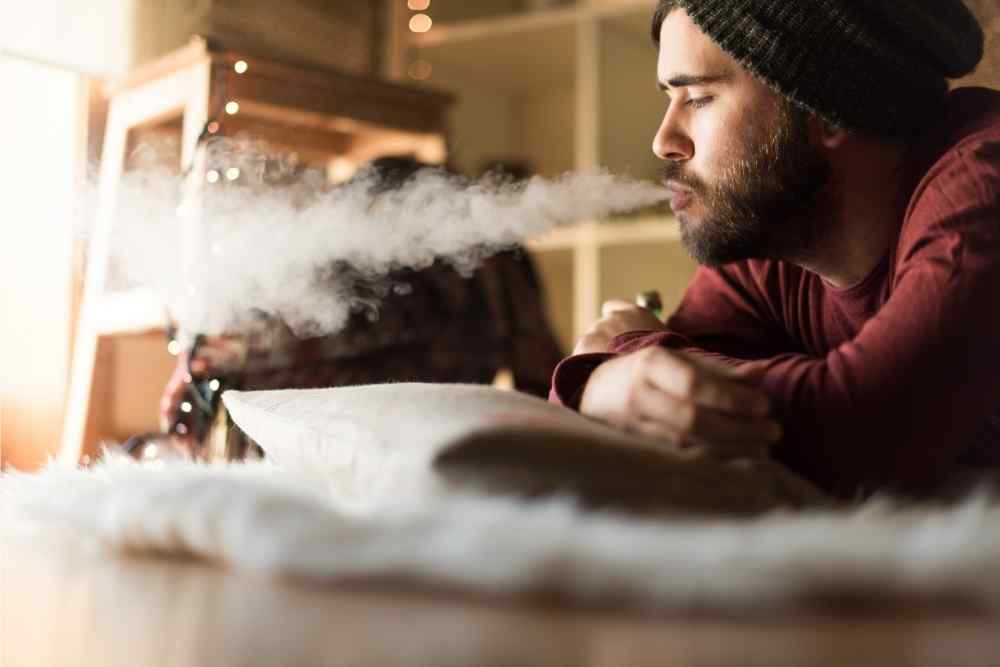 How Does CBD Cartridge Make You Feel?
You should feel the effects kick in with CBD vapes within the first minute. Inhaling CBD is the fastest way to feel its effects. Once they come on, the effects typically last between 3 and 4 hours. Here's how the onset and duration times of vape carts compare to other CBD products:
CBD Flower – Onset: 0-90 seconds | Duration: 3-4 hours
CBD Edibles – Onset: 45-60 minutes | Duration: 6-8 hours
CBD Oil (under the tongue) – Onset: 15-30 minutes | Duration: 4-6 hours
CBD Topicals – Onset: 0-15 minutes | Duration: 2-4 hours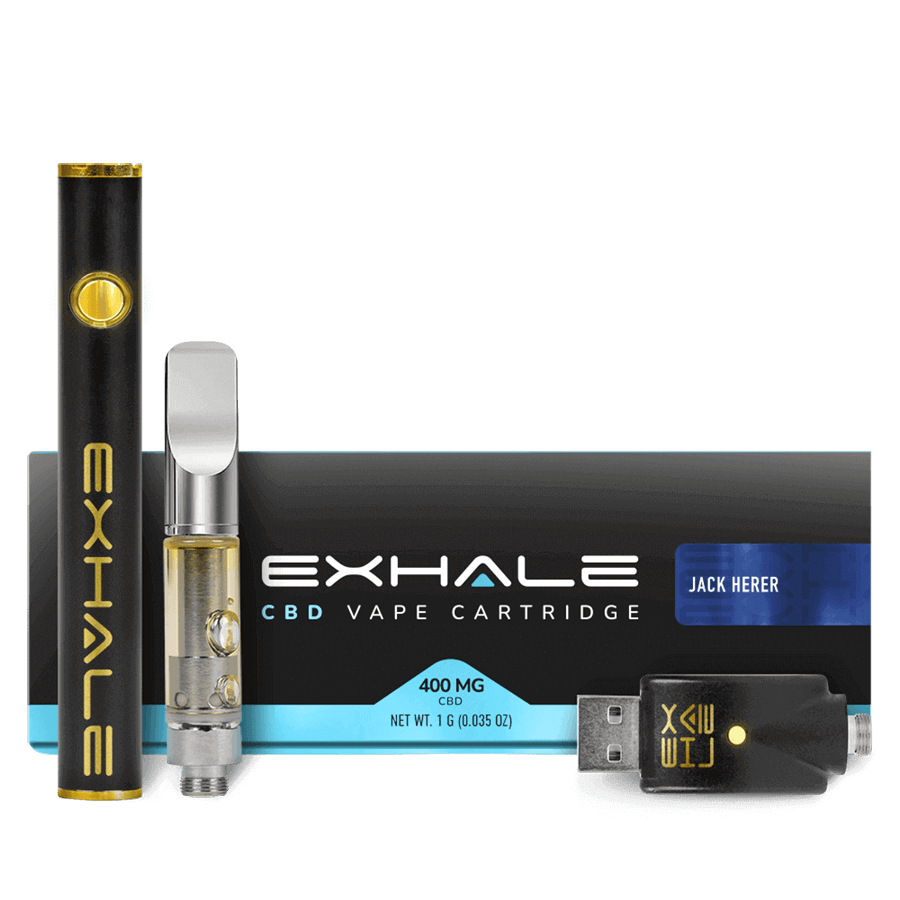 CAN YOU GET "HIGH" FROM VAPING CBD?
No, you should not get high from a vape or any other hemp-derived CBD product! Hemp is very different than its more famous cannabis cousin, marijuana.
The effects we associate with marijuana come from Delta-9 THC (tetrahydrocannabinol) and not from CBD. Hemp plants only contain extremely low levels of Delta 9 THC (no more than 0.3%). This very small amount should not be enough to get anyone high.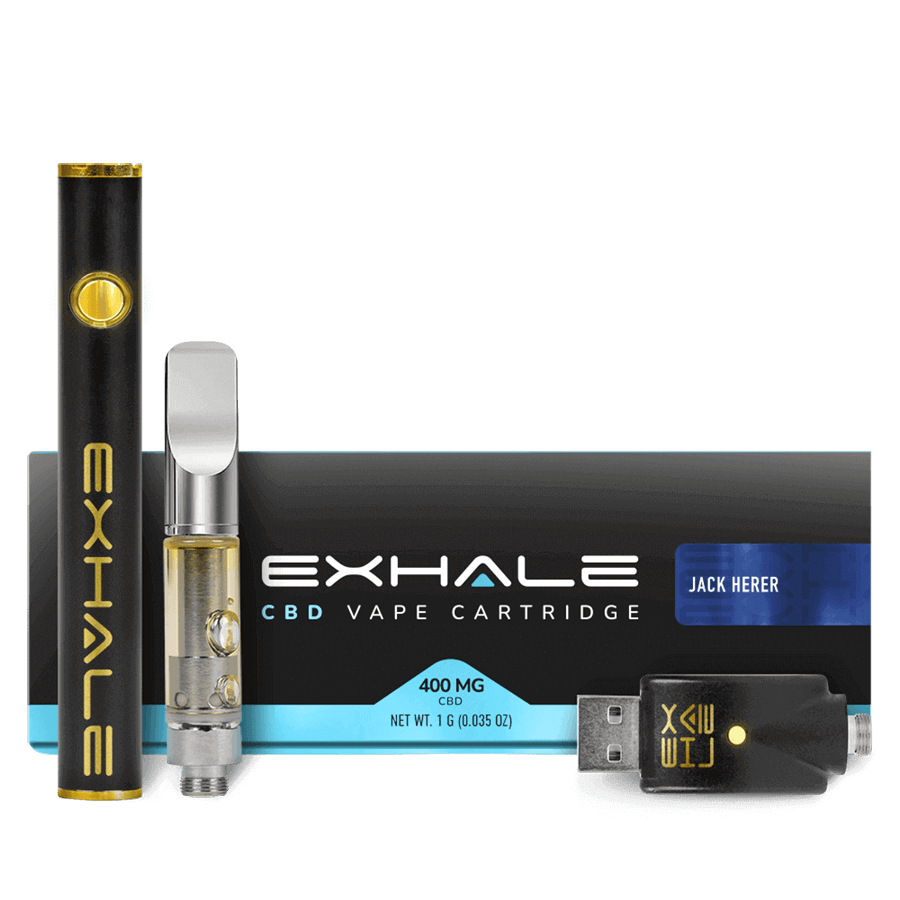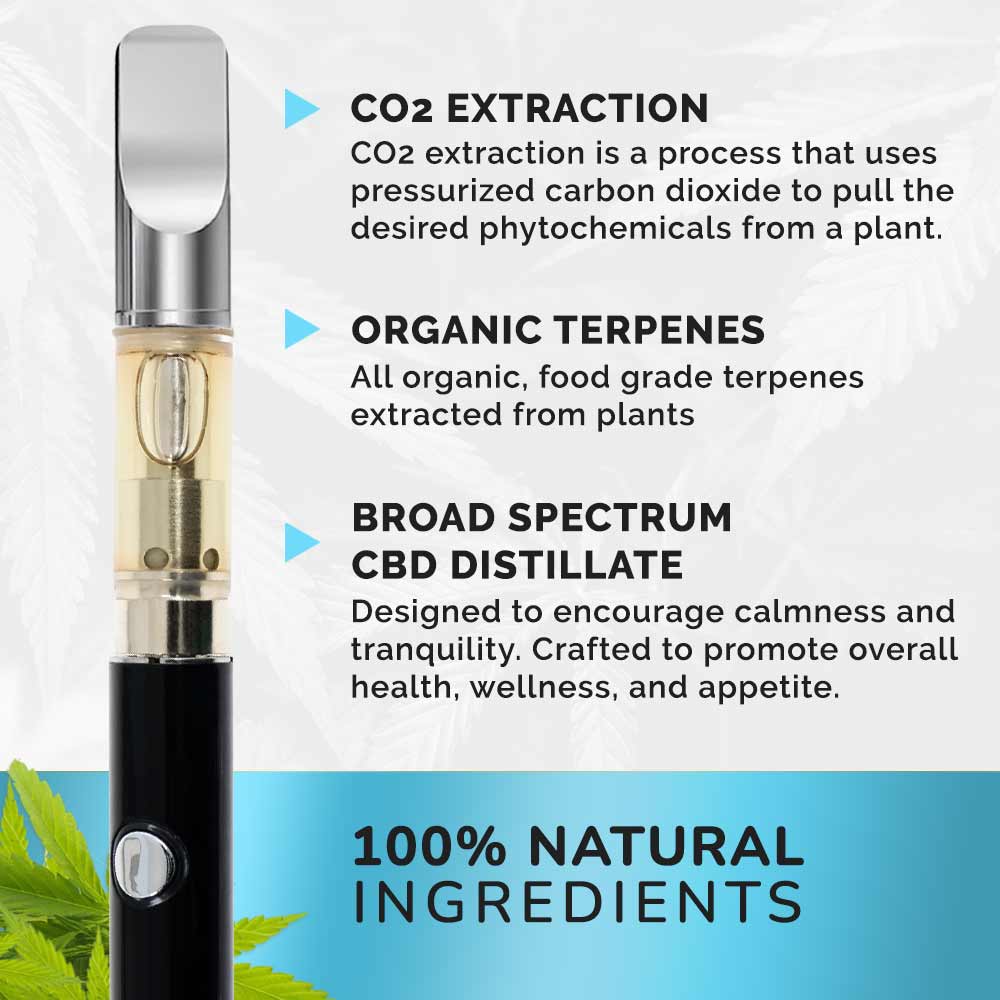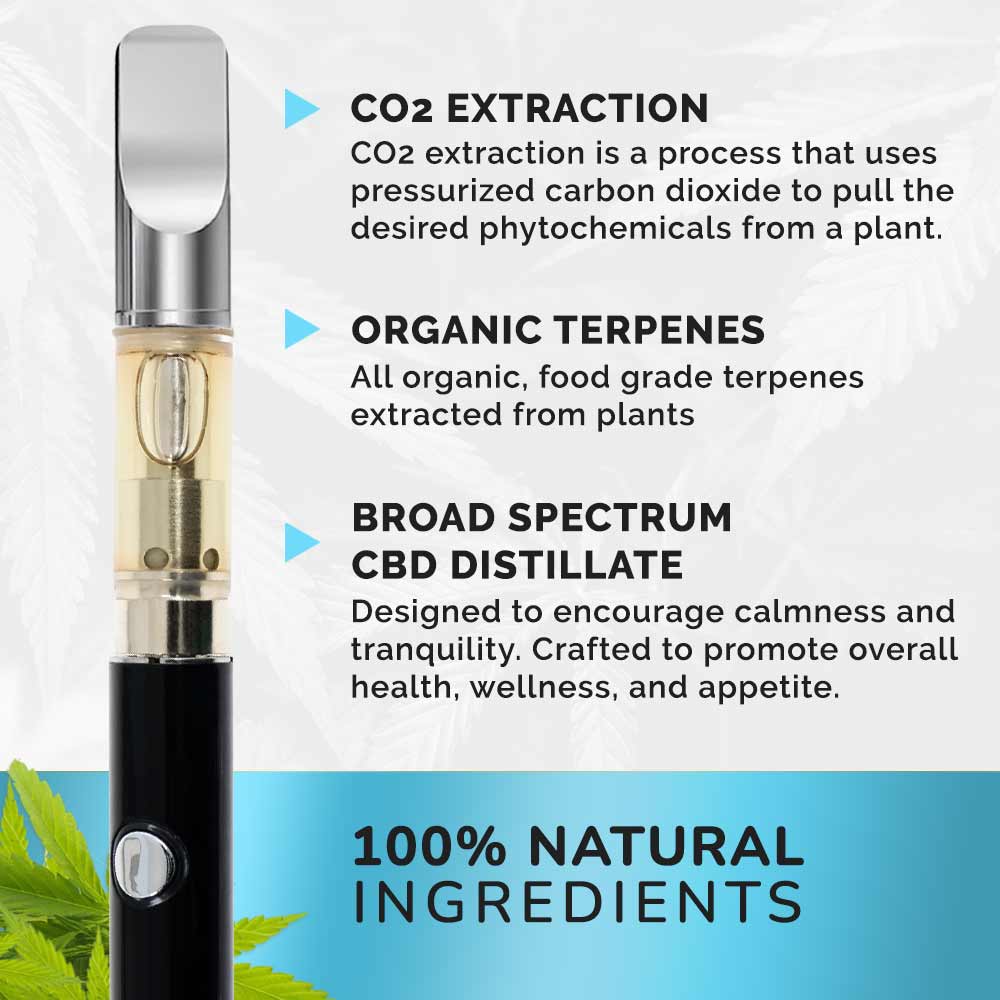 OUR CBD VAPE CARTRIDGES FLAVORS
Although the best flavors depend on what you like best – that's why we here at Exhale offer many unique flavor options. Here are some of the top sellers (and some of our favorites):
HOW TO USE CBD VAPE CARTRIDGES?
CBD vaping could not be simpler. It's convenient, portable, and discreet, so it's no wonder vape pens are so popular. Here's how you can get started:
Each puff of a vape delivers 1-2 mg of CBD on average, depending on how long you take each pull. We recommend starting with lower quantities of CBD to gradually introduce it to your body. 15-20 mg is an ideal amount to start with or around 10-20 puffs. For more detailed guidelines, check out our CBD measuring chart.
The next step is to pick out your favorite CBD vape cartridge flavors. Browse our full selection at the Exhale Wellness shop. All of our screw-on CBD vape cartridges have 510-threading. This is the same threading you find on the vast majority of vape batteries, making our carts compatible with various pens.
To start hitting your vape, follow the instructions that came with the battery. Some batteries are button-powered, some are activated by breath alone, and some have multiple power settings. All of these factors will affect your vaping experience in unique ways.
The general rule with all CBD products is "start low and go slow." Try 5-10 hits at first. If that doesn't feel like enough, try increasing the amount. The great thing about vaping CBD is that it kicks in after mere seconds, so you immediately know how each puff affects you.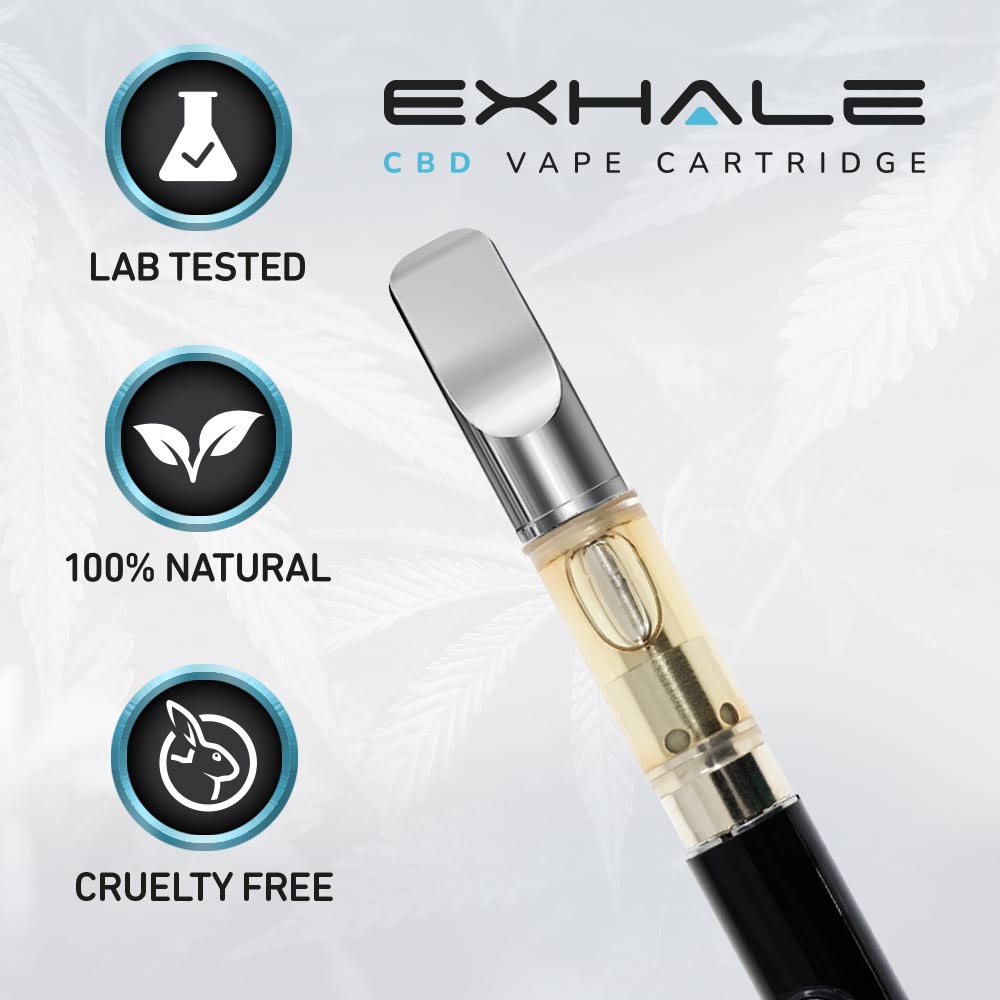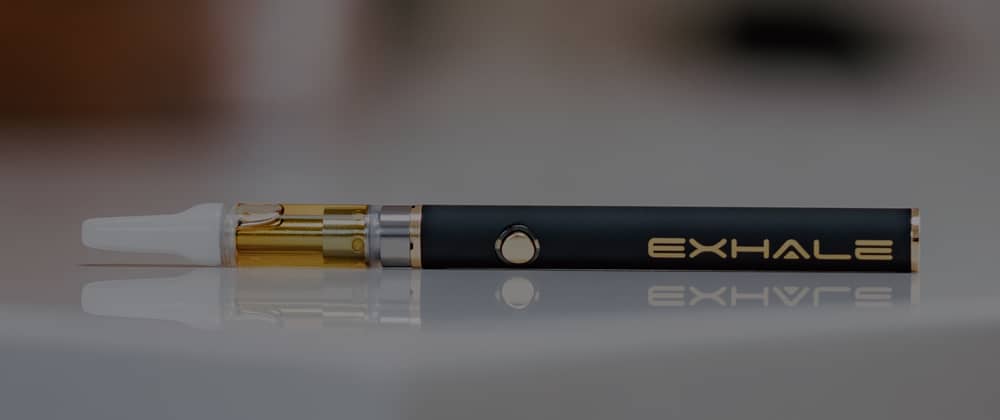 WHY CHOOSE EXHALE'S CBD CARTS?
Exhale Wellness is the internet's #1 hemp brand, offering premium CBD, Delta 8, Delta 9, and HHC products. We built our leading reputation on a foundation of quality ingredients and manufacturing processes, inspired by our founders' backgrounds in the organic food industry.
Our CBD vape juice begins with premium hemp plants that we source from American farms. We use a solventless CO2 extraction process to derive CBD and natural terpenes from the flower. We run liquid carbon dioxide through the raw plant material, stripping away the natural compounds we want.
After that, we evaporate the CO2, leaving the potent extract we use in our vapes and other CBD products. Other companies use harmful solvents like butane to extract CBD from hemp, leaving dangerous chemicals in the final product.
We take take the responsibility of quality control very seriously. We ensure that our label claims are accurate by sending our products to third-party labs. These independent researchers perform a series of tests to verify the cannabinoid content of our CBD vape carts. When they're done, the lab team records their test results in a Certificate of Analysis (COA), which you can find on our website for your own review.
Our commitment to quality goes beyond our products alone. We make the shopping process itself a breeze with free shipping on every order and a 30-day money-back return policy. Our customers show us love (just check out all our rave reviews online), and we are happy to return the favor with special subscription discounts and frequent sales. Sign up for our newsletter, so you never miss out on the latest deals!
FREQUENTLY ASKED QUESTIONS (FAQ) ABOUT CBD & CBD CARTRIDGES