Aches and pains slowing you down? CBD Salve provides targeted, soothing relief with the power of its all-natural ingredients. Featuring holistic additives like calendula flowers and peppermint essential oil, Exhale's CBD Salve cools and nourishes the affected area. Even better, both your physical and mental wellness will be boosted with the added benefit of Full Spectrum CBD.
GET 20% OFF YOUR FIRST ORDER!
We score 4.98 out of 5 based on 7269 reviews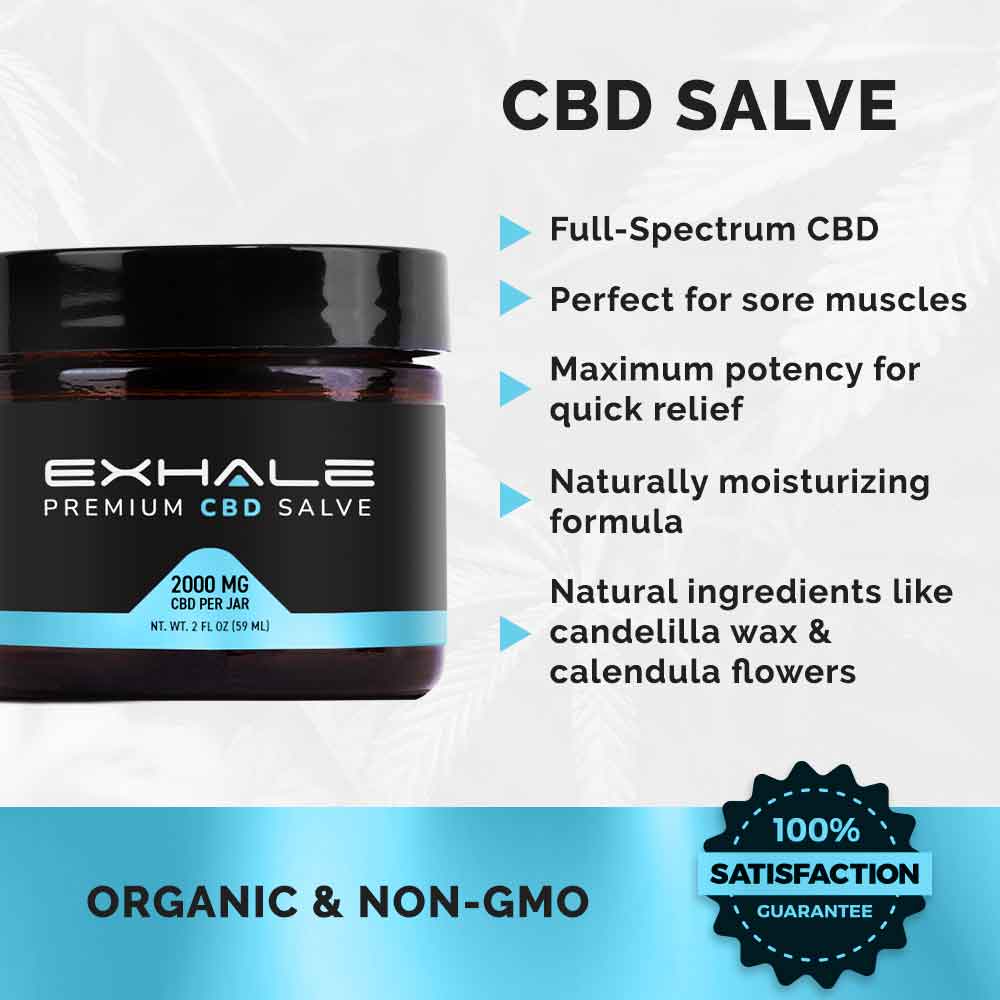 You've likely heard of CBD already — you can smoke it, consume gummies or tinctures, and even vape this cannabinoid to experience its benefits. But did you know that there are potent CBD topicals that can help you feel quick, external relief? One of our favorites is CBD salve!
CBD salve is strong and works fast to help you feel your very best. You can take some salve with you on your daily routines, enjoy your rest days to the fullest, and even break those personal records at the gym with ease. Want to learn more about why salve is so great? We have the whole breakdown ready for you here at Exhale Wellness! Read on to discover how CBD salve works, what it's made of, and if it's right for you!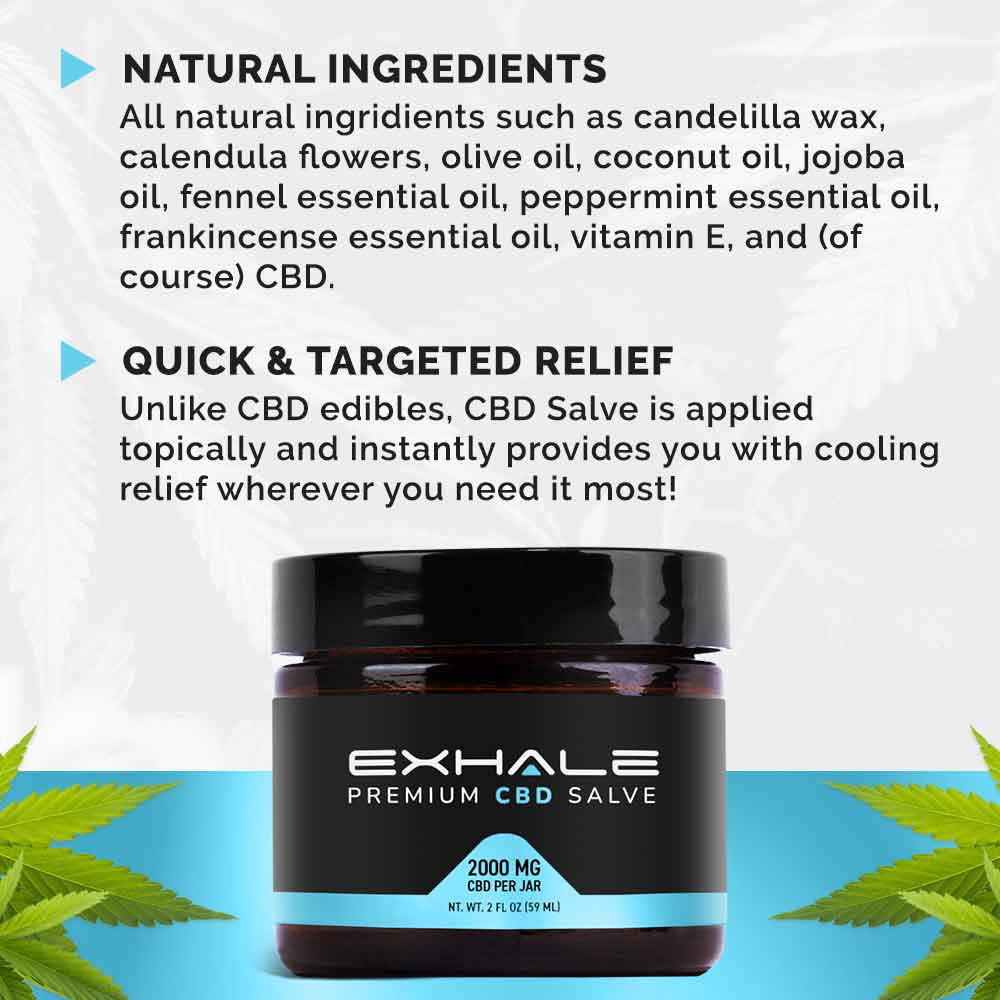 CBD salve is a topical cannabidiol (CBD) product that you can use to relieve soreness from your daily workout. It's usually made with CBD oil and other natural ingredients, including beeswax, coconut oil, or essential oils. You can apply CBD salve directly to the skin to support your external wellness. This salve is generally well-tolerated by most people and mitigates achiness from your daily activities.
Yes, CBD salve is legal! As long as it's hemp-derived and contains less than the federally legal Delta 9 THC threshold (0.3% or less), then it's legal to purchase and use. Any products containing over the 0.3% limit are marijuana products and aren't currently federally legalized.
Please remember, though, that different states have different regulations for hemp. We recommend researching your state's restrictions before purchasing or traveling with any federally-approved nonprescription CBD products.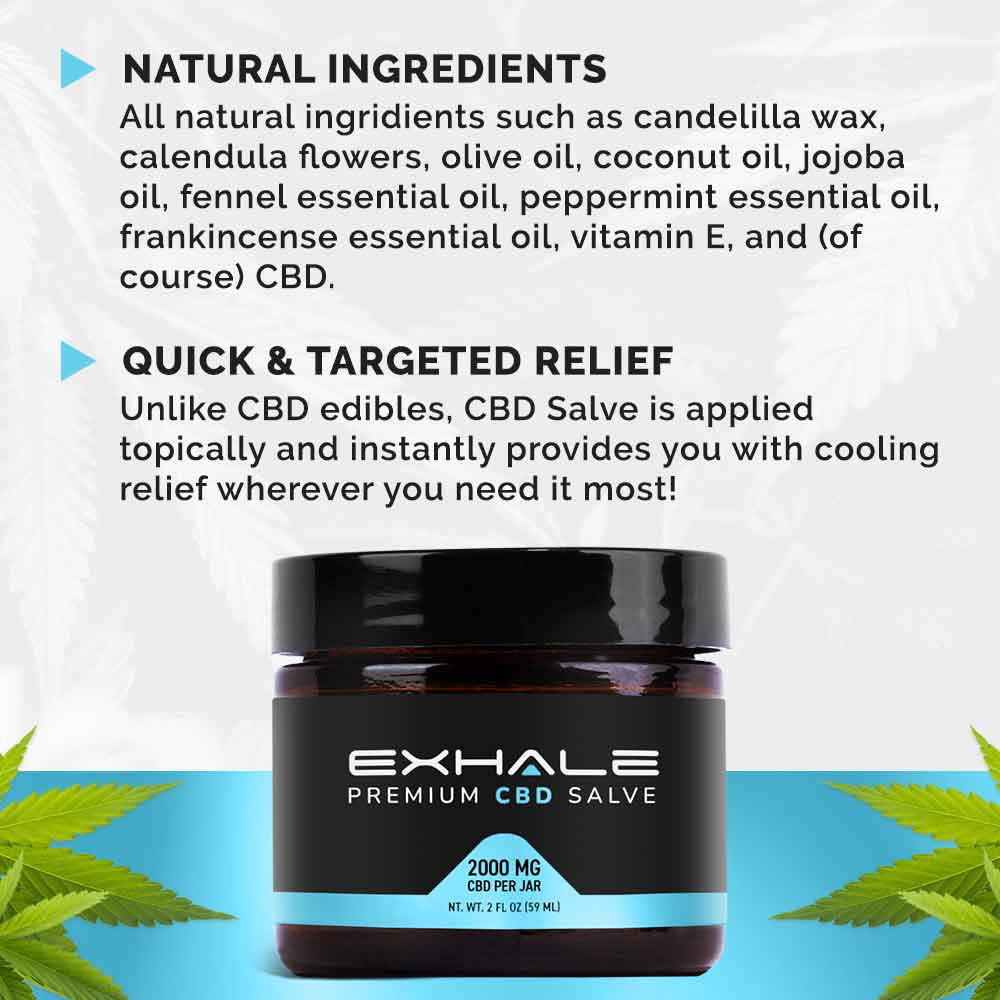 WHAT ARE THE BENEFITS OF CBD SALVE?
This topical CBD product can offer a wide range of benefits! CBD has anti-swelling and relieving properties which can help manage various types of discomfort. You can also use it to help:
Soothe bothered skin
Retain overall skin moisture
Achieve quick, localized relief
Relieve general external discomfort
Help maintain overall skin health
There are many CBD topicals on the market, but CBD salve is unique in its ability to target specific areas of discomfort. Topicals like CBD creams, bath bombs, or lotions are usually more geared toward maintaining overall skin wellness.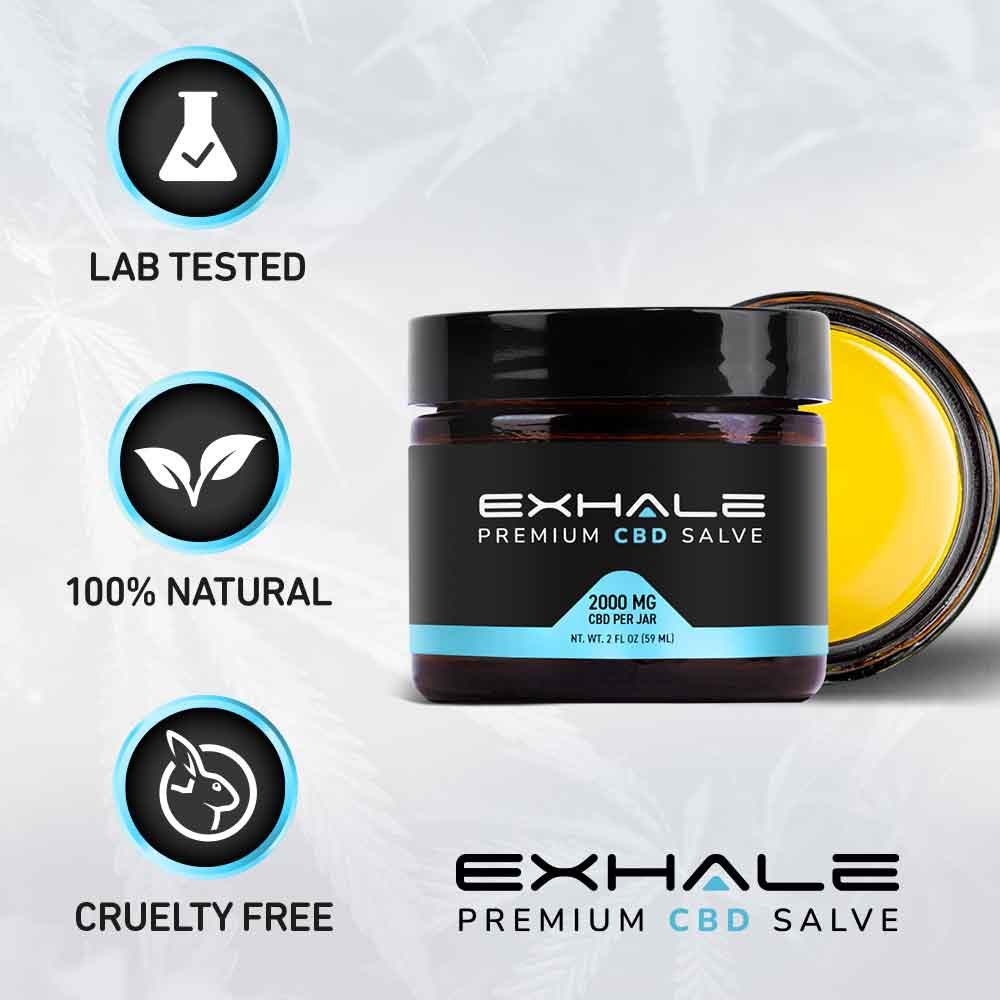 CBD salve is one of many topical CBD products, and you can rub it directly onto your skin, where it's absorbed transdermally. CBD topicals (even CBD lotions and CBD gel) work by interacting with the cannabinoid receptors located within your skin.
These receptors support the endocannabinoid system (ECS). This system helps regulate various bodily functions like sleep, mood, and pain response. In regulating these functions, your ECS helps keep your body running its best (this balanced state of wellness is homeostasis).
When you apply CBD topically, it can interact with the cannabinoid receptors to provide external relief without any intoxicating effects! This makes CBD salve an ideal option for those who want to avoid the blissful effects of THC but still experience the benefits of CBD.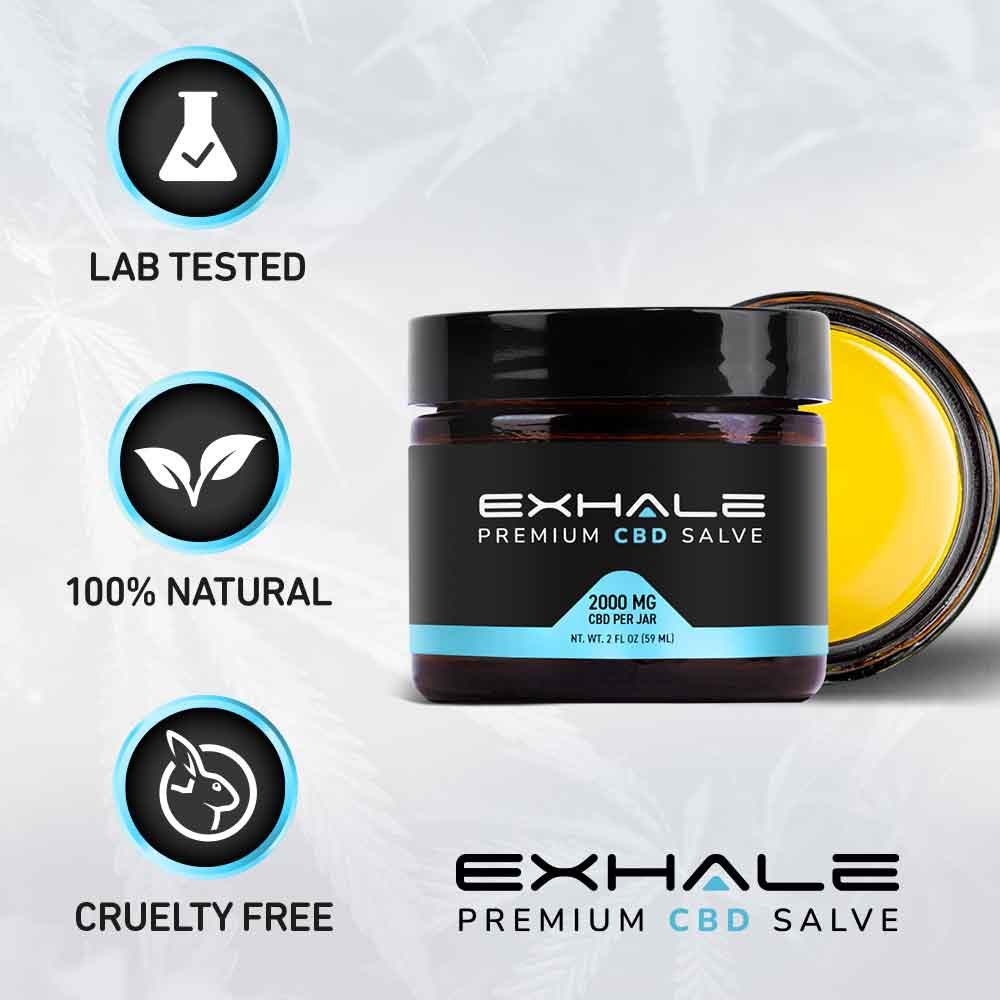 FREQUENTLY ASKED QUESTIONS (FAQ) ABOUT CBD Salve
WHY DO PEOPLE USE CBD SALVE?
CBD salve is popular for its ability to soothe and support external wellness. CBD topicals are generally well-tolerated by most people, making them a good option for those who want to avoid ingesting CBD (such as in the form of CBD oil or gummies). CBD salve in particular, though, can:
Provide fast relief: You'll feel effects immediately to within 15 minutes after applying!
Target specific areas: You can apply salve externally to soothe physical discomfort.
Give maximum-strength alleviation: Generally, salves are the strongest CBD topicals for external relief!
Offer full spectrum benefits: This means you'll experience the entourage effect, which occurs when all cannabinoids are present and working better together.
It's also important to note that you can use CBD salve with other CBD products. So, if you're consuming CBD oil internally and want to target specific areas of discomfort, topical CBD salve can offer even more relief.
Exhale's CBD Salves: Potencies & Strengths
Though all of Exhale Wellness's CBD salves are potent — and we have the COAs or third-party lab tests to prove it — we carry two powerful strengths for all your needs.
Extra Strength – CBD Salve 1000 mg: Even our base formula will provide extra strong benefits! Our Extra Strength salve is perfect for those who are sore from an intense workout.
Maximum Strength – CBD Salve 2000 mg: In need of more serious relief? Our Maximum Strength is perfect for those who need that extra boost after the most strenuous workouts.
Ingredients Breakdown: Exhale CBD Salve
At Exhale Wellness, we're proud to provide our customers with natural and inclusive products! Our products are made with non-GMO hemp and do not contain dairy, so they're suitable for vegans. All our products — including our organic CBD salve — also contain premium quality hemp and natural ingredients. Keep reading along with us to learn more about why we chose each ingredient in our CBD salve!
Vitamin E
This vitamin is a powerful antioxidant that helps to protect your skin from free radical damage. We've included it in our CBD salve to help improve your skin wellness (and overall appearance).
Candelilla (Calendula) Wax
Candelilla wax comes from the leaves of the small Candelilla shrub. This plant is native to semi-desert regions and has been used for centuries in traditional medicines. This ingredient helps create a barrier on your skin that can lock in moisture, helping it maintain good health.
Candelilla Flowers
As we just mentioned, the Candelilla plant is a small shrub! Similar to the wax of the same name, these flowers are beneficial in maintaining your skin's natural glow.
Coconut Oil
Many CBD salves also contain coconut oil, which can help nourish and hydrate the skin. This is because coconut oil also works as an occlusive, meaning it can help prevent water loss from your skin!
Olive Oil
Olive oil, like coconut oil, is occlusive. Aside from being a tasty addition to your favorite carbs, this oil works to help lock in moisture and reduce inflammation.
Jojoba Oil
Jojoba oil is unique because it closely resembles our skin's sebum (natural oil). This makes it an excellent ingredient for CBD salves, as it can help balance our skin's moisture levels.
Peppermint Essential Oil
Peppermint essential oil is famous for its cooling sensation, providing a refreshing feeling when applied topically. Additionally, because it contains menthol, peppermint essential oil can also help to improve circulation.
Fennel Essential Oil
Fennel essential oil is fantastic for CBD salves because it can help to improve the appearance of skin tone and elasticity. That means that this oil can also help reduce the appearance of any future fine lines or wrinkles with time!
Frankincense Essential Oil
This essential oil has a woodsy smell that's perfect for CBD salves. It's also great for your skin, as it can help to improve the appearance of blemishes and scars. This is due to its antibacterial properties and its ability to help soothe the skin.
CBD salve is perfect for any time that you need some targeted relief, but you may be wondering, "how much CBD is enough?" When using CBD salve, start with a dime-sized amount and apply it to the desired area. CBD topicals are not addictive and have no known side effects, so you can use them as needed throughout the day.
We recommend starting with our Extra Strength CBD Salve (1000 mg) if you're new to CBD. If you need more CBD or want to target multiple areas at once, try moving up to our Maximum Strength CBD Salve (2000 mg).
We also suggest patch testing any new topical product on a small area of skin first — just to be sure you don't have any sensitivities! CBD topicals are generally considered safe for most people, but it's always better to be safe than sorry.
Things To Avoid When Using CBD Salve
While CBD salves are incredibly beneficial, there are a few things you should avoid when using them:
Don't use CBD salve on open wounds or cuts: CBD topicals are great for soothing sore muscles, but you should not use them on broken skin. If you have any open wounds, we recommend consulting with a doctor before using CBD salve (or any CBD product, for that matter).
Don't apply CBD salve to your face: CBD topical products are meant to be applied externally, but we don't recommend using them on your face — especially if you have sensitive skin. If you're looking for a CBD product for your face, try a lotion or infused-skincare product instead!
Ask your doctor before using CBD salve if you're pregnant or breastfeeding: We recommend avoiding CBD topicals while expecting or nursing to be on the safer side.
CAN THERE BE SIDE EFFECTS WHEN USING CBD SALVE?
As we've mentioned previously, hemp-derived CBD products are generally well-tolerated. CBD topicals are not known to be addictive and have no known side effects, so you can use them as needed throughout the day without worry. If you've never used a CBD topical before and you're unsure about it, we recommend patch testing any new topical product on a small area of skin first.
Though very rare, if you experience any adverse effects after using CBD salve, stop using the product and consult a doctor. Adverse effects usually indicate an allergy and may include:
Dryness or blistering
Skin irritation
Redness or heat sensation
Hives
Can It Get You High?
CBD salve will not get you high. CBD itself won't give you the euphoric lift associated with THC, even when in products made for ingestion. CBD is a completely non-euphoric compound, so you can use it without worry.
If you have any other questions about our CBD salve or our other CBD products, don't hesitate to reach out to us! Our customer service team is top-tier and is always happy to help answer any questions you may have.
WHAT IS THE BEST CBD SALVE?
When it comes to CBD salves, there are many options out there. But if you're looking for the best of the best, we recommend our Full Spectrum CBD Salve. Our CBD Salve only contains the highest-quality CBD that's been third-party lab tested for potency and purity. And since we believe in transparency, you can view our Certificates of Analysis (COA) under the "Why Exhale?" tab.
We also use a proprietary blend of essential oils in our CBD Salves, perfect for supporting your body's wellness and addressing those aches from your daily activities. And because our salve is non-greasy and absorbs quickly, it's perfect for on-the-go and daytime use!
Whether you're trying CBD for the first time or are already a big fan of salves and are looking to re-up your stock, Exhale Wellness can't be beat! Try ours today, and we guarantee you won't be disappointed.
WHY DO PEOPLE CHOOSE EXHALE?
There are plenty of reasons for Exhale to be your favorite hemp brand! Aside from always using high-quality, American-grown hemp, we also extract all our CBD through the cleanest methods. We utilize CO2 extraction, which uses pressure and heat to extract CBD. This method doesn't leave behind any heavy metals, pesticides, or harmful residues so that you can consume (or apply) all your CBD without worry.
Once you've decided on your products and hit "Check Out," you can rest assured that you'll receive your products in record time with our fast, free shipping. And if you're not satisfied with your purchase for any reason at all, we offer a 30-day, 100% money-back guarantee! We believe that you should only spend your hard-earned money on the things that truly work for you.
We're also passionate about CBD education and want to ensure our customers are informed about hemp and its uses. We have a "Learn More" resource area on our site full of helpful articles, dosage charts, and an FAQ that features our most-asked questions — and we're always updating it with new content!
If you're looking for a CBD brand that you can trust, look no further than Exhale Wellness. We're excited to help you find the internal and external relief you've been searching for to finally catch your breath and exhale wellness.
[PRE-FORMAT THIS SECTION] FDA DISCLAIMER: These statements have not been evaluated by the Food and Drug Administration. These products are not intended to diagnose, treat, cure or prevent any disease. The information presented here is not meant as a substitute for, or alternative to, information from health care professionals. Before using any product, please consult with your health care provider about potential interactions with pain relief medications or other prescriptions and other possible complications. The Federal Food, Drug, and Cosmetic Act requires this notice. All products have less than 0.3% THC or less.