$23.95 – $124.95 — or subscribe and save 25%
No animal gelatin | suitable for plant-based

Potent, consistent dose 

Lab-tested for quality assurance

Convenient and discreet

Soft and easy to swallow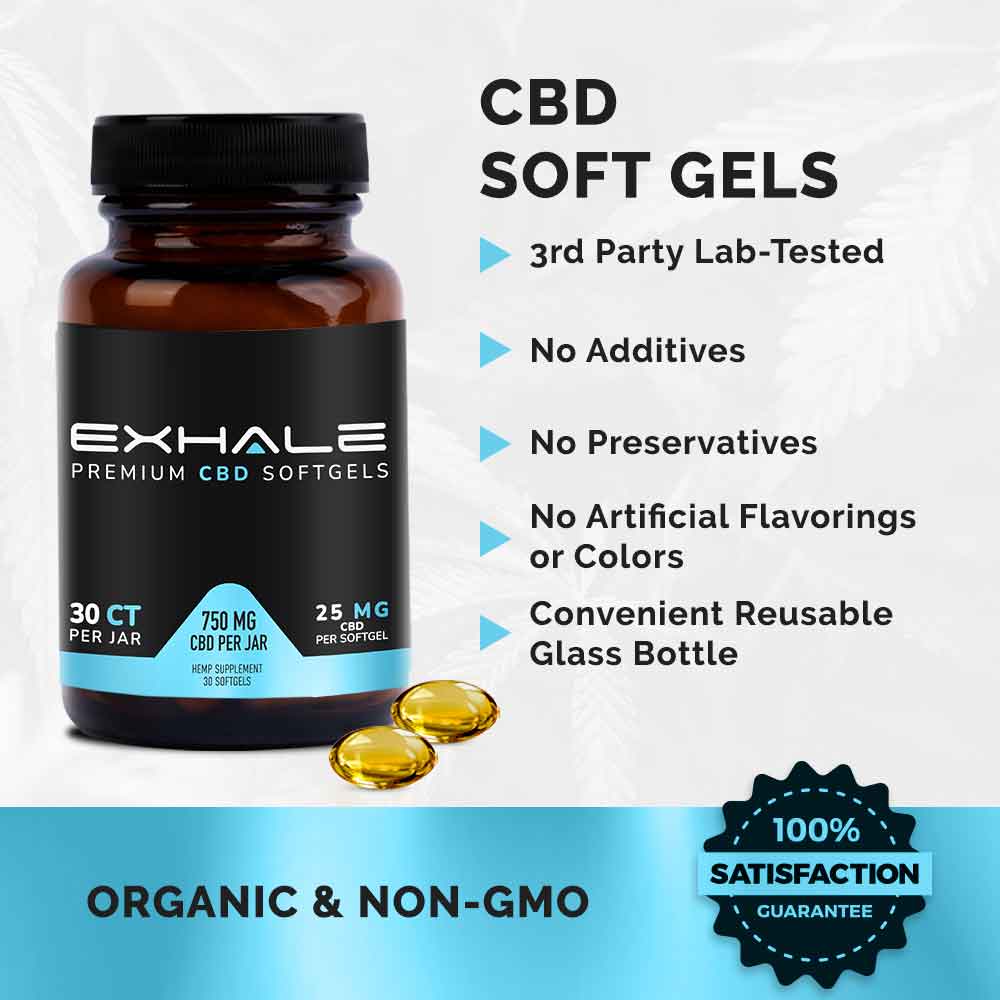 Look no further than CBD Softgels if you want to reap the benefits of cannabidiol (CBD) in an easy-to-consume form. Unlike other CBD products, softgels are convenient, compact, and discreet enough to take anywhere, anytime! But before you rush out to buy this amazing CBD product, you should know a few things about these one-of-a-kind softgel capsules.
Also, don't just settle for the cheapest softgels you can find. Quality matters, especially when it comes to consuming CBD for your soundness. So keep reading to learn all the benefits of CBD Softgels, why you should make these potent pills a part of your daily wellness routine, and what to look for in high-quality softgels!
CBD Softgels are a type of pill containing a pre-measured amount of CBD for easy consumption. Unlike CBD pills, like capsules or tablets, softgels have a smooth texture, making them easy to swallow.
They resemble your typical softgel vitamin or medication and are very discreet. This makes softgels a convenient option for consumers who want to take their CBD while on the go without being at the receiving end of stares when out in public. You can find CBD Softgels in several potencies. So no matter your CBD tolerance level and experience, you'll find a potency that's just right for you.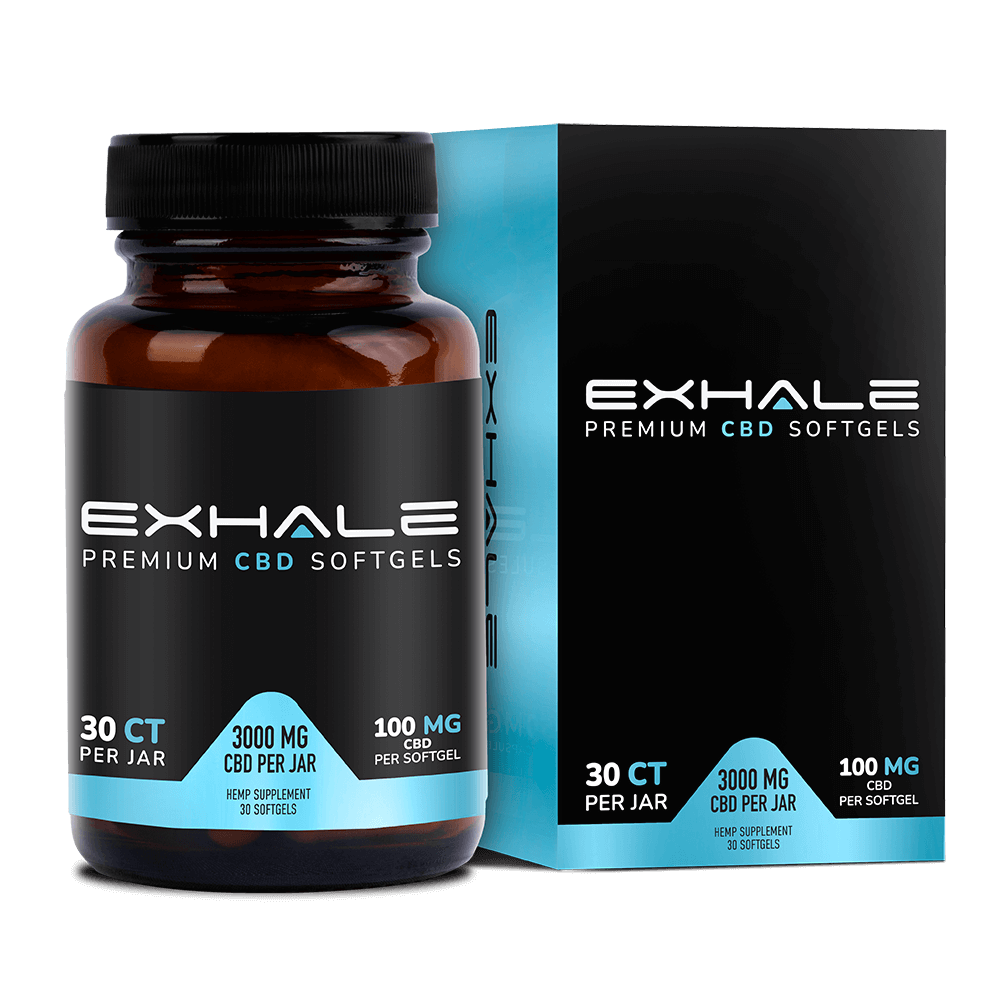 Cannabidiol, more commonly known as CBD, is a naturally occurring compound present in large amounts in the hemp plant (Cannabis sativa), a type of cannabis plant with very low amounts of THC (0.3% or less). CBD is one of over a hundred cannabis-derived compounds called cannabinoids found in nature.
Reputable hemp industry brands use a highly specialized, safe, and clean process to remove CBD from hemp plants. Once obtained, these CBD-rich hemp extracts are utilized to make various CBD products for consumers to enjoy.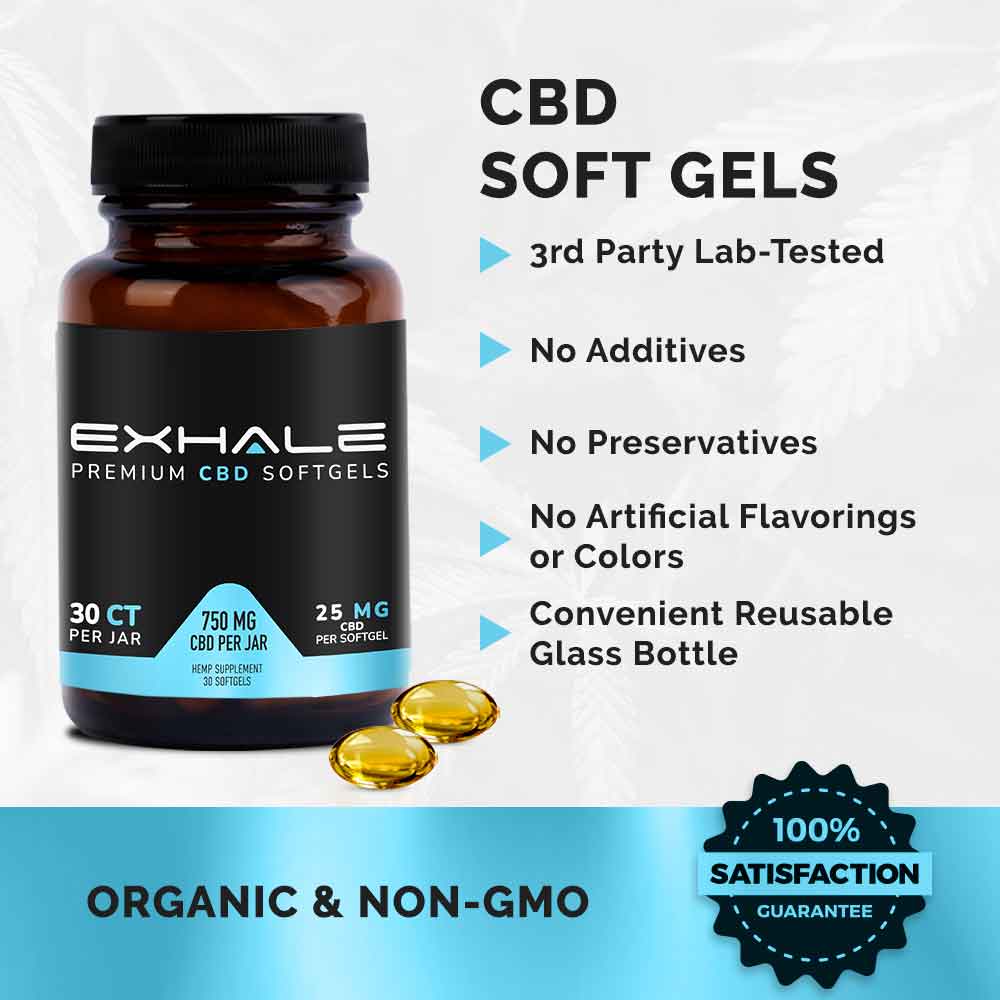 CBD is very well-tolerated by people and has slowly become an integral part of many people's wellness regimens. By consuming CBD, you can optimize your wellness in more ways than one. CBD accomplishes this by supporting your body's endocannabinoid system (ECS). This internal network of cell-signaling receptors can help optimize several everyday biological functions such as mood, appetite, mobility, and rest.
By incorporating hemp-derived CBD products as part of your daily wellness, you'll be able to put yourself on a holistic path to better health! Although CBD has many benefits, it's important to know that the federal Food and Drug Administration (FDA) has not approved nonprescription CBD products. Also, the FDA does not regulate CBD products, nor have they evaluated their safety and side effects.
Before taking any CBD products, consult a licensed healthcare professional to determine if you're healthy enough to take CBD products like softgel capsules. Be open with your medical professional about any serious medical condition, medications, or other ailments you may or think you may have.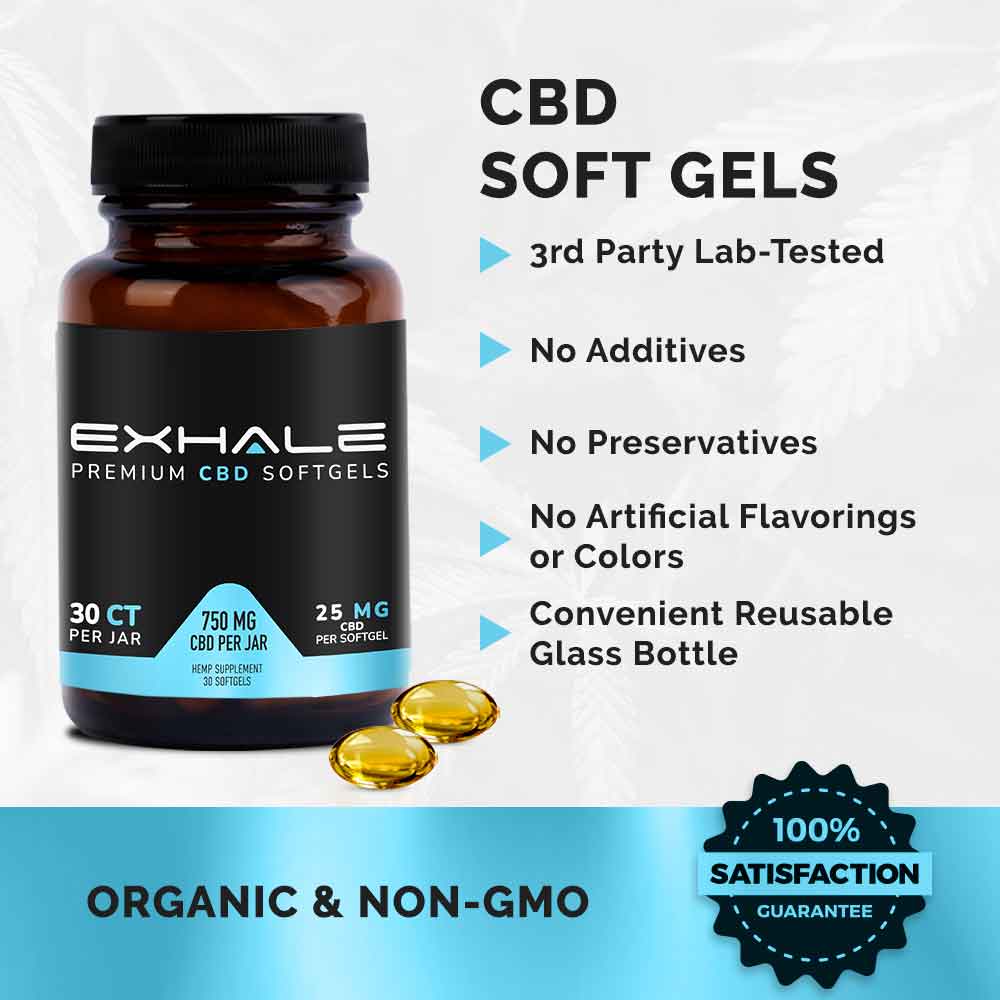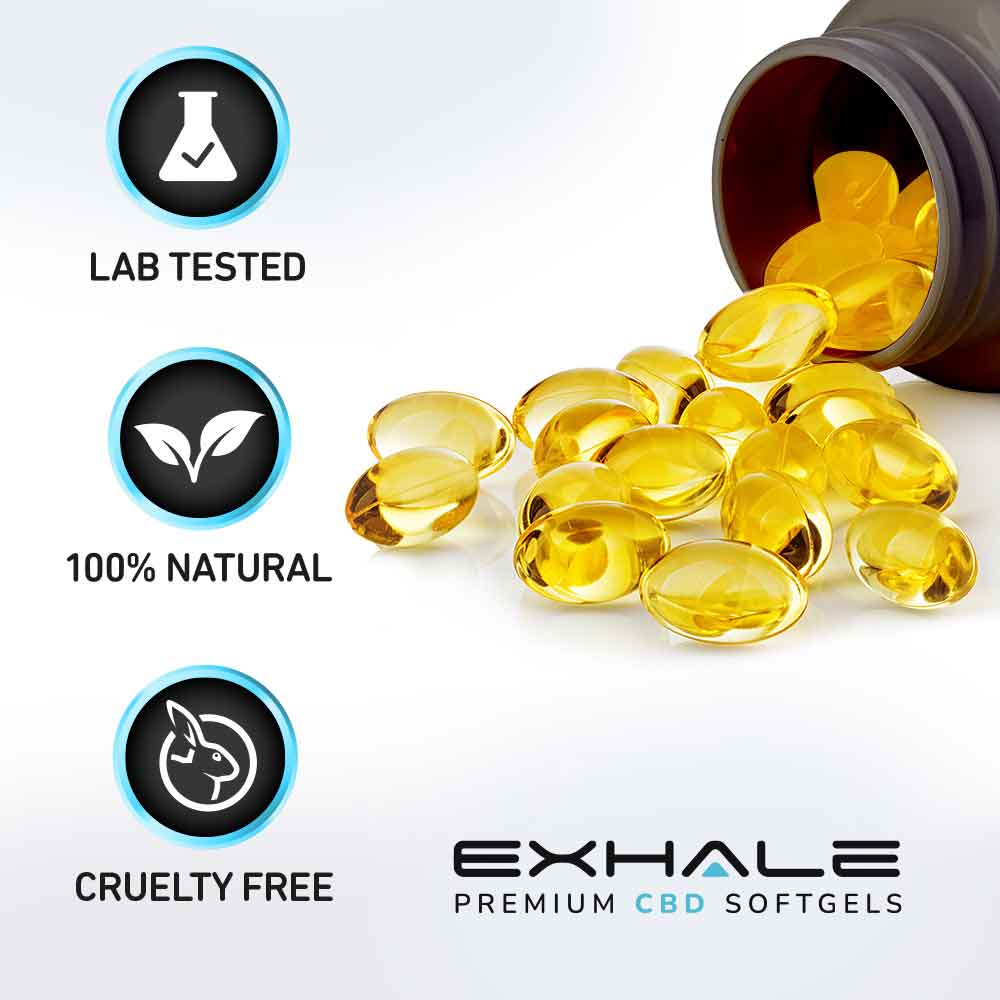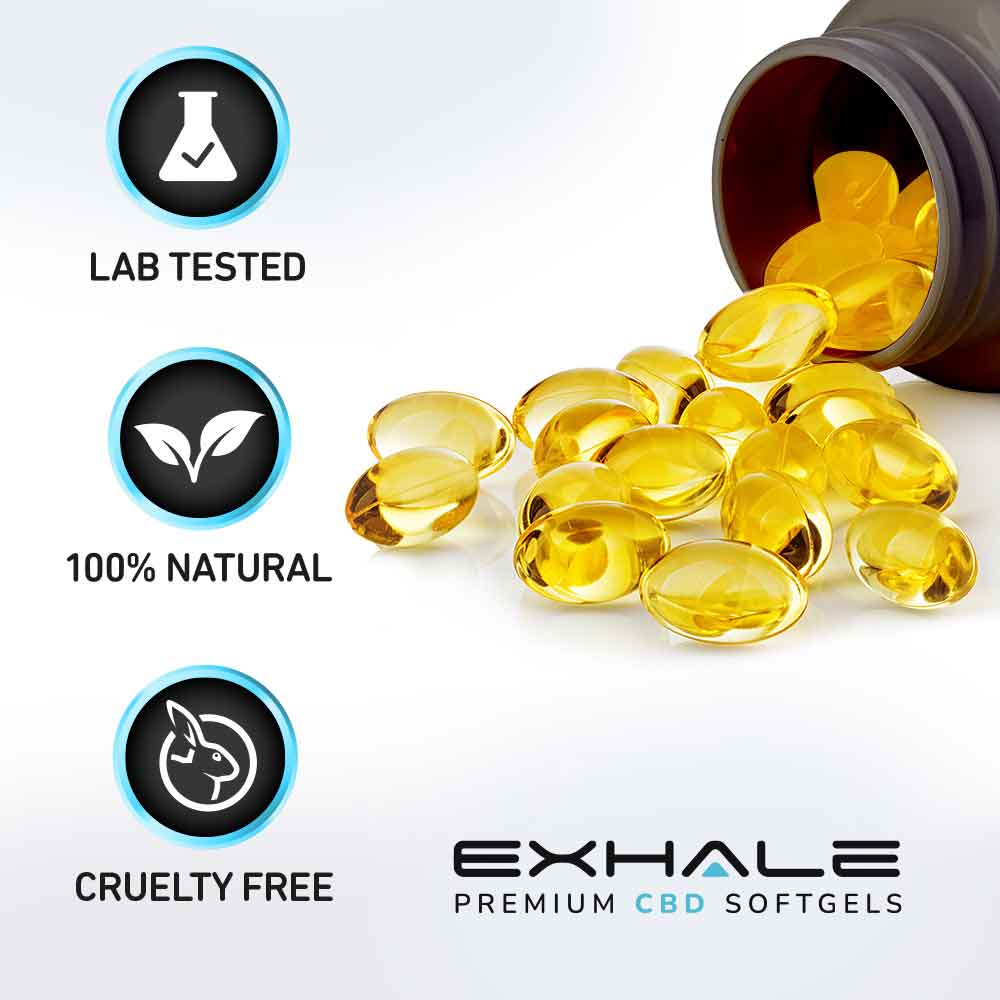 Taking CBD Softgels is one of the easiest ways to consume CBD. All you have to do is simply swallow a CBD Softgel capsule whole and wash it down with a smooth liquid, preferably water. That's it!
You might find it hard to swallow a pill; that's why we always recommend taking CBD Softgels with water or other liquid to help make the process easier. But since these gel capsules are small and smooth, they are much easier to swallow than other harsher pills like solid tablets or longer capsules.
Alternatively, crack open CBD Softgel capsules and squeeze the contents into your favorite drink or onto a snack or meal. It's recommended that you squeeze your CBD gel capsules into fatty foods to improve the rate of absorption of CBD.
How Many CBD Softgels Should You Take?
To determine how many CBD Softgels you should take, you need to know how much CBD you can ideally handle. To determine this, you need to calculate your low and high doses. You can calculate these figures by using the handy formulas below:
Low Dose of CBD = (0.25 mg CBD/lb) x (Your weight in pounds)
Example:
 If you weigh 175 pounds, multiply your weight by 0.25 mg CBD/lb to get 43.75 mg CBD as your low dose. (175 lbs x 0.25 mg CBD/lb = 43.75 mg CBD per serving)
High Dose of CBD = (0.50 mg CBD/lb) x (Your weight in pounds)
Example:
 If you weigh 175 pounds, multiply your weight by 0.50 mg CBD/lb to get 87.5 mg CBD as your high dose. (175 lbs x 0.50 mg CBD/lb = 87.5 mg CBD per serving)
Keep in mind that these calculations are merely a range of the optimum amount of CBD you can safely take. As with any CBD product, it's important that you start at a low dose and then gradually work your way up to an amount that's right for you.

Factors that can impact the amount of CBD you can take also include:

Bodyweight
CBD tolerance
Metabolism
Underlying health conditions
Issues for which you are taking CBD Softgels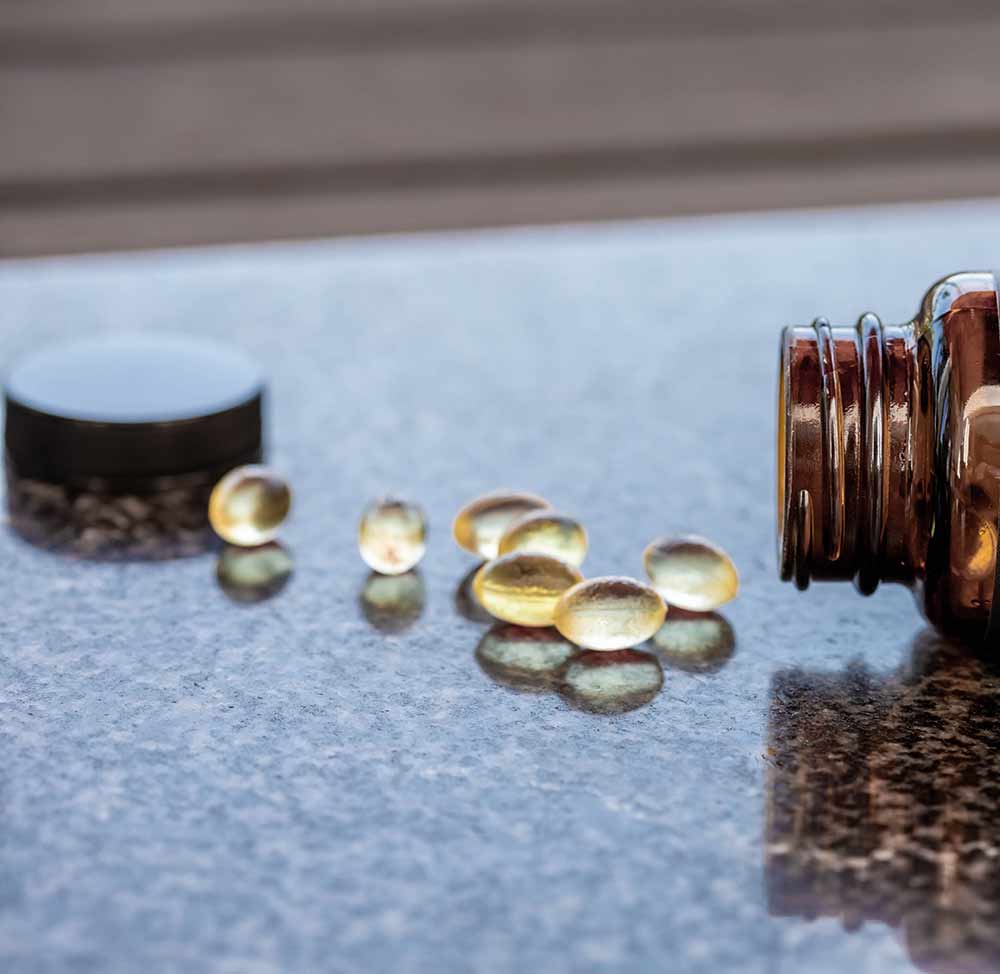 FREQUENTLY ASKED QUESTIONS (FAQ) ABOUT CBD SoftGels
We understand that you may still have some questions about CBD Softgels. That's why we made this handy frequently asked questions (FAQ) guide for your convenience. We recommend reading our in-depth guide about CBD Softgels to fully understand these potent pills. But if you want quick answers to your nagging questions about softgels, here are the most common ones that get straight to the point.
When it comes to CBD Softgels, you can choose from several potencies with varying amounts of CBD to fine-tune your dosing. Unfortunately, many CBD companies offer only one or two potencies of softgel capsules to choose from. However, unlike the rest, the wellness professionals at Exhale Wellness have four potencies for you to choose from!
Each jar of our CBD Softgels comes with 30 softgel capsules per jar and is available in the following strengths:
Low Strength – Exhale's 300mg CBD Softgels (10mg per capsule)
Regular Strength – Exhale's 750mg CBD Softgels (25mg per capsule)
Extra Strength – Exhale's 1500mg CBD Softgels (50mg per capsule)
Maximum Strength – Exhale's 3000mg CBD Softgels (100mg per capsule)
If you are suffering from mild issues, for example, soreness after working out, a low-strength or regular dose will be right for you. These are also the recommended doses for beginners who are not as experienced with CBD. But if your issues are more pronounced and need a little extra kick to help you get through the day, then an extra-strength or maximum strength softgel option might be right for you. These more potent softgel capsules might be too intense for beginners but just right for seasoned CBD connoisseurs.
When shopping for a high-quality softgel CBD capsule, you'll find two different types — full spectrum and broad spectrum gel capsules. So what's the difference between these two?
Full spectrum softgel CBD capsules contain CBD, Delta 9 THC (0.3% or less), and other hemp plant cannabinoids. The full spectrum hemp extract inside these gel capsules also contains other compounds such as terpenes (plant compounds responsible for flavor and aroma) and flavonoids (plant compounds responsible for pigmentation). When consumed, these hemp plant compounds synergistically work together to boost the effectiveness of CBD via the entourage effect.
However, if you want to consume THC-free gel capsules, you will want to opt for broad spectrum CBD. Broad spectrum gel capsules contain the same ingredients as their full spectrum counterparts minus one key compound — THC. Because of this, you will experience a less potent entourage effect but still receive the benefits of CBD and other hemp plant compounds. Regardless of which gel capsules you decide to take, you will still consume CBD, which will help improve your way of life and lead you to better health.
Unlike other CBD products, softgel capsules have a lot of benefits that make them popular with consumers. Let's examine the benefits of softgels and what they can do for you.
Benefits
Softgel capsules have many benefits that are unique to them. They are small, easily swallowed, and come pre-measured with CBD. There is no mess or bad taste with these CBD Softgels. And they're so discreet that many people wouldn't even know you're taking them unless you told them!
Another benefit of CBD Softgels is that they are versatile. If you're one of many people who find it hard to swallow a pill of any kind, you'll be happy to know that you can puncture the softgel capsule for a tastier dosing experience. Once punctured, squeeze the contents of the softgel out by mixing it into your favorite drink and adding it to food!
Effects
When you consume CBD Softgels, they take about 45-60 minutes to fully break down in your digestive system. Once available to your circulation, CBD can finally interact with the many receptors of your ECS. By taking CBD Softgels daily, you'll help optimize your ECS and boost your overall wellness in mo