A full spectrum candy loaded with fruit juice and the blissful power of Delta 9! Double your relaxation experience with Delta 9 gummies, a chewy snack to carry you through the day with ease and elation. Take a deep breath and wind down as the long-lasting effects of a delicious edible take you on a journey without you ever leaving the house.
Concentration:
750 mg

1 mg THC/serving

30 mg THC/package

1500 mg

2 mg THC/serving

60 mg THC/package
Delta 9 Gummies
Are you ready to elevate to cloud 9 with Delta 9 THC? Featuring hemp's Delta 9 THC, a psychoactive cannabinoid in hemp, these gummies are taking THC edibles to a new level. D9 gummies are a THC edible that can lift you sky high and to a new level of bliss.
Because they're hemp-derived, D9 gummies don't have the same potent effects that marijuana products do. Instead, they're slightly more euphoric than CBD gummies while still containing only a small amount of Delta 9 THC.
Read on to learn more about D9 gummies and discover why we love them as much as we do!
What Are Delta 9 Gummies?
Delta 9 gummies start as broad spectrum CBD edibles. These edibles are made from hemp flower (a kind of cannabis) and are infused with Delta 9 THC. They're created this way to contain the maximum amount of Delta 9 THC that's federally legal (up to 0.3% D9 THC, by dry weight volume) so that you can experience a more rich, uplifting experience.
Since D9 gummies are still made from hemp (not marijuana), they're also compliant with the 2018 Farm Bill. This means that they also contain all the beneficial naturally hemp-derived cannabinoids that your other favorite hemp products do!
Are There Side Effects?
Delta 9 gummies are generally well tolerated by most, especially if you have prior experience with Delta 8 or D9 THC. Side effects are usually short-lived and can include:
Increased appetite
Dry mouth
Slight stomach upset
Dry eyes
Altered focus
Dizziness
Worried thoughts
If you've never tried D9 before, we suggest you start with a smaller dose to see how it affects you. You can always increase your dose later on if you feel you'd like more!
How Do You Dose a Delta 9 Gummy?
If you're already familiar with dosing for Delta 8 gummies, dosing for Delta 9 gummies is very similar. Exhale Wellness's CBD + Delta 9 THC Gummy Fruits come in two sizes (750 mg CBD and 1500 mg CBD) and should be dosed differently depending.
Here's what you can expect from our bottles:
Quick Guide: 750 mg CBD bottle
1/2 gummy = 12.5 mg CBD, 0.5 mg THC
1 gummy = 25 mg CBD, 1 mg THC
2 gummies = 50 mg CBD, 2 mg THC
Quick Guide: 1500 mg CBD bottle
1/2 gummy = 25 mg CBD, 1 mg THC
1 gummy = 50 mg CBD, 2 mg THC
2 gummies = 100 mg CBD, 4 mg THC
Though there are no official dosage guidelines, keep in mind that a recommended dose of CBD is usually between 0.25 mg (regular dose) – 0.5 mg (strong dose) per every 1lb. of bodyweight. Let's say you weigh 140 lbs., for example — if you wanted to take a regular dose, you'd multiply 140 x 0.25 to get 35 mg of CBD, which would equal a little over one gummy.
Why Choose Delta 9 Gummies?
If you already love CBD gummies but are looking for a more *elevated* experience, then Delta 9 THC gummies may be right for you. Delta 9 THC gummies will double your relaxation levels, boosting your bliss to the max!
Since they're mainly comprised of CBD, you can reap all the benefits of CBD while still enjoying the invigorating effects of D9. CBD can be helpful in:
Regulating your digestive system
Boosting your appetite
Promoting improved sleep
Enhancing your mood
Alleviating general discomfort
Why Choose a Delta 9 Gummy Over Delta 8 Gummies?
Maybe you've had a long week and finally have a day off to yourself, but you don't want to feel effects as intense as D8's — D9 gummies are much milder and offer all of CBD's soothing effects too. Or maybe, you already know and love D9 and are looking for a new way to enjoy it that's different than smoking cannabis.
Delta 9 THC gummies have higher CBD potency than D8 gummies, and since they've been on the market for a longer time, it'll be easier to find the perfect gummies for you. They're easy to consume, too, so you can enjoy a warm-and-fuzzy fade from the comfort of your own home without hardly moving a muscle.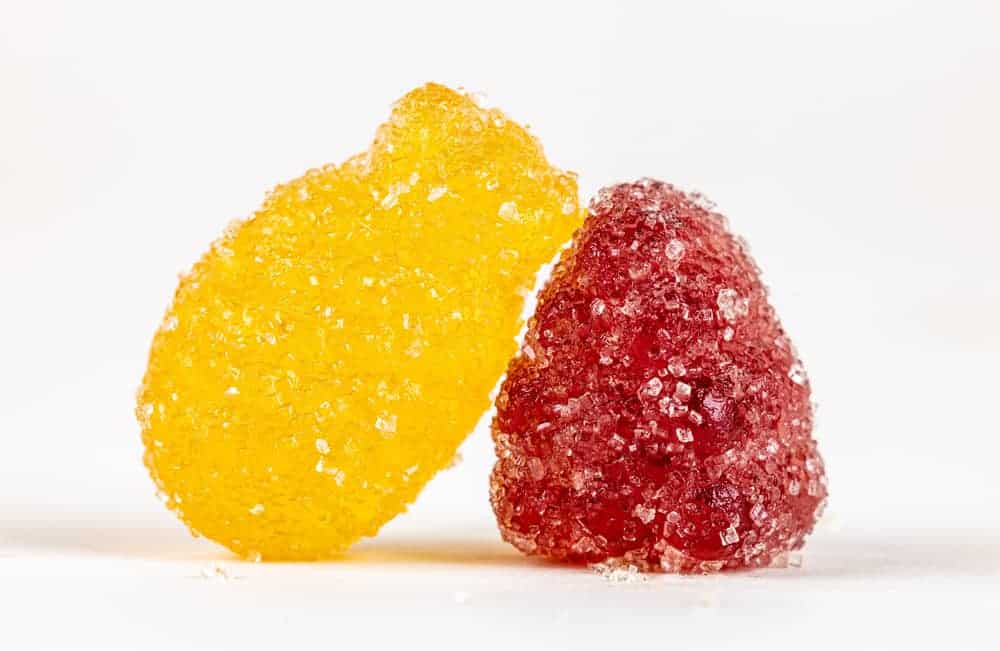 What to Look for When Buying Delta 9 Gummies Online
When shopping for Delta 9 gummies online, you want to make sure you're only shopping from the best THC gummy brands so that you have the best experience. Here are some of our best tips!
Make Sure Any Gummies You Buy Are Tested in Third-Party Labs
Because there are so few regulations on hemp products, it can be hard to determine the quality of the products you're buying at first glance. That's why it's important to buy D9 THC gummies from brands that have testing done at independent third-party labs. These labs have no stake in the hemp market and will use authentic methods to determine product quality.
Do Your Research Before Buying
When you shop online, you'll be able to compare products and brands side-by-side before making any final decisions. Not only will this help you find a better product for you, but it may also help you save money too!
Only Purchase From More Well-Known Brands
Because the hemp industry is growing and changing so fast, not every brand is a great bet. Exhale Wellness has been featured in Forbes, the Los Angeles Times, and more. We're also the highest-rated natural hemp company on the market today, so you can trust we know what's up in the world of hemp.
Why Choose Exhale Wellness for Delta 9 Gummies?
At Exhale Wellness, we've always believed that nature holds the key to wellness. We formulated our Delta 8 THC products to be the best of the best, and we've applied these standards to our Delta 9 gummy formula, too. Our CBD + Delta 9 THC Gummies are made with organic ingredients, and they're vegan, cruelty-free, and have no artificial colors or flavors so that you can enjoy them without any added worry.
Want to learn more about Delta 8, Delta 9, and CBD? Visit the Learn section of our site to continue growing your knowledge or our Products section if you're ready to shop!