With the ever-growing implementation for Delta 8, it's no surprise you can turn this oil into a tincture! Enjoying CBD nowadays is so convenient — get all the benefits of this compound packed into a tiny little bottle of oil you can sprinkle in your favorite foods.
You may be wondering: "How does this oil differ from other ways of consuming Delta 8?" Besides the obvious differences in the mode of consumption, oils give you a quick and discreet way to enjoy the benefits of Delta 8. Between Delta 8 flowers, vapes, edibles, and oils, you have many options! And more options give you more freedom to choose a product right for you. Keep scrolling to learn more about the ease and benefits of Delta 8 oils.
What is Delta 8 Tincture Oil?
Delta 8 is a minor cannabinoid found in hemp plants that packs a big punch full of benefits to the mind and body. Because Delta 8 is just a small portion of the near hundred or so cannabinoids in the hemp plant, it makes sourcing it rather tricky! A thorough CO2 extraction process is necessary to extract the Delta 8, making it more prevalent than the near hundred or so other cannabinoids. Lucky for you, a CO2 extraction method is the safest way to extract Delta 8.
Delta 8 THC tinctures come infused with Delta 8. Because Delta 8 is found in such small trace amounts in the hemp plant (less than 1%), these products are then infused with the compound. Tinctures usually contain a carrier oil and are enjoyed sublingually by dropping a few drops under the tongue.
Delta 8 oils allow you a discreet consumption method. While the most efficient way to consume all the benefits of your tincture is to add a few drops underneath your tongue, you can still enjoy the benefits of your morning tea or coffee!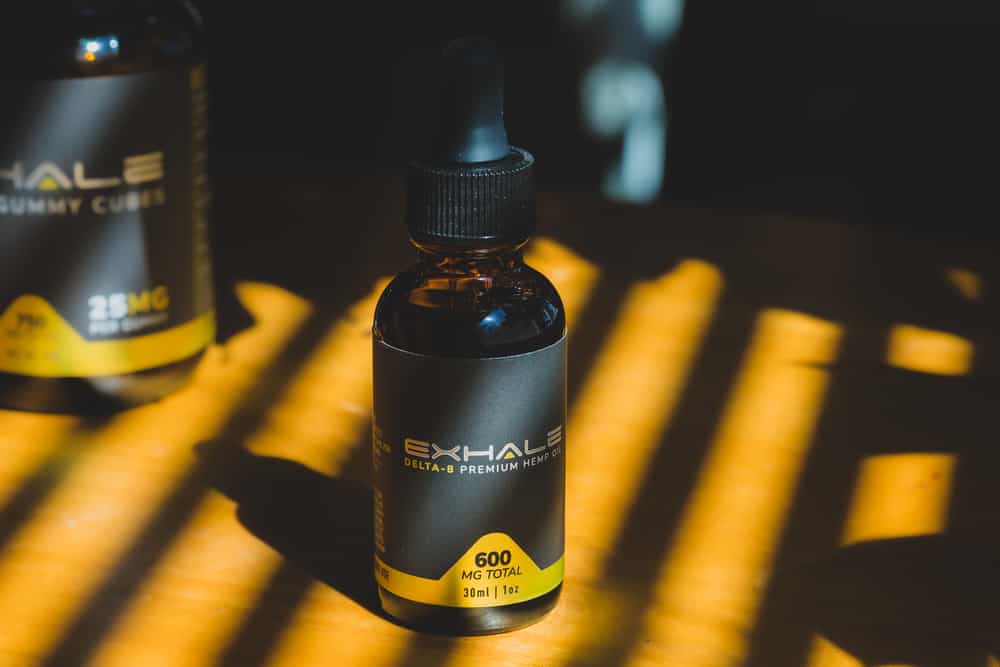 What Are the Differences Between Delta 8 Oils & Other Delta 8 Products?
Delta 8 oils allow you to enjoy the benefits of Delta 8 anytime, anywhere. This allows for a compact product with no noticeable aroma that'll bother you or the people around you.
Its convenience and discreetness aren't the only things that set tinctures apart. Because you ingest the liquid oils, Delta 8 lasts longer in your system (4-6 hours) than if you were to smoke Delta 8 flower (3-4 hours). Although due to the digestion process, it does take longer to feel the effects (just 15 minutes or so).
While there are many other ingestible Delta 8 products, such as edibles and capsules, oils give you the freedom to a different dosage every time. With a tincture, you call the shots and decide on the vibe every time.
What Are the Benefits of Delta 8 Tincture?
So what are the actual benefits of a tincture? Besides the fact that it's so discreet, of course! Though this product comes in a small amount, it is mighty. Delta 8 oil get you feeling relaxed and uplifted while still feeling in control of your surroundings.
Here are a few ways you can benefit from a tincture:
Boost appetite
Ease joint discomfort caused by swelling
Euphoria
The body feels relaxed and loose
Promotes better sleep
How Does Delta 8 Oil Work?
Delta 8 THC oil is consumable in a variety of methods. As said before, the most effective method is sublingual. This is when you drop the oil underneath your tongue and hold it there for 30 seconds. This allows the Delta 8 THC to be absorbed through a network of capillaries underneath the tongue. This method has the fastest onset of effects which is usually within 10 minutes.
Because you take a Delta 8 oil orally, the effects last longer in your system versus smoking it. While smoking is the fastest way to experience the effects of Delta 8 THC, it also is the most fleeting. With oil, its euphoric, tranquil effects gradually wash over your body and last a lot longer.
Delta 8 THC interacts with the same receptors as Delta 9 THC, and these receptors are the CB1 and CB2 cannabinoid receptors. These receptors are a part of our endocannabinoid system (ECS). This system is made up of billions of tiny receptors located in the cells of the human body. These receptors are responsible for regulating homeostasis (balance) in your body.
Delta 8 THC interacts with both CB1 and CB2 receptors. This interaction supports the ECS, which regulates vital body functions like breathing, heart rate, and digestion. Delta 8 supports your ECS, and a well-functioning ECS is crucial for your overall wellness.
Delta 8 – Full Spectrum, Broad Spectrum & Isolate
Because Hemp-derived D8 is found in trace amounts, most products out on the market are offered in full-spectrum — a term in the CBD world that refers to a product with all of the cannabinoids, including trace amounts of THC, hemp has to offer. By leaving the hemp unhindered, it enhances the benefits of the product.
Full Spectrum
At Exhale, our full spectrum Delta 8 oil contains Hemp extract with full-spectrum cannabinoids. This means that our oil is jam-packed with all the natural chemical compounds Delta 8 has to offer. By using a full-spectrum oil, you can experience the well-rounded effects of Delta 8 that contribute to the entourage effect. This is when all cannabis compounds act in synergy to produce Delta 8's elevating effects.
Broad Spectrum & Isolate
Because Delta 8 is so difficult to isolate, most products are full spectrum. Finding Delta 8 isolate is especially difficult due to the rarity of the compound in the hemp plant. With broad-spectrum hemp extract, no need to worry about any Delta 9 THC in your product.
D9 THC is the primary compound in marijuana that induces a "high." Even though full spectrum Delta 8 products contain some Delta 9 THC (0.3% or less), these trace amounts are not enough to cause intoxication. Still, some people would rather avoid Delta 9 THC altogether, and broad-spectrum products give you the chance to do just that. Delta 8 isolate is a fine white powder that consists of 99%+ pure Delta 8 THC molecules.
The hemp industry is riddled with brands that market their products, claiming there's no THC in their products or vice versa. Thanks to the 2018 Farm Bill, all hemp products' growth, sale, and consumption are federally legal, including Delta 8 THC, which is made from hemp plants! Though D8 is federally legal, individual states and local laws conflict with the hemp industry in their right to outlaw it.
How to Dose Delta 8 Tincture
Dosing Delta 8 oil may be confusing at first in today's market, but once you get the hang of it, it's so easy! Keep in mind that a single dropper (1 mL) is almost always a serving size. It's easy to find the right dosage with Delta 8 THC tinctures for that manner because they give you control over the amount of Delta 8.
A few factors you want to keep in mind are body weight and tolerance. It is always better to start low and go slow. Start at a low dosage and slowly work up to a higher dosage to reach your desired effects. A starting dose could be half a dropper which would be 0.5 mL, while a strong dose is 2mL equating to 20 mg.
Here are a few other factors that may affect your dosage.
Age
Weight
Ailments
Metabolism
Activity levels
Tolerance
Are There Any Side Effects With Delta 8?
Delta 8 THC is not as potent as Delta 9, which means you shouldn't feel any negative side effects often associated with getting high. While there are minimal side effects to Delta 8, below are a few of the most common ones.
Mental Effects
Delta 8 is a mind stimulant causing discomfort to those new to D8, leading to racing thoughts. As mentioned previously, it is always important to start slow and gradually raise your dosage to suit your needs.
Dry Mouth
When taking Delta 8 THC, you may experience a dry mouth. But don't fret! Dry mouth is temporary and isn't caused by dehydration. A dry mouth results from how THC interacts with the salivary glands.
You may also experience dry eyes. Also, a sign that THC is present in your system! To alleviate the dryness, try some moisturizing eye drops.
Sleepiness
Taking a higher dose of Delta 8 might get you feeling a bit tired. This is especially beneficial to those who have trouble sleeping. In higher doses, some may experience mild fatigue. This only lasts as long as the other effects of Delta 8. This effect is far less likely to occur when taken in smaller doses.
"Couch Lock"
While Delta 8 procures a full-body experience that promotes tranquility and bliss, this effect might be too strong for some. If your tolerance is not very high, you may encounter the dreaded "couch lock" or temporary sensation of drowsiness. The feeling maybe a tad much for those who are not adjusted to it.
Since Delta 8 produces more intense effects than the soothing feelings of CBD, don't drive or operate heavy machinery after taking D8. The euphoric feelings may distract you from the task at hand, and existing federal law prohibits the operation of these vehicles. This is also why we don't recommend taking it at work either.
Always choose to enjoy Delta 8 THC when you can kick back and relax. Allow yourself to feel the blissful tranquility wash over you.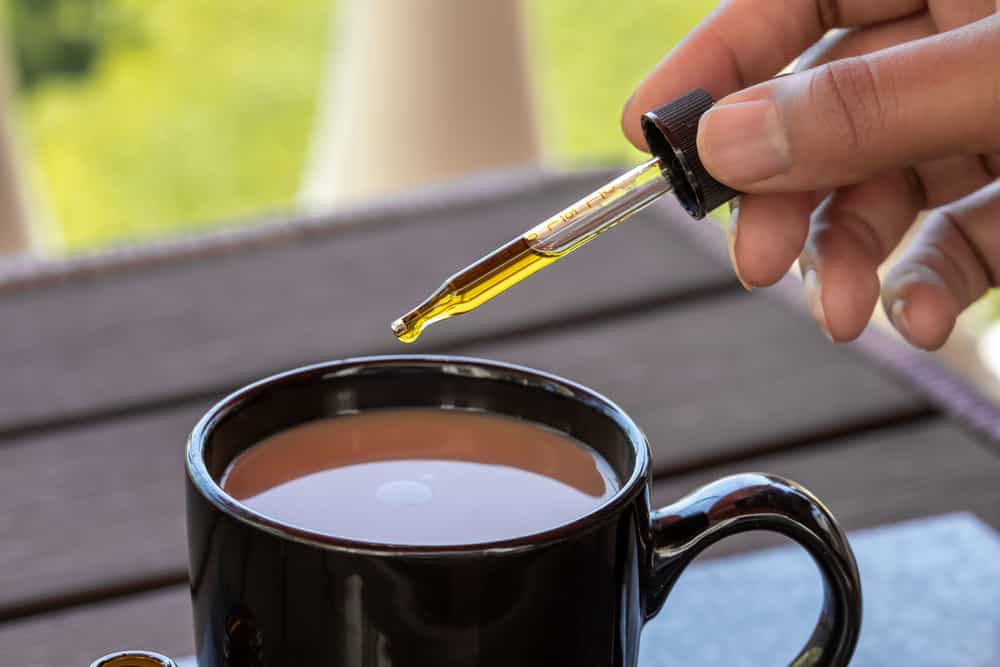 What to Look for When Buying Delta 8 Tincture Online
It's easy to buy Delta 8 THC online. But is it the real deal? There are a few things you should look for in a brand before purchasing your tinctures from them. First and foremost, be sure their products are organic, using all-natural ingredients. This ensures you aren't ingesting any harmful chemicals and receiving all the great benefits D8 has.
Aside from the actual product, there are different techniques the cannabis industry utilizes to extract D8 from hemp plants. The cleanest and safest way is CO2 extraction. This form of extraction leaves no traces of harmful chemicals to be left behind in the product.
Make sure your Delta 8 THC products come with a Certificate of Analysis (COA) which is a document that shows the data from a third-party company that tested the batch for potency and the cannabinoid profile. A COA keeps the brands accountable. At Exhale, we value transparency.
Why Choose Exhale Wellness for Delta 8 Tincture Oil?
Exhale Wellness is the place to go for all your Delta 8 needs and information. We have perfected our THC products to provide you with only the highest quality products. We deeply care about your wellbeing and experience, so all our products are vegan, organic, and use locally sourced hemp.
Natural Ingredients
We continuously use products and ingredients that benefit and elevate your Delta 9 THC experience. All these ingredients are vegan, organic, non-GMO, and free of harmful contaminants. Our tinctures contain hemp seed oil, which helps the digestion process and has so many health benefits on its own.
Certificate of Analysis
All Exhale's products come with a Certificate of Analysis (COA). This means that a third-party company lab tested all of our products. These tests confirm the accuracy of our label, potency, and cannabinoid profile.
Customer Reviews
Our customer reviews speak for themselves. We proudly share these reviews because we care about your experience and feel it's important to share with potential customers. Customer reviews allow us to be transparent and encourage a great line of communication between our customers and us!
Customer Service
You can always chat with us online or give us a call! We have a team dedicated to great customer service and answer any questions about Delta 8.
Final Thoughts: Delta 8 Tincture – Delta 8 Oil
Delta 8 is an interesting and exciting new outcome of hemp extraction and mutation that produces effects somewhere between CBD and Delta 9, commonly known as THC, the compound in marijuana responsible for full mind and body euphoria. Though, full-spectrum CBD oil and Delta 8 oil are very different when it comes to their effects. While both are derived from the hemp plant, Delta 8's effects are a bit stronger than CBD.
Delta 8 tinctures are a great, discreet way to enjoy all benefits of Delta 8. It is always important to enjoy your Delta 8 responsibly and preferably in a space where you can sit back for about an hour (or two or three) and relax.