Delta 8 THC In Tennessee – IS IT LEGAL TO BUY?
Living in The Volunteer State and looking for some fantastic hemp products? You might find yourself searching out Delta 8 THC Tennessee state law for more information. Some consumers might feel unsure how to buy hemp-derived products, but rest assured you have come to the right place to change that!
When it comes to buying Delta 8 THC (Delta 8 or D8) products, it is important to know the state and federal laws concerning these hemp products. Equally important is knowing where to get the best Delta 8 products in Tennessee. If you want to find these things out and more, you've come to the right place! Please keep reading to learn everything you'll need to know about Delta 8 THC in Tennessee and why Exhale Wellness is your one-stop shop for all your D8 needs!
What Is Delta 8 THC?
Delta 8 THC is among hundreds of naturally occurring cannabinoids found within the hemp plant cannabis Sativa. However, the concentration of Delta 8 in hemp plants is very low – less than one percent. Industrial hemp-derived CBD goes through a conversion process to generate enough Delta 8 THC to make various products. A complex technical process called isomerization converts CBD into Delta 8 THC. Isomerization moves a chemical bond in CBD to a new position, causing it to transform into Delta 8 THC.
The benefits of Delta 8 come from its interaction with your endocannabinoid system (ECS). The ECS is an internal network of cell-signaling receptors that help mediate several biological processes, including mood, appetite, mobility, and sleep. When Delta 8 interacts with the CB1 receptors of your ECS, it produces euphoric and therapeutic effects. Unlike Delta 9 THC, the more popular potent cannabinoid in marijuana, D8 provides therapeutic effects without intoxication.
There is a wide selection of Delta 8 THC products on the market suitable for all kinds of purposes. You can find the highest quality of these products with us at Exhale Wellness!
Some Delta 8 products we offer include:
Tincture
Hemp Flower
Pre-Rolls
Soft Gels
Vape Cartridges
Disposable Vapes
If you want big deals on our products, you should check out our bundled options! Our bundles aren't just a good deal; they contain some of our favorite products so you can get a variety of options, all in one order!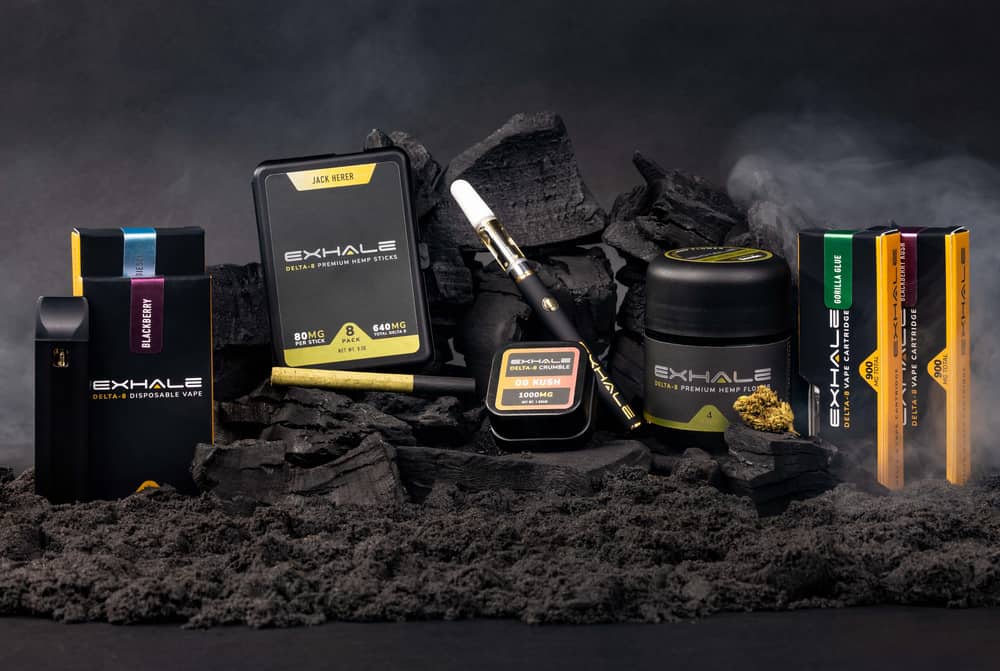 Benefits
Many consumers enjoy Delta 8 for its beneficial and therapeutic effects. These effects have garnered Delta 8 so much attention and are a big reason why D8 continues to rise in popularity.
Some of these benefits of Delta 8 THC include:
Promotes Sleep
Raises appetite
Heightens mood
Relieves discomfort
Eases stress
Effects
Like other hemp-derived cannabinoids, Delta 8 is well-tolerated. The cannabinoid is unlikely to cause any unintended side effects. Still, while not likely, side effects may occur, especially in those yet unfamiliar with the effects of Delta 8 or those who may have taken more than the appropriate amount.
Some unintended effects you might experience from taking Delta 8 can include:
Red eyes
Dry mouth
Headache
Upset stomach
Lethargy
Any side effects you may experience from D8 should not be life-threatening and are temporary. But if these side effects continue to increase in severity over time, we recommend you seek the help of a medical professional.
Is Delta 8 Legal In Tennessee?
Yes, Delta 8 is legal in Tennessee. The 2018 Farm bill (Also known as The Agricultural Improvement Act) federally legalized all hemp-derived products, including Delta 8 THC, across the United States. Tennessee also established several hemp programs to regulate the sale of hemp and hemp-derived cannabinoids in the state.
Federal law states that for a cannabis plant to be legal, it must fall at or under 0.3% Delta 9 THC. Anything over this trace amount is considered marijuana and falls outside the bounds of hemp laws. The United States Drug Enforcement Agency (DEA) labels such products as controlled substances. Also, these products do not share the federally legal status granted to hemp.
How Old Do You Have To Be To Buy Delta 8 THC in Tennessee?
You need to be at least 21 years old to buy Delta 8 THC in Tennessee. While there is no rigid state law enforcing age restrictions for Delta 8, most retail stores will likely enforce their age restrictions. Other states will typically adhere to the same rules. For Tennesseans, expect even Farm Bill-approved products to require ID for purchase.
Where Can I Buy Delta 8 In Tennessee?
If you're looking for the best Delta 8 the cannabis industry has to offer, then you'd do well to start with Exhale Wellness! At Exhale, we provide consumers with premium Delta 8 products to receive all the hemp plant's delicious flavors and therapeutic benefits. Try our premium line of vape products, flower, and our tasty line of Delta 8 gummies.
First-time buyers can enjoy an extra 15% off their order using the code TENNESSEE15 at checkout. With that in mind, visit our online shop for some great deals on D8 products!
But if you want your D8 products right now, you have some local options. Try one of these popular destinations in Tennessee:
Nashville CBD Solutions | Delta 8 – 4004 – Hillsboro Pike Unit 150R, Nashville, TN 37215
4EverECig – Delta 8, Vapes, and Kratom – 3400A Old Hickory Blvd, Lakewood, TN 37138
Hemp Solutions Dispensary CBD + Delta 8 – 2001 North Broadway C Suite c, Knoxville, TN 37918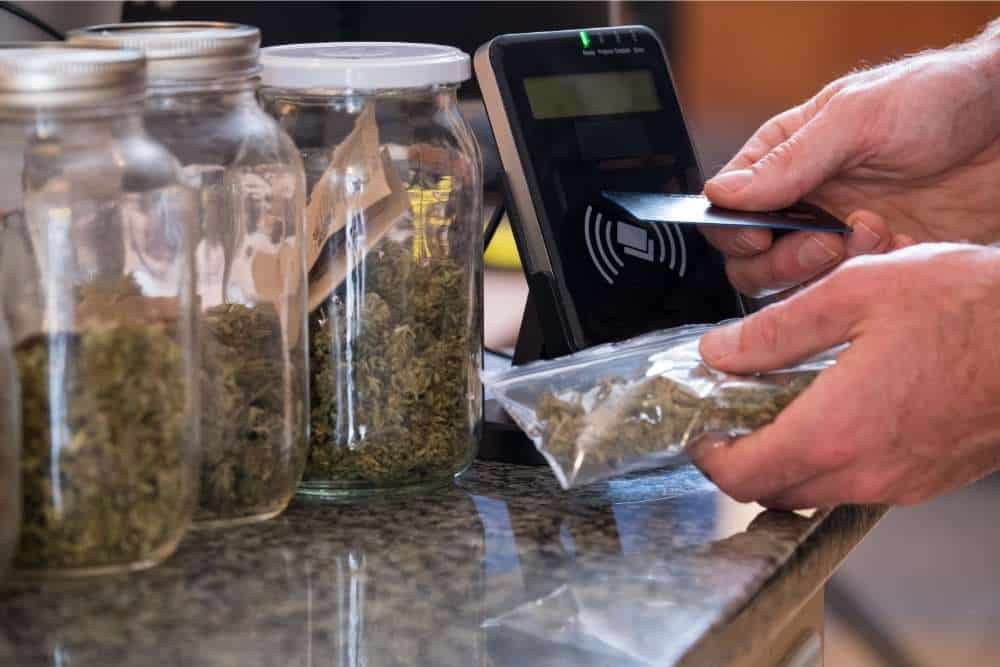 Can Delta 8 Products Be Shipped To Tennessee?
Yes, there is no problem shipping hemp-derived Delta 8 products to Tennessee! One of the big benefits of hemp's legal status is that its products can be shipped anywhere in the US. For Tennessee residents, state law should have no issue with you ordering from an online retailer like us at Exhale Wellness! You can rest assured you're ordering a Farm Bill compliant Delta 8 product when you order from us.
Why Choose Exhale For Delta 8
Exhale Wellness brings quality to the table, not always found in companies offering hemp-derived D8 products. We do this by providing fully organic, all-natural products free from artificial ingredients and other additives that detract from the naturally beneficial qualities found in hemp products.
By sourcing all our hemp from premium Colorado farms, we can provide our customers with the best quality hemp on the market. All extracts made at Exhale use this high-quality hemp to get the best possible product. Exhale has been at the forefront of Delta 8 THC and is a trusted source for many Delta 8 enthusiasts, mostly our delta 8 gummy cubes are the first choice for our customers.. You can find us featured in popular publications like The Los Angeles Times, Forbes, and LA Weekly!
Exhale also offers a 30-day return policy with a 100% money-back guarantee. And because we don't aim to catch our customers on a technicality, we offer an extra 15 days to this guarantee as an expression of goodwill.
Final Thoughts – Delta 8 IN Tennessee
There are many ways to get D8 products in Tennessee. But finding quality products requires knowing the right place to go. There are plenty of stores in Tennessee that provide D8 products. However, they may have limited stock and be out of your driving range. Your best option will be to shop online for D8 and have it delivered to your Tennessee doorstep.
Now that you've worked your way through our guide, we hope you feel confident in finding a D8 product that suits your needs. Stop by our shop at Exhale Wellness, where you'll find tinctures, flower, extracts, and all things Delta 8! Also, visit us to see our line of CBD products for our full range of hemp-derived products.