In the last decade, portable electronic vaporizers or vape pens have become increasingly popular. Thanks to their small size, vape pens offer maximum convenience and the ability to consume discreetly, allowing consumers to enjoy their favorite cannabinoid wherever they go. One of the most potent types of vape pens available is THC vapes. If you're considering getting yourself a THC vape pen and want to get the most out of it, you'll want to read this practical guide that will cover everything you need to know about using these handy devices.
Come with us as we dive into the world of THC vapes and how they can benefit your health and wellness needs. And if you're curious about trying these portable devices for yourself, we'll give you plenty of reasons why you should shop with Exhale Wellness for the best Delta 8 THC Vape Pens money can buy!
What is a THC Vape Pen?
A THC vape pen is a handheld vaporizer that uses a small atomizer to heat a cartridge containing hemp or marijuana oil. This oil contains a cannabis plant THC, typically Delta 9 THC (Delta 9, D9, or THC) or Delta 8 THC (Delta 8 or D8).
Upon activation of the vape pen, the atomizer heats the active cannabinoids in the oil and creates cannabis vapor you can inhale through a mouthpiece. As the heating element does not combust the oil, portable vapes are a great, smoke-free way to enjoy flavorful extracts and consume discreetly. To find the right vape pen for you, let's first look at the different types of vape pens available for your enjoyment.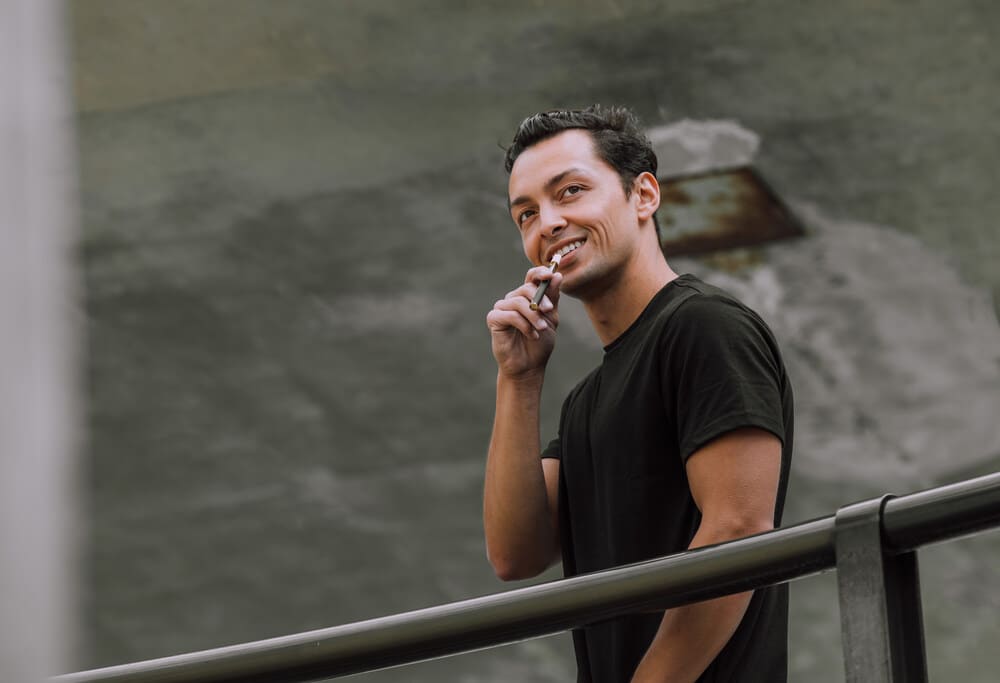 What Are The Different Types of Vape Pens?
There are several types of portable vaporizers to choose from when purchasing a vape pen. As vaping has become one of the most popular ways to receive the benefits of your favorite cannabinoids, especially of the THC variety, each style of vape pen offers its own advantages for consumers.
Finding the most suitable vape pen depends on what you require from your vaporizer. Here's a breakdown of the most common types of vape pens available to consumers:
Rechargeable vapes: Features a rechargeable battery that typically works with most vape oil cartridges. This is the most common type of vape pen on the market and allows you to change out vape carts.
Disposable vapes: All-in-one vape pens with self-contained batteries and vape oils. Once the oil is fully consumed, you can throw away the entire vape.
Button-activated vapes: Pressing a fire button activates the vape's battery and heating element to produce vapor.
Draw-activated vapes: A buttonless vape pen battery that activates vapor flow upon inhalation from the mouthpiece.
Dry herb vapes: For vaporizing hemp or cannabis flower. This vape contains a large heating chamber suitable for ground-up, dry herb.
Concentrate and wax vapes: Designed specifically for vaping cannabis concentrates and extracts.
Some vape pens may be more than one of the above types in certain cases. For example, most vape pens with rechargeable batteries require button activation. However, the majority of newer disposable vape pens are draw-activated.
Many people choose rechargeable vapes because of their freedom to extend their battery life and choose their own vape cartridges. Those who prefer a ready-made solution usually opt for a disposable vape pen since they can enjoy it straight out of the box. No matter your preferences, there's a vape pen for you.
What Are the Different Types of THC You Can Vape?
The two most common types of THC you can vape are Delta 8 THC (Delta 8, D8, or D8 THC) and Delta 9 THC. Both types of THC can create euphoric sensations to varying degrees. Delta 9 THC is the main cannabinoid in marijuana and is also found in trace amounts in hemp (0.3% or less). The cannabinoid is iconic for its cerebral stimulation, intense euphoria, and relaxing effects.
Delta 8 THC, on the other hand, produces a much milder euphoria, albeit with more of a sedating effect. For this reason, Delta 8 THC is more suited for evening and nighttime use or whenever someone just wants to relax and wind down.
Are THC Vapes Legal?
Currently, hemp-derived Delta 8 THC is a federally legal form of THC that you can vape. This distinction is due to the 2018 Farm Bill, which stipulated that hemp, hemp extractions, and hemp-derived products must contain no more than 0.3% of Delta 9 THC. Vapes containing Delta 9 THC above this amount can only be bought at licensed dispensaries by those over the age of 21 in states where marijuana is legal for adult consumption, be it medicinally or recreationally.
However, it's important to note that although recent years have seen many states legalize marijuana and marijuana products, they are still considered illegal by the federal government. If you live in one of these states, you can consume cannabis vapes and other cannabis products within state lines. Because Delta 9 THC vape cartridges and vape pens are not widely available, many have turned to hemp-derived, Farm Bill compliant Delta 8 THC vapes for their needs.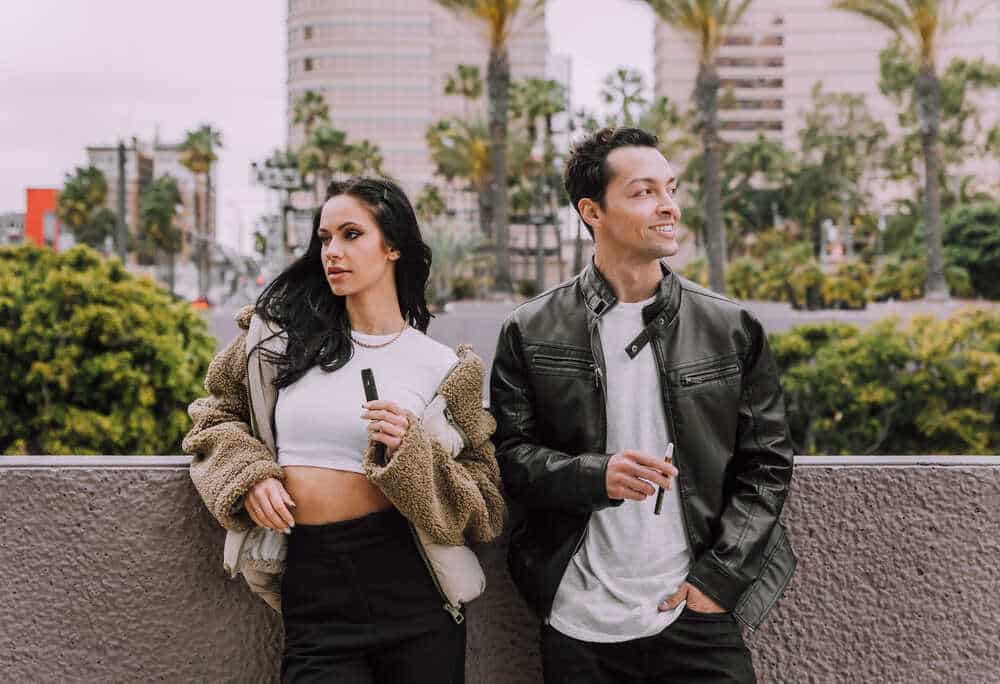 What Are The Benefits of Vaping?
Vaping offers several benefits, especially to those looking for a smokeless alternative. With vape pens gaining more societal acceptance in recent years, more people are seeking to enjoy their benefits.
Here are some of the many benefits of vaping and why cannabis enthusiasts prefer it over other methods of consumption:
A smoke-free alternative. Vaping still gives you the fast-acting effects of inhaling, but without the harsh smoke.
There are no bad odors. No smoke means no acrid smell, just a thin, wispy vapor with a pleasant scent that dissipates quickly.
Convenience and portability. One of the greatest advantages of vaping is how easy it is to take with you. This gives you the freedom to consume anywhere, anytime you please.
It's discreet. Vaping is so quick and easy to do that people often don't even notice you're taking a drag! Plus, vapes smell very pleasant and don't attract as much attention as smoking.
You can control the dose. Vaping THC oil gives you complete control over the size of your dose, resulting in one of the most measured ways to consume cannabis. You can decide how many drags you take, depending on your preferences.
Very cost-effective. Vapes give you high potency and maximum dose control. For consumers, this is an excellent way to economize and optimize their consumption.
How To Use a Delta 8 THC Vape Pen Battery & Vape Cartridge
Delta 8 THC vape pens are very easy to use. If you are a first-time consumer or new to vape pens, check your device's instructions before you start vaping. Here's a general breakdown of how to use the average vape pen.
First, connect the vape battery to your chosen vape cartridge. If your vape pen is button-activated, you will need to activate it before use. This typically requires pressing the button five times rapidly.
When ready to enjoy, press the button as you inhale from the mouthpiece. An indicator light will come on each time you press the button to highlight that the vape tank is heating up.
Start with a short vape puff. Inhale for no more than 1 or 2 seconds. Try to savor every hit and enjoy the flavors and aromas of your vape.
After this first inhalation, wait for 5 minutes to see how you feel before deciding if you need a second vape puff. If you continue consuming, you can experiment with different inhalation techniques. Some people enjoy taking a sizable vape hit, while others favor taking a few smaller draws.
Repeat these steps until satisfied. Everyone is different, so what satisfies you might not be the same as someone else. Always vape according to your limits and never overconsume.
When your vape cartridge runs out, twist it off the battery and discard it. Choose from a range of new carts to replenish your supply. And if your battery runs out of charge, use a micro USB charger to recharge it. Most vape pen batteries also allow you to switch voltage settings to find your ideal vaping temperature.
How To Use a Delta 8 Disposable Vape Pen 
For an even easier way to use a vape pen, you can opt for a disposable device, where the vape battery and cannabis oil cartridge are enclosed in a single piece of hardware. Since most delta 8 disposables are draw-activated, all you have to do is start inhaling from the mouthpiece when you are ready. That's all there is to it!
As with all vapes, we recommend starting with a short inhale and waiting for 5 minutes to see how you feel. And for all forms of consumption, know your personal limits and exercise caution to avoid over-consuming.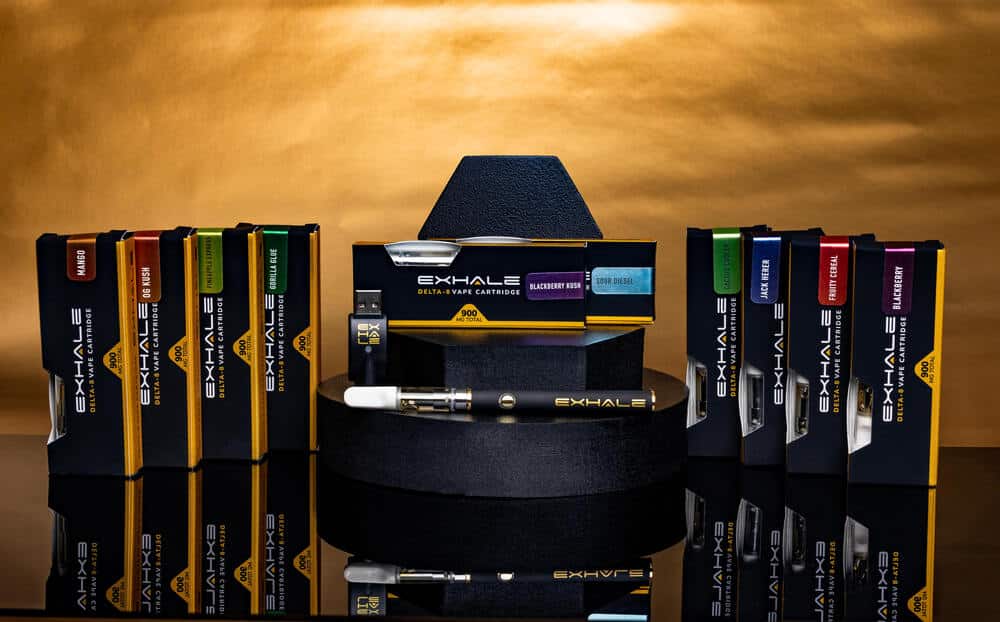 Why Choose Exhale Wellness For Delta 8 THC Vapes?
At Exhale Wellness, we take pride in providing the best Delta 8 THC vapes around. Whether you're looking for vape cartridges or disposables, we have it all! And with plenty of flavors to choose from, you're bound to find one that pleases your palate.
Our Delta 8 THC Vapes come with the following guarantees and quality assurances:
Full-spectrum Delta 8 THC vape oil in every vape
Available in 900mg Vape Carts and 1g and 2g Disposable varieties
Made from USA-grown, Farm Bill compliant hemp that contains 0.3% or less Delta 9 THC
Contains no additives or preservatives
Contains no MCT, PG, VG, or PEG oil
Flavored with natural terpenes
Lab-tested by a third party to ensure safety, potency, and purity
In addition to our dedication to making quality products, we're also committed to our loyal customers. Here's how we help you save money when you shop with us:
30-day money-back guarantee on all purchases. If you're not completely satisfied with your order, return it for a full 30-day money-back guarantee.
Get savings sent to your inbox and be the first to know about sales. Subscribe to our newsletter to receive notifications about upcoming sales and new product drops.
Subscribe and save 25% on every order forever! Join our free subscription program and save 25% on every purchase. Have your favorite Exhale Wellness products shipped directly to your doorstep bi-weekly or monthly so you can stay stocked up!
Final Thoughts – How Do Properly Use A Vape Pen?
Vape pens are very easy to use and provide hemp enthusiasts with portability and convenience at their literal fingertips. With many different vape pens available, you can enjoy your favorite hemp-derived THC oil cartridges as long as you know the basics of operating a vape pen. And with even more convenient vaping solutions like disposables, you don't even need to know how to operate them because they are so effortless to use!
Vaping increases in popularity each year, and now you can take advantage of all the flavors, devices, and options available. With companies like Exhale Wellness offering a wide variety of Delta 8 THC Disposables and Vape Cartridges, you're sure to find something to suit your vaping needs. Head on over to our shop and see for yourself! We have a vast selection of Delta 8 THC Vapes ready and waiting for you to enjoy.