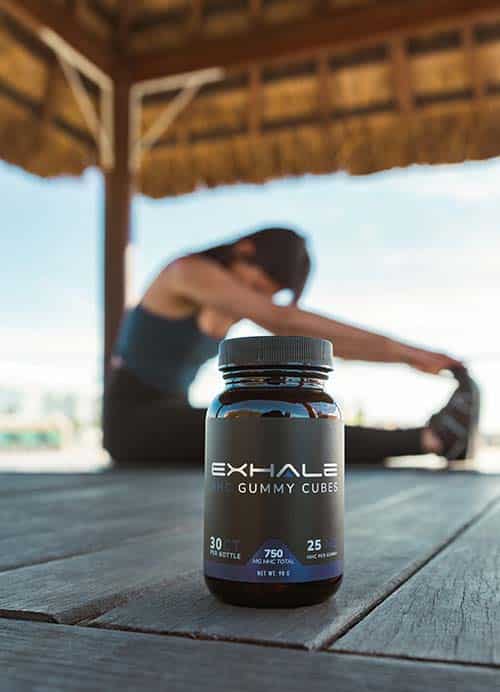 HHC gummies make for a delectable candy that has a potent power just waiting to be unleashed! Just one HHC gummy before an evening out can take your night from good to great; before you even know what hit you, this gummy will have you grabbing life by the horns. Explore new sensations and revel in euphoric feelings only known to the chosen who get their hands on this exciting product.
One of these new and exciting innovations is the discovery of a cannabinoid called Hexahydrocannabinol (HHC). HHC is a cannabinoid commonly found in the seeds and pollen of hemp plants. HHC is federally legal because it is hemp-derived and not a derivative of marijuana. Products made from hemp (like all those at Exhale Wellness) are federally legal and protected by regulations established by the Food and Drug Administration (FDA).
If you, like many others, would like to learn more about this cutting-edge compound, read further to be a part of the future of cannabinoids!
For consumers looking for something new, HHC gummies are a tasty way to enjoy HHC's benefits. With gummies, HHC can become even more of a treat to consume! HHC gummies are made by combining liquid HHC extract in delicious vegan fruit-flavored gummies.
Exhale's gummies are also made without artificial colors or flavors! The sum of these great ingredients is an irresistible treat with the ability to upgrade your experiences from regular to spectacular.
The world of hemp and hemp-derived products is a place of constant innovation. It was only a few years ago now that CBD wasn't so well-known! The same can be said for other increasingly popular THC isomers like Delta 8.
WHAT ARE THE BENEFITS & EFFECTS OF HHC GUMMIES?
Customers enjoy HHC for various reasons; some look to it for the specific benefits it can provide them, while others consume HHC for its more enjoyable, recreational qualities. Some of the benefits you may notice from consuming HHC include: 
Side Effects
While it has various positive qualities, HHC can cause some potential side effects. Before consuming HHC, it is advised to be aware of some possible side effects from its consumption. Some of these side effects are listed here for you to review:
Dizziness
Lethargy
Confusion
Upset stomach
If these side effects persist for an extended period or increase in severity, immediately consult a doctor so you can be evaluated to diagnose any potentially serious issues.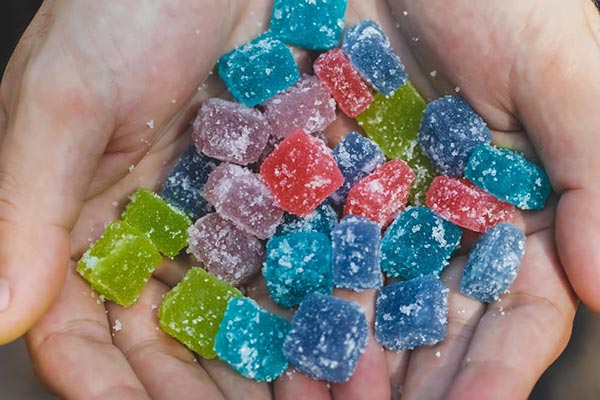 HOW DO YOU DOSE AN HHC GUMMY?
Before taking any amount of HHC, it is important to figure out how to dose out the correct quantity. Dosing out HHC is often described as following similar rules to THC or Delta 8, but guesswork is unnecessary. Due to weight, age, or tolerance, every consumer will require a slightly different amount to reach the desired outcome. Still, here are some doses that should prove suitable for various types of consumers:
These dosage recommendations may not work the same for every user, so these statements should not be taken as official dosing standards for approaching HHC. Use caution, and apply your critical judgment when consuming HHC. The surest way to prevent taking too much is to start with a low dose, and if you have to increase the dose to do it slowly, taking time for the full effects to kick in first.
WHY BUY HHC GUMMIES FROM EXHALE WELLNESS?
If you want to have some HHC in your cart today, there's no one better to get it from than us here at Exhale Wellness. Exhale has many positive reviews confirming the quality we seek to continually uphold. So when you visit our website, you'll know you're in good hands.
Exhale was founded by a group of passionate, health-conscious innovators. We have been featured in the LA Times, Forbes, and the Ministry of Hemp, to name a few! Next time you need high-quality CBD, Delta 8 THC, or HHC, we are here to provide!
FREQUENTLY ASKED QUESTIONS (FAQ)
There are many benefits to taking HHC gummies, and one is that it can boost your mood. Many users report HHC provides an increase in their energy and creativity, and some even experience a feeling of euphoria.
HHC can also be great for relaxing after a long day, as it may provide users with a calming sensation. Using products like HHC gummies may also be excellent for promoting better sleep. Many people use HHC products to help with both mental and physical ailments, as HHC may be good for relieving anxiety and depression as well as aches and pains. Some users even report that using HHC gummies can help ease stomach issues.
HHC gummies are a great choice for anyone who is experienced with using cannabinoids and wants more moderate effects than those of delta-9 THC. Using HHC gummies is popular with those who want a fun yet discreet product that also tastes delicious. Consuming HHC typically means that the effects might take longer to kick in, but they may also last longer than simply inhaling or smoking HHC. HHC provides both physical and mental benefits, and overall, HHC gummies are an excellent choice to boost your wellness holistically.
HHC is a cannabinoid that is similar to delta-9 and delta-8 THC. While there is a slight psychoactive effect, it is less potent than delta-9 THC. Many people have experienced some unique effects on HHC, including a boost in energy and creativity. While it can cause your cognition to shift, it does not completely overtake your ability to remain in control.
For some, the effects of HHC may be comparable to the traditional "high" that comes with using delta-9 THC, but significantly less intense. There are some factors that may also influence the way HHC affects the body and mind. For example, a person's tolerance level plays a large role in how HHC affects them. Tolerance can be affected by the amount of HHC used as well as how frequently it is used, and a person's age and weight also plays a part in how your body responds to this compound. 
Additionally, the kind of HHC product used can also influence how "high" a person might feel. Inhaling HHC, like when smoking or vaping, can result in quick and strong effects; however, they do not last. But, with HHC gummies, the effects may take up to an hour to hit, but once they do, they are long lasting.
Yes, HHC is technically legal because it follows the specific guidelines of the 2018 Farm Bill. To be compliant with the Farm Bill, HHC products must be sourced from hemp, not marijuana. They must also contain less than 0.3% delta-9 THC.
However, some states have certain restrictions that do not outright say HHC is illegal, but the language used suggests it may be prohibited in some way. These states include:
Alaska

Arizona

Arkansas

Colorado

Delaware

Idaho

Iowa

Mississippi

Montana

New York

Rhode Island

Utah
Therefore, it is important to research the laws and restrictions on hemp-derived products like HHC in your state before you try to purchase them. 
If you live in a state that is not on the above list, then it is likely that you can purchase HHC products without any trouble. But, it is still important to confirm that you are buying HHC products that are compliant with the Farm Bill. Here at Exhale Wellness, we make sure all of our products are derived from legal, federally compliant hemp, including our HHC gummies. We also ensure our gummies contain 0.3% or less delta-9 THC through our third-party lab testing, the results of which are available on our website.
Yes, HHC gummies are generally safe, and ones we offer at Exhale Wellness reach a new standard of safety and purity. Our HHC gummies are made from 100% organic ingredients, contain no artificial colors or flavors, and are vegan-friendly and cruelty-free. HHC products are also considered safe if they are produced through quality manufacturing processes. The HHC used in our gummies is safely extracted through the hydrogenation process, and we also test all of our products through third-party labs to ensure purity and potency.
However, like all hemp-derived products, there are some possible side effects to look out for, especially if used in excess. Many of the effects are considered mild, and all of them are completely temporary and will fade. Some of these include red eyes, dry mouth, anxiety, increased appetite, paranoia, dizziness, insomnia, and increased heart rate. 
It is best to know and understand your tolerance level and your limit when trying a new hemp-based product, especially if you are not an experienced user of either delta-8, HHC, or even delta-9. If you are unsure how much of a product to take at first, then you can refer to any dosage chart for a recommendation. 
At Exhale, we consider a low dose of HHC to be about 5mg to 12mg of HHC, a medium dose to be 12mg to 30mg, and a high dose to be 30mg to 60mg. Beginners should always start with a low dose, and as your tolerance increases, you can gradually increase it as needed. However, keep in mind that HHC can affect everyone differently, and our guidelines are only recommendations.