With plenty of hemp-derived products becoming more available, Delta 8 THC products are generating a lot of buzz in the hemp community. But what does Delta 8 feel like? If you are an experienced hemp enthusiast or first-time consumer, you probably wonder what Delta 8 is like. It turns out Delta THC offers plenty of positive effects to make your experience the best.
Delta 8 THC might sound similar to Delta 9 THC, but they are two different naturally occurring compounds unique to hemp plants only. As more people are trying this exciting new product, it helps to understand what it is. If you want to become a Delta 8 THC connoisseur, read on further to learn about Delta 8's effects, benefits, and more!
What is Delta 8?
Delta 8 THC is a shorter way of referring to Delta 8 Tetrahydrocannabinol, one of a hundred or so all-natural hemp compounds known as cannabinoids. Delta 8 THC is within the trichomes of the hemp cannabis plant. The trichomes are little white hairs with glands located in the tips where cannabinoids like Delta 8 THC and other natural compounds are.
The chemical structure of Delta 8 THC is similar to cannabidiol (CBD), another highly popular cannabinoid people enjoy consuming for several reported beneficial side effects. These compounds have the same formula but are arranged differently, producing slightly different effects on consumers.
Like other cannabinoids, Delta 8 THC works by interacting with a person's endocannabinoid system, maintaining homeostasis (balance in the body's essential functions like sleep, digestion, and mood). Research has shown that the Delta 8 THC molecules support the CB1 and CB2 receptors of the endocannabinoid system throughout the gut and central nervous system.
Brands use different methods to extract Delta 8 THC from hemp flowers. One of the best and cleanest ways is the isomerization method, which turns CBD into D8. Once this cannabinoid is obtained, it is infused into various products like Delta 8 gummies or carrier oils to create Delta 8 THC oil.
Delta 8 THC products are federally legal as long as they contain less than 0.3% of Delta 9 THC, according to the 2018 Farm Bill. Although federally legal, some states have banned or restricted sales of Delta 8 products.
What Are the Benefits of Delta 8?
After Delta 8 THC products are consumed, it makes its way into the bloodstream and encounters the different endocannabinoid system receptors. It's this connection that provides a variety of benefits. Here are some of the benefits offered by Delta 8.
Improves Mood: People can sometimes become stressed from their work or home life. Consuming Delta 8 THC may help mediate feelings of nervousness. Feel a sense of full-body relaxation after you consume Delta 8.
Stimulates Appetite: Some people struggle to eat or finish their meals because of a lack of appetite. Delta 8 THC consumption helps promote natural digestion so you can maintain a natural appetite without forcing it.
Soothes Physical Discomfort and Minor Aches: After a long day of work or completing an intense workout, your body may feel sore. With Delta 8 THC, you'll ease your sore muscles quickly.
Promotes Natural Sleep: According to a

study

, close to 40% of people have trouble completing the recommended seven to eight hours of sleep every night. When people consume Delta 8 THC, they will be able to experience a more natural sleep.

Provides Feelings of Bliss: One of the most sought-after effects of Delta 8 THC is a mellow feeling of euphoria. If you have been dealing with negative energy, Delta 8 THC can help consumers find joy and happiness.
Since its federal legalization with the 2018 Farm Bill, which made the sell of all hemp derived products with less than 0.3 % THC legal nationwide, hemp researchers have embarked on long-term studies to investigate the other benefits and effects Delta 8 THC can provide. With more research, people will feel more confident in Delta 8 THC and be more willing to consume it.
What Are the Effects of Delta 8?
The effects of Delta 8 THC are felt at different rates depending on the method of consumption. The type of consumption people choose depends on their tastes and preferences. Here are the different methods of consumption available.
Inhalation
One of the fastest ways to feel the effects of Delta 8 THC is through inhalation. Consumers can inhale the vapor from Delta 8 THC vapes, flowers, or concentrates. These products are also available in different flavors and strains such as Sativa, Indica, or Hybrid.
Some brands might use artificial flavors to provide their vapes and concentrates with specific tastes. It is best to seek brands that flavor their products with the natural terpenes extracted from the hemp plant. Terpenes also provide Delta 8 THC flowers with their aromatic odor.
When consumers inhale Delta 8 THC-infused products, the effects are nearly immediate. Depending on the person and the product's potency, the effects appear within one to ten minutes. And the effects last two to five hours.
Ingestion
Not all consumers prefer inhaling Delta 8 THC vapor which is why Delta 8 edibles are available. Some popular edibles brands infuse Delta 8 extract in various foods and beverages, including gummies, cookies, and brownies.
Consumers who know their way around the kitchen can even create their own Delta 8 THC edibles. Instead of buying a pre-made edible, you can purchase Delta 8 THC oil and add drops to your favorite drinks and meals.
When people swallow Delta 8 THC, it travels through the digestion system, and then it's all absorbed into the bloodstream. The effects of Delta 8 THC edibles take one to two hours until it's felt. The effects of Delta 8 THC edibles take the longest to kick in. And out of all consumption methods, edibles last the longest too, from four to eight hours.
Sublingual
One of the great things about Delta 8 THC oil is that it is very versatile and discreet. By adding a few drops under your tongue, consumers feel the effects within five to 30 minutes.
The effects of Delta 8 THC oil commonly last three to five hours. Also known as Delta 8 tincture, Delta 8 oil is practically tasteless but does have a thick, oil-like texture since it is combined with a carrier oil like hemp seed or MCT oil.
Topical
Another way people can enjoy Delta 8 THC's effects is through a topical. Delta 8 oil is to be added to a lotion or salve to address a specific body part.
If you're feeling limited joint mobility due to swelling, apply a small amount of a Delta 8 topical to alleviate the discomfort. Consumers often add drops of Delta 8 oil to their favorite lotion or even lip balm to nourish the skin.
Minor Side Effects
Delta 8 THC is non-toxic, so consumers shouldn't worry about accidentally overdosing on it. Delta 8 THC has minor side effects but is generally well-tolerated. Here are the side effects people might experience.
Grogginess

Increased thirst due to dry mouth

Red eyes

Minor Nervousness

Stomach discomfort
The side effects are temporary and are more common in first-time consumers. After repeated use, the side effects occur less often. Another thing consumers should be aware of is that the Delta 8 THC products are not intended to diagnose, treat, cure, or prevent any disease. Always consult your doctor before stopping your consumption of prescribed medicines.
What Does Delta 8 Feel Like?
Every experience with Delta 8 THC can vary from person to person. Once the Delta 8 molecules support the cannabinoid receptors, consumers tend to say the experience gets you clear-headed with a euphoric full-body buzz.
A Delta 8 experience is usually a positive one. Consumers have reported they feel relaxed and uplifted. First-time consumers can expect a feeling of euphoria that is not too overpowering. Most consumers can enjoy THC Delta 8 high without becoming too lazy or intoxicated from completing their day-to-day tasks. Delta 8 will get you high, but it is very manageable.
The mental stimulation that comes with Delta 8 THC may ease racing thoughts, as well. Consuming Delta 8 THC will get you feeling free from a foggy mind and mental exhaustion. People enjoy consuming Delta 8 THC because they can still be productive.
Can Different Delta 8 Doses Impact the Effect?
Since hemp became legal with the 2018 Farm Bill, scientists and researchers are beginning to fully study the effects of Delta 8 THC. While these studies are still ongoing, some consumers have taken it upon themselves to test out the different doses and potencies of Delta 8's effects.
The dosage amount varies from product to product and person to person. Most brands offer a suggested serving size to help consumers enjoy the effects of Delta 8 THC.
If you are a first-time consumer, it is best to start with half the suggested dosage amount to test out the effects of Delta 8 THC. With repeated consumption, people develop a tolerance to Delta 8 THC. When this happens, it is best to increase the dosage amount to enjoy the effects of Delta 8 THC fully.
How Does the Feeling of Delta 8 Differ From Delta 9?
The Delta 8 THC high is far less intense than that of the classic Delta 9 Tetrahydrocannabinol high. Unlike Delta 9, the Delta 8 high is less potent but still carries a modest psychoactive effect.
Whereas Delta 8 THC high is more energizing, a high from Delta 9 THC is impairing, with the ability to prevent people from completing their day-to-day tasks. Delta 9 THC also has more side effects than Delta 8. Here are some of the side effects associated with Delta 9 THC.
Increased heart rate

Distorted perception of reality

Increased nervousness

Couch lock, drowsiness

Impaired memory

Increased appetite
Although these effects are temporary, they may be strong enough to deter people away from Delta 9 THC again. Delta 9 THC is also the active ingredient in marijuana, which is still federally illegal. Some states allow the consumption and sale of marijuana recreationally and medicinally, but consumers should avoid a hemp product that contains Delta 9 THC instead of Delta 8.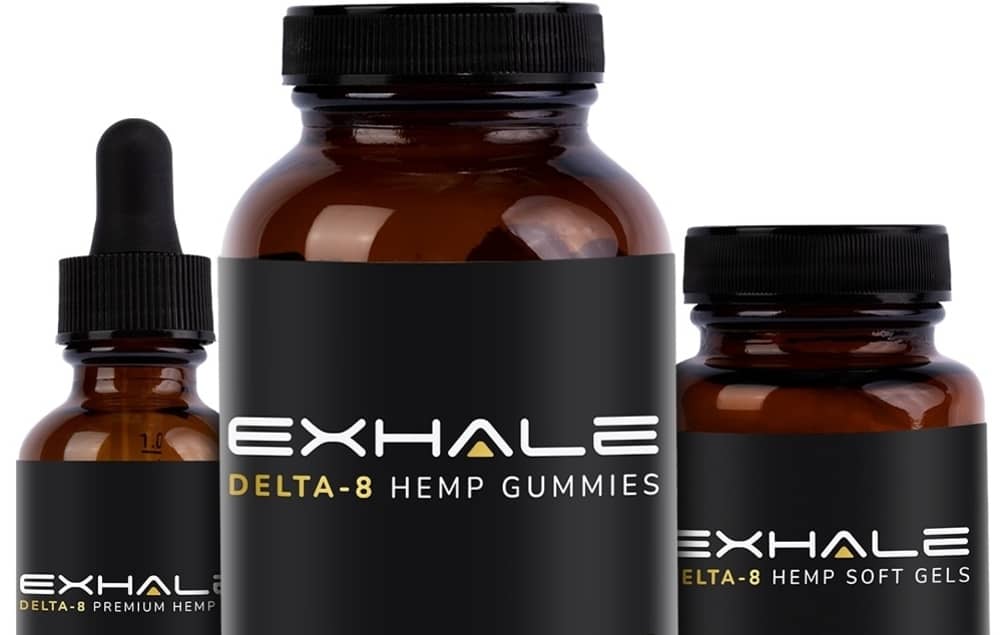 Where Can I Find the Best Delta 8 Products?
If you are excited to try Delta 8 products, and want to know what does Delta 8 feel like, you're not alone. But for those who do not know where to find the best products, you have come to the right place. Exhale Wellness is one of the top brands to provide people with the best Delta 8 products.
Exhale Wellness believes nature holds the key to wellness, so its products are made with all-natural ingredients. The team behind Exhale Wellness have over 25 years of experience in the hemp and organic food industry. The Exhale Wellness team also contains plenty of researchers, cultivators, and hemp enthusiasts.
Why Exhale?
So what does Delta 8 feel like? Here are some of the products offered by Exhale Wellness to help you find out.
Delta 8 Vapes, Concentrates, Prerolls, and Flowers: If you enjoy or want to try inhaling Delta 8 vapor, then Exhale Wellness has a wide variety of products available. You can vape Delta 8, take dabs, light up a pre-rolled joint, or inhale Delta 8 flowers. Exhale Wellness has these products available in different strains such as OG Kush, Sour Diesel, and more!
Delta 8 Soft Gels: Consuming Delta 8 soft gels are similar to swallowing a fish oil pill, except the soft gels contain Delta 8 extract. Exhale Wellness offers its soft gels in three potencies: 300 milligrams, 750 mg, and 1500 mg. Each container holds 30 soft gels made with Delta 8 extract, MCT oil, and tapioca starch.
Delta 8 Oil: One of the most popular ways to enjoy the Delta 8 experience with Delta 8 oil offered by Exhale Wellness. It is made with all-natural organic ingredients. Exhale Wellness Delta 8 oil does not contain additives, preservatives, GMOs, artificial flavors, and coloring.
Delta 8 Gummies: Everyone's favorite fruit snack and Delta 8 THC are a perfect mix; available right here at Exhale Wellness. Exhale Wellness understands that many consumers are health-conscious, so they made Delta 8 gummies vegan and with natural ingredients.
More Reasons To Choose Exhale Wellness
All of these products are popular with consumers, which is why they become returning customers. Here are some other reasons why people choose Exhale Wellness.
Product Knowledge: Exhale Wellness believes in raising awareness about the beneficial properties of Delta 8 THC. Their website contains a blog that addresses many of consumers' questions and concerns about Delta 8 THC. They also provide a dosage chart to ensure that each consumer has the best experience possible.
Brand Transparency: Since the FDA has not released Delta 8 THC products guidelines, Exhale Wellness tests each product through a third-party laboratory. The third-party laboratory tests each product for cannabinoid content, potency, pesticides, and harmful residual byproducts. The results appear on a Certificate of Analysis (COA), Exhale Wellness provides for each product on its website. A COA is an essential document that lists every ingredient in your CBD or Delta 8 product. This document ensures your products are lab tested for potency and accuracy of claimed CBD or Delta 8 quantity.
Clear Policies: Not everyone will be content with a specific Delta 8 THC product which is why Exhale Wellness provides a money-back guarantee. Exhale Wellness contains return and shipping policies that are easy to read.
Consumer Feedback: A good way to answer what does Delta 8 feel like is through the people that have tried it. People tend to choose a product if they see that other people are enjoying it. When it comes to renewing a product, people tend to be honest. Exhale Wellness products contain plenty of positive customer reviews published on their website and other sites too.
Final Thoughts – What Does Delta 8 Feel Like?
The Delta 8 THC revolution is spreading throughout the hemp world. Consumers rejoice! Delta 8 is a hemp product that provides a less intense high than Delta 9 THC, with all the benefits to your ECS and more. If you want to know what Delta 8 is like, the best way to find out is by trying it yourself. What are you waiting for?
So many brands are trying to offer their own Delta 8 THC-infused products, but none can compare to the quality of products offered by Exhale Wellness. If you want to experiment with different Delta 8 products, then check out Exhale Wellness.