There's no doubt about it — THC gummies are one of life's simple pleasures. But if you're new to edibles, have you ever thought about THC gummies effects once they kick in? Will it be a rocket ride, a gentle escalator to happiness, or will you be left disappointed in the benefits? In the end, there are plenty of options for enjoying these tasty edibles—you simply have to choose the desired effects you're seeking.
Unlike smoking or vaping Tetrahydrocannabinol (THC), the effects of edibles take longer to get you going, but on the flip side, they last much longer. It's good to try different types of edibles, and these bite-sized but potent edible products prove the old saying that less is more, and learning more about THC gummies can help you on your path to personal wellness. Come with us as we discover the benefits of THC gummies and where you can find the most potent ones to elevate your life!
What Are THC Gummies?
THC gummies are edible soft chew candies infused with Delta 9 THC (Delta 9, D9, or THC) extract. Although many THC gummies are marijuana edibles, there is a growing demand for a hemp-derived alternative, which is what we offer here at Exhale Wellness. Our hemp-derived THC gummies are 100% federally legal and 2018 Farm Bill compliant, containing THC levels of 0.3% or less.
THC gummies are a delicious and discreet way to relax your body, clear your head, and get your creative juices flowing. These small, guilt-free, soft, and chewable sweets are unlike hard candy and are good for your health. You may know about other cannabis edibles like cookies, brownies, or other cannabis-baked goods that tend to be bulkier. On the other hand, THC gummies are so small and portable that they fit in your pocket and allow you to enjoy them anywhere, anytime.
High-quality THC gummies — like the ones we sell at Exhale Wellness — contain top-tier, natural ingredients without artificial colors, flavors, or fillers. THC gummies should taste amazing whether you pop one in your mouth after morning coffee, as a dessert following dinner, or as a midnight snack right before bed. Your taste buds will love it, but do you know how THC edibles actually help us? To understand that, we need to examine how the active ingredient in THC gummies works with our bodies.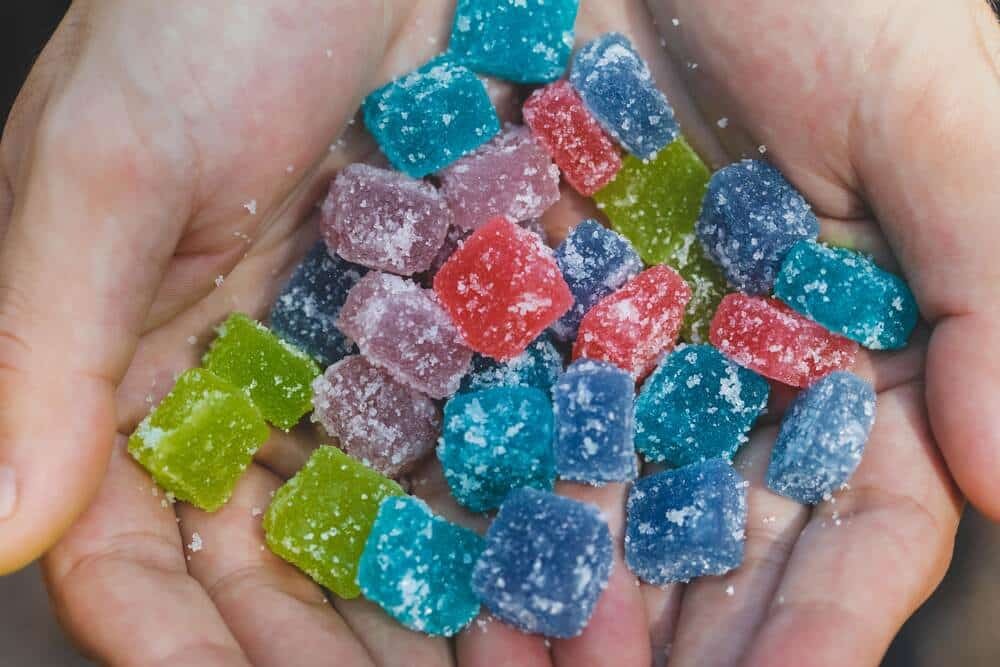 What is Delta 9 THC?
Delta 9 THC is the main cannabinoid in marijuana and is found in trace amounts of 0.3% or less in hemp plants. This powerful cannabinoid is a favorite amongst enthusiasts for creating a sense of euphoria that stimulates creativity while at the same time easing the body into a more serene, relaxed state. At Exhale Wellness, we make our Delta 9 THC Gummies from premium, USA-grown hemp. Rest assured, they're potent, and they'll get you where you want to be.
Delta 9 THC supports your mind and body by interacting with your endocannabinoid system (ECS). This internal system of cell-signaling receptors is located throughout your body and helps to mediate several biological functions such as memory, mood, appetite, and rest. It's incredible that nature hardwired our bodies to reap the benefits of THC through the ECS. Enjoying Delta 9 THC gummies feeds our ECS and helps keep our wellness in check.
What Are the Benefits of THC Gummies?
THC gummies provide several benefits to consumers. Similar to other cannabis products and edibles, THC gummies work their magic through our digestive system. When you eat a gummy, you release THC into your stomach, where it gets digested before traveling to your liver and finally making its way into your bloodstream. Once there, the benefits will start to kick in.
The benefits of THC gummies include:
Clear-headed euphoria
Stimulating creativity
Providing energizing sensations
Lowering anxious behaviors
Calming racing thoughts and keeping negative thoughts at bay
Supporting a healthy appetite
Providing soothing total body relaxation
And more!
The stimulative qualities of THC gummies are why enthusiasts enjoy consuming these little pockets of pleasure. However, depending on your age, weight, metabolism, frequency of consumption, and experience with Delta 9 THC, you may feel these benefits in varying degrees.
How Long Do THC Gummies Effects Last?
You'll notice the THC from these gummies spiking your happiness meter about 45-60 minutes after consumption, and you'll feel the benefits for up to 6-8 hours! Compared to other forms of THC consumption, THC gummies provide the longest-lasting effects. It's no wonder many consumers prefer these delicious candies as their main source of THC's many benefits!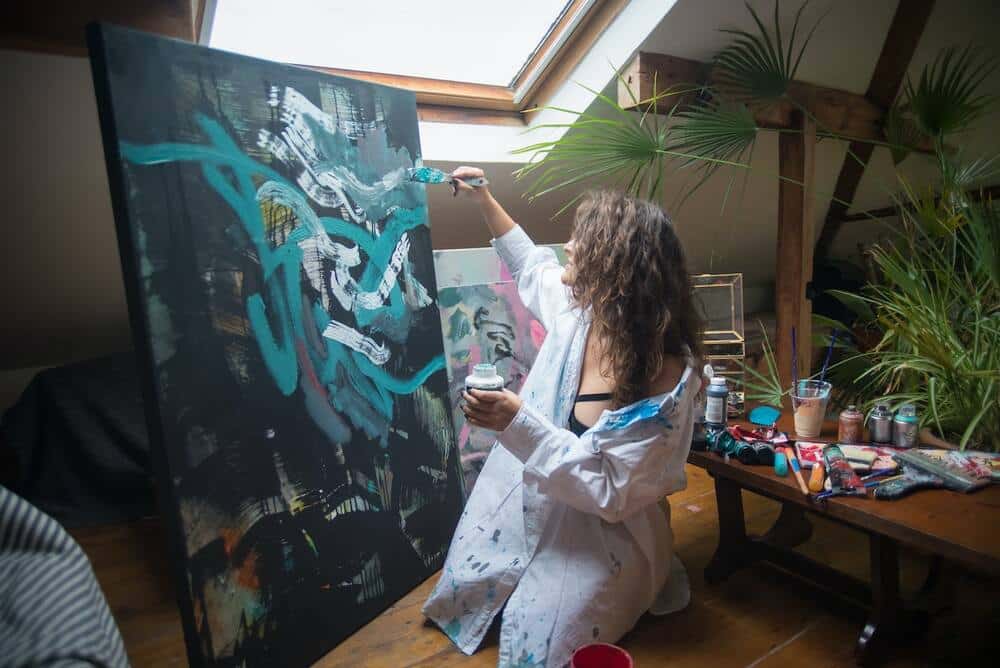 What Are The Side Effects of THC Gummies?
Most people enjoy THC gummies without any adverse effects, and many factors can come into play regarding dosage and possible overconsumption. Practical considerations include paying attention to the THC content in the edible and how much THC you're consuming.
Overconsumption of THC can affect your edible experience, so be aware of high doses and other factors like:
Did you take other THC products before eating an edible?
Did you eat an edible on an empty stomach?
Did you take large doses or a small dose of THC gummies?
Do you have a fast metabolism or a slower metabolism?
If you consume too many tasty THC edibles, the risk is pretty low for emergency room visits or other medical treatment. However, if you eat too many edibles at one time, you may experience minor symptoms of discomfort that are temporary and subside within a few hours.
Some of the unpleasant side effects of overconsuming Delta 9 THC gummies include:
Dry mouth
Thirst
Nausea
Upset stomach
Diarrhea
Lethargy
Drowsiness
If you're new to THC edibles, it's good to follow the edible dosing recommendations on the product labeling. The same dose can affect people in different ways. When taking edibles, consider the amounts of THC in them, and remember to start with a low dosage and go slow. Edibles can take up to an hour to kick in, sometimes longer due to other factors, and patience is your friend.
What Types of THC Gummies Are There?
There are several types of THC gummies available for consumers to enjoy that provide different benefits. These gummies are perfect for taking at home or for on-the-go enchantment. Here's a breakdown of the most common THC gummies.
Delta 9 THC Gummy Cubes
Delta 9 Gummy Cubes get you squared away in short order. Your tastebuds will love the variety of savory, natural fruit flavors while your mind eases you into a happy place. Delta 9 gummies, typically available in bite-sized cubes, provide all the benefits of THC consumers are looking for.
Delta 9 Live Resin Gummies
Live resin is a concentrated, natural hemp extract with many beneficial plant compounds preserved at the peak of freshness. These powerful gummies ease tension, relax the body, and amp up creative, clear-headed euphoria. Consumers love these gummies for their ability to deliver a more pristine, fresh Delta 9 THC experience with elevated potency.
Delta 9 + CBD Gummies
Delta 9 THC plus Cannabidiol (CBD) is the perfect combination for improving your mood, winding down after a hard day, and letting your body relax. With no artificial colors or flavors, not only will you feel good, but you'll also feel good about eating them!
Unlike Delta 9 THC, CBD does not produce euphoria. The cannabinoid interacts with your ECS to help optimize several key processes important in your everyday health and wellness. In fact, CBD has become so popular that it's now an integral part of many people's daily health regimen. With D9 + CBD gummies, you can give yourself the best of both worlds in one bite-sized chewy treat!
Delta 9 + CBN Sleep Gummies
When you need to bank some sleep, Delta 9 + CBN Gummies make a direct deposit. Cash in on these gummies that mix Delta 9, Cannabinol (CBN), and melatonin for deep, restful sleep. CBN is a naturally occurring cannabinoid with highly sedative effects. Coupling these benefits with that of melatonin, a natural hormone that promotes sleep, you'll be able to get that much-needed R&R you deserve in no time!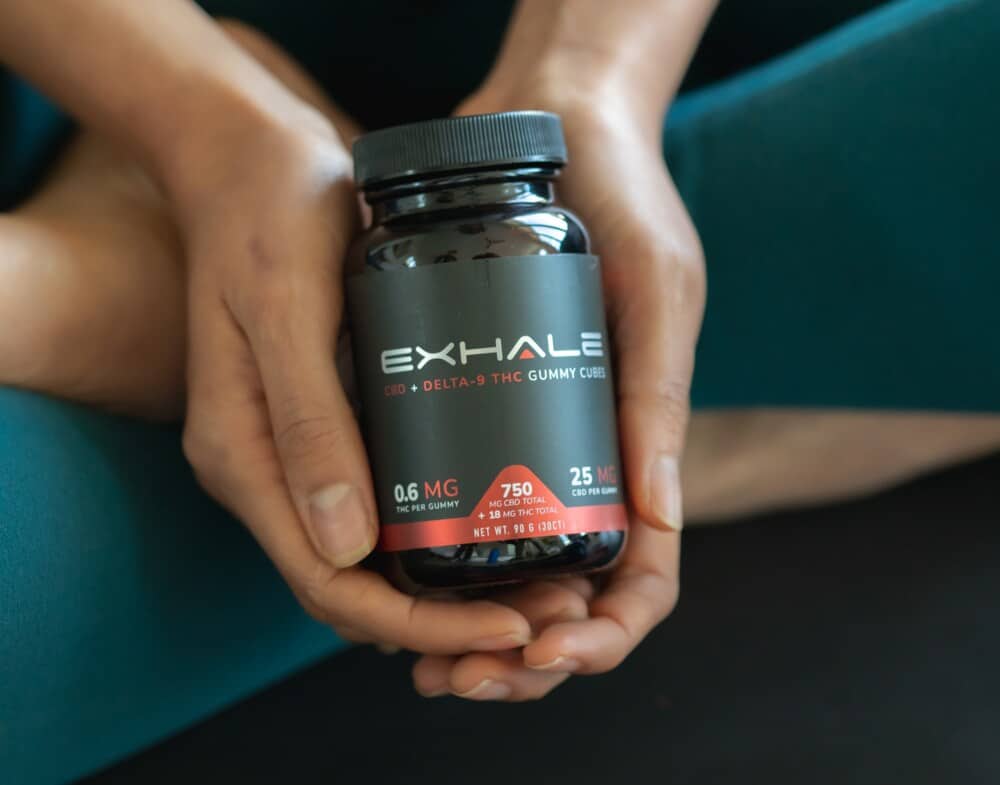 Why Buy THC Gummies From Exhale Wellness?
At Exhale Wellness, we want you to enjoy your THC edibles experience every time. That's why we go the extra mile to deliver premium quality and consistency. We carry a wide selection of THC-infused gummies. You can find all the ones mentioned in the previous section at our Exhale Wellness shop! Our THC Gummies contain hemp-derived Delta 9 THC extract and are made with several quality assurances to ensure your health and wellness.
At Exhale Wellness, we want you to enjoy your edibles experience every time. That's why we go the extra mile to deliver premium quality and consistency. Here's what goes into our THC Gummies:
Superior USA-grown hemp: We source our hemp from the fertile fields of Colorado and Oregon to always maintain the best quality. Nothing is left to chance.
Natural ingredients: The hemp plant is a miracle of nature, and it's important to keep it that way! We never use artificial ingredients, fillers, or additives in our THC Gummies.
No artificial flavors or colors: We want you to enjoy our gummies and feel good about them. Enjoy the natural fruit flavors just like nature intended.
Always natural and vegan-friendly: Your health and wellness are paramount to us. Using natural and vegan-friendly ingredients from start to finish is the best way to keep our promise of always offering the best gummies possible.
Testing our Delta 9 THC: We utilize third-party labs to test our products and provide a Certificate of Analysis (COA) for every batch. A COA is a document certifying the ingredients and potency of our products. That way, you can be confident that you get what you pay for and are consuming a safe product!
Save Money Every Time You Purchase Our THC Gummies!
Exceeding our quality standards is only part of our story. We also want your online shopping experience to be fast, fun, easy, and affordable! We want to ensure you get the best possible deal, not just for our gummies but all our products.
Here's how you can save money on every order at Exhale Wellness:
30-day money-back guarantee: Enjoy our gummies knowing that if you're not completely satisfied, we offer a free 30-day money-back guarantee on every order.
Be the first to know about major savings: Subscribe to our newsletter and receive notifications about our sales and new products.
Save 25% on every order: Join our free subscription program and save 25% on each order — forever! We make it easy to stock up and save so you'll never be without your favorite THC edibles.
Free shipping: There's never a set spending amount for free shipping. Order whatever you want, and we'll ship it for free!
THC Edibles Effects: How Long Does It Stay?
Delta 9 THC gummies are delicious edibles that help millions of people live happier and healthier lives. Whether you're looking to relieve some tension, need a burst of creative inspiration, or get some much-needed rest, you'll find a THC gummy just for you! The benefits of THC gummies far outweigh any potential side effects. And if side effects do occur, they're mainly due to overconsumption and not being in tune with how much THC you can ideally handle.
When you consume these incredible edibles, you'll feel many positive effects that will help your mind and body in more ways than one. We make our Delta 9 THC Gummies with your wellness in mind, so visit our shop, take a look, and see which of our potent THC-infused gummies will work best for your needs!