With vaping increasing in popularity in recent years, people throughout the country are curious to know whether they can legally access THC vape pens. The answer to this question is not straightforward, especially as more states across America have started to regulate cannabis for adult consumption. So are THC vape pens legal or illegal? The truth is that it depends on a few factors, primarily the type of THC in a vape pen.
There are various types of THC cannabinoids, each with unique benefits. The most popular THC cannabinoids enthusiasts like to vape are Delta 9 THC (Delta 9, D9, or THC) and Delta 8 THC (Delta 8 or D8). Let's take a closer look at these types of THC vape pens to clarify what they are and whether they're legal for you to consume.
What Are THC Vape Pens?
THC vape pens are handheld devices made for vaping THC oil. Unlike smoking cigarettes or hemp flower, there is no combustion involved. Instead, vape pens use a heating element that produces vapor instead of smoke. Many prefer vapes as they provide an alternative to smoking. Vapes are also a more discreet way of enjoying the benefits of THC.
There are various types of THC cannabinoids. But the two main types in these vape pens are Delta 9 THC and Delta 8 THC. However, these two vapes couldn't be more different. That's because D8 and D9 differ in their benefits, source, and legality. And it's these differences that set these two vapes apart from each other.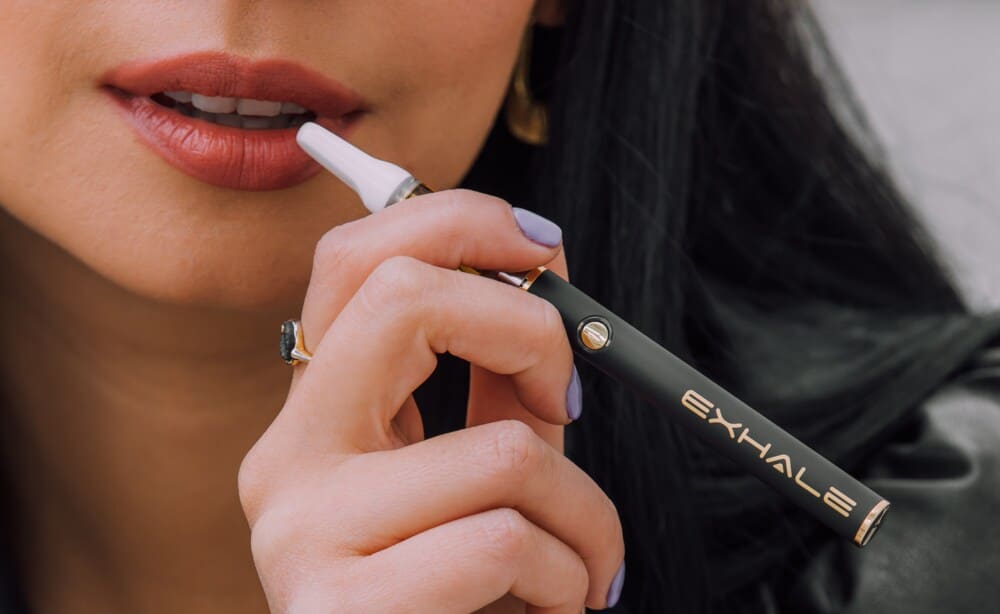 What Is a Delta 9 THC Vape Pen?
Delta 9 THC is the dominant cannabinoid in the marijuana plant. However, trace amounts of it exist in hemp at concentrations of 0.3% or less. Those who consume marijuana will opt for a D9 vape pen as it delivers the stimulating and euphoric benefits of Delta 9 THC. Smoking marijuana produces harsh, noticeable smoke. But the use of a Delta 9 THC vape pen generates no smoke for a more discreet alternative.
It's important to note that THC Vape Pens that contain Delta 9 THC are illegal per federal Drug Enforcement Administration (DEA) guidelines. However, many states have legalized marijuana products for medical and recreational purposes and have established strict guidelines on selling and possessing such products. Enthusiasts who enjoy vaping marijuana will find doing so in such states to be completely legal.
What Is a Delta 8 THC Vape Pen?
For those looking for an alternative to marijuana vaping and something that is 100% federally legal, Delta 8 THC vape pens are the solution. Delta 8 THC is a minor cannabinoid found in the hemp plant. Less than 1% of a hemp plant contains Delta 8, making it one of the rarest cannabinoids in nature. However, it possesses a similar chemical structure to Cannabidiol (CBD), the main cannabinoid in hemp. The safe and clean conversion process, known as isomerization, converts CBD into abundant amounts of Delta 8 THC for consumers to enjoy.
Delta 8 THC produces a euphoria much milder than Delta 9 THC, albeit more sedative. The cannabinoid is best for evening consumption or when you just want to relax and unwind. All Delta 8 THC products, including vape pens, are federally legal. That's because they are hemp-derived and contain 0.3% or less Delta 9 THC, meeting the requirements of the 2018 Farm Bill. This piece of legislation legalized hemp and hemp-derived products nationwide.
Despite the federal government legalizing hemp and hemp-based products containing 0.3% THC or less, there are still a few legal hurdles you have to watch out for. It's important that you always check your state's laws regarding hemp products since a handful of states have laws that run counter to the federal government's stance on hemp.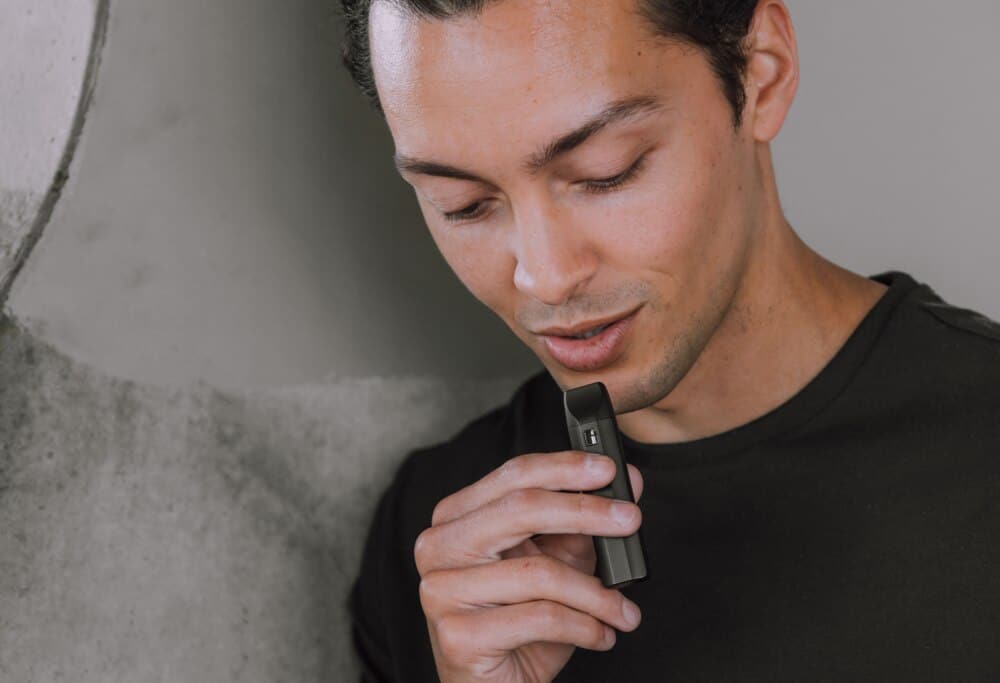 What Kinds of Vape Pens Are There?
There are many different kinds of vape pens to meet your THC needs. Each of these vaping devices has advantages, so finding the most suitable one depends on what you require from your vaporizer.
Over the years, D8 vape pens have become a hot commodity, becoming very popular amongst enthusiasts and those looking to enjoy the hemp plant's natural wellness wonders. And thanks to all the technological advancements in vape products, there are various devices to choose from.
The most common types of vape pens available for consumers are:
Rechargeable vapes: These vapes feature a rechargeable battery and are usually designed to work with most vape oil cartridges.
Disposable vapes: All-in-one vape pens with self-contained batteries and vape oils. Once depleted of oil and fully consumed, you can throw this vape away.
Button-activated vapes: Pressing a button activates the vape's battery and heating element to produce vapor.
Draw-activated vapes: A buttonless vape pen battery that only activates vapor flow while you are inhaling.
Dry herb vapes: For vaporizing hemp or cannabis flower, with a larger heating chamber suitable for ground-up, dry herb.
Concentrate and wax vapes: Designed specifically for vaping cannabis extracts and any waxy, oily cannabis concentrates.
What's the Difference Between Smoking & Vaping Cannabis?
The main difference between smoking and vaping is the type of heat each method uses. Smoking requires combustion and loses many beneficial compounds as hemp or cannabis flower is burned and inhaled. Vaporizing only heats the hemp or cannabis oil enough to create a cannabinoid and terpene-rich vapor. The onset times and duration of effects of both these methods are similar. Still, many see vaping as a better alternative to smoking and a more discreet and precise way to consume.
Are THC Vapes Legal?
Hemp-derived Delta 8 THC vapes are federally legal as long as they meet the requirements of the 2018 Farm Bill and contain 0.3% or less of Delta 9 THC. At Exhale Wellness, our Delta 8 THC vape cartridges and disposable vapes are Farm Bill compliant and tested to ensure potency, purity, and safety.
Although several states are passing laws that allow the sale and purchase of products with higher amounts of Delta 9 THC, federal law does not currently allow the possession of Delta 9 THC vape pens. If you are in a state with legal and regulated access, you can enjoy Delta 9 THC products within state lines.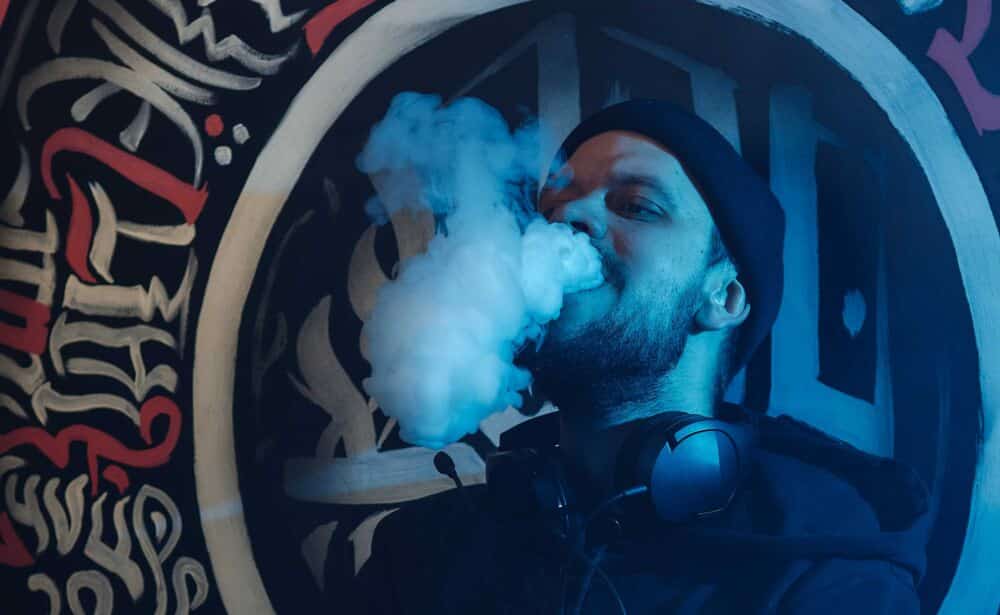 How to Safely Use THC Vaping Cartridges
If you have personal or specific questions about hemp, speak to your healthcare provider. In this guide, we only share information relevant to safely operating and choosing the right vape products. Learning how to use a THC vape is key to having a great vaping experience. Here are some things you should look for when buying THC vapes to ensure they're safe to consume.
Check for Certificates of Analysis
A Certificate of Analysis (COA) is a laboratory test that confirms the exact contents and quantity of cannabinoids and other ingredients in your hemp products. An independent laboratory qualified to verify the components in hemp products carries out the test and provides the results.
Ensure They're Farm Bill Compliant
As mentioned above, only Delta 8 THC vapes that contain 0.3% or less Delta 9 THC are Farm Bill compliant and federally legal. For maximum peace of mind, we recommend only purchasing Farm Bill-compliant vape cartridges and disposables.
Use Them Correctly
To get the best out of your vapes, it is important to use them correctly. Some vapes are all-in-one disposables that only activate when you inhale from the mouthpiece. Other vapes are button-activated and may have batteries with adjustable voltage. Check the instructions for your specific vape to learn about all the nuances that will help you maximize vape performance and efficacy.
Buy Vapes From Reputable Sources
To know exactly what you are putting in your body, you should buy vapes exclusively from trustworthy sources. Such companies will only use USA-grown hemp that is Farm Bill compliant. You should also be able to access a COA to check the exact contents and potency of the products you buy.
Finally, companies you buy vapes from should have information about every type of vape they sell and specify what type of THC oil they contain. Look for vapes that are free of additives, preservatives, and oils such as MCT, PG, VG, or PEG. For an authentic experience, look for vapes flavored using natural terpenes.
Why Buy Vape Pens From Exhale Wellness?
At Exhale Wellness, we offer fans of Delta 8 THC two convenient options to satisfy their vaping needs. Our customers can choose from a wide selection of D8 Vape Cartridges that fit a standard 510-thread battery or D8 Disposable Vapes for an effortless experience.
Our Delta 8 THC vapes come filled with full-spectrum Delta 8 THC oil that contains 0.3% or less Delta 9 THC. Using 100% natural ingredients and terpenes, these pre-filled THC cartridges are free from additives and preservatives. You won't find an VG, PG, PEG, or MCT oil in these carts. And they're independently lab-tested to verify their safety, potency, and purity.
Alongside our dedication to making quality products, we're also committed to our loyal customers. Here's how we help you save money on all our products:
30-day money-back guarantee. Try our Delta 8 THC Vapes, knowing that if you're not completely satisfied, we offer a free 30-day money-back guarantee on every order.
Get savings sent straight to your inbox. Subscribe to our newsletter to receive notifications about our sales and new product drops. Stay in the know so you can enjoy our full range of products!
Save 25% on every order forever. Join our free subscription program and save 25% on each order. Get your favorite products bi-weekly or monthly to stay stocked up.
Final Thoughts – Are THC Vape Pens Legal?
The most common type of THC vape pens on the market allow you to vape Delta 8 THC and Delta 9 THC. All hemp-derived Delta 8 THC oil vapes and disposables are 100% federally legal as long as they are Farm Bill compliant and contain a Delta 9 THC concentration of no more than 0.3%. Any vaping products like carts or all-in-one vaping devices like disposables with a higher Delta 9 THC concentration are only legal in states with laws regulating medical marijuana or recreational marijuana.
Although the federal government doesn't have an issue with Farm Bill compliant hemp products, some states might. That's why you need to check your local laws before purchasing THC vapes of any kind. At Exhale Wellness, our D8 THC Vapes are 100% federally legal and Farm Bill compliant. And with a wide selection of Delta 8 THC Vape Cartridges and Disposables to choose from, you're sure to find products to meet your vaping needs. Visit our shop, check out our premium hemp-derived Delta 8 THC Vapes for yourself, and experience their benefits today!