Wholesale Delta-8 THC Vape Carts
Delta 8 is one of the hottest new products right now, and you don't want to miss out on this revolution! Vapes have been one of the most popular ways to enjoy cannabis in recent years, and now we have all new Delta 8 vape cartridges for sale at wholesale prices. If you're looking for Delta 8 vape cartridge wholesale opportunities, look no further than Exhale Wellness.
Wholesale Delta 8 CARTS
Delta 8 products are quickly taking the world by storm with their mellow but distinctly euphoric effects. Many enthusiasts refer to Delta 8 as the "perfect balance between CBD & Delta-9 THC." Already one of the favorite ways to enjoy CBD, vaping represents a significant and lucrative portion of the market that can be easily capitalized on.
It is easy to see why consumers prefer Delta 8 THC over the more famous Delta-9 THC. Delta 8 THC provides many of the same benefits as Delta-9 THC, such as enhancing moods, alleviating physical discomfort, and promoting natural sleep and digestion. However, the main difference is that Delta-8 THC-infused products do not leave consumers with strong intoxicating effects or negative side effects that many may associate Delta-9 THC with. Cartridges are not only available in delta 8 and delta 9. Exhale Wellness also offers this new trending combination of Delta 8 and live resin carts. 
Experts project the Delta 8 industry to make up a significant portion of the cannabis industry in the coming years. With it comes a large group of consumers that love to vape. it's estimated that over a third of Americans that tried CBD in the last two years tried it by vaping.
Why Buy Wholesale Delta 8 THC Vape CARTS from Exhale Wellness?
Exhale Wellness is the #1 leading brand when it comes to Delta 8 THC vape oil cartridges. Founded by a group of health-conscious hemp enthusiasts with over 25 years of experience, Exhale Wellness believes in spreading awareness about the many benefits of Delta 8 THC-infused products.
To be number one in the market, Exhale Wellness has established high standards to ensure that consumers enjoy Delta 8 THC vape cartridges that are all-natural and extracted from organic hemp plant farms in Colorado.
Finding the resources and investing in creating your own Delta 8 THC vape brand can be expensive and difficult for some up-and-coming owners. Save yourself from the hassle and purchase these products straight from a reputable manufacturer like Exhale Wellness.
Here are some other reasons to consider wholesale Delta 8 THC-infused products.
Brand Transparency: Every product from Exhale Wellness comes with a Certificate of Analysis (COA). COAs are official documents that verify the product has been third-party lab tested for quality, full cannabinoid profile, and effectiveness. COAs help consumers know what they are getting at face value without hiding anything.
Product Knowledge: The team behind Exhale Wellness believes in offering high-quality Delta 8 wellness products and raising awareness about this exciting new hemp derivative. We have a customer service team to call or email for any questions, concerns, or comments about the different available products.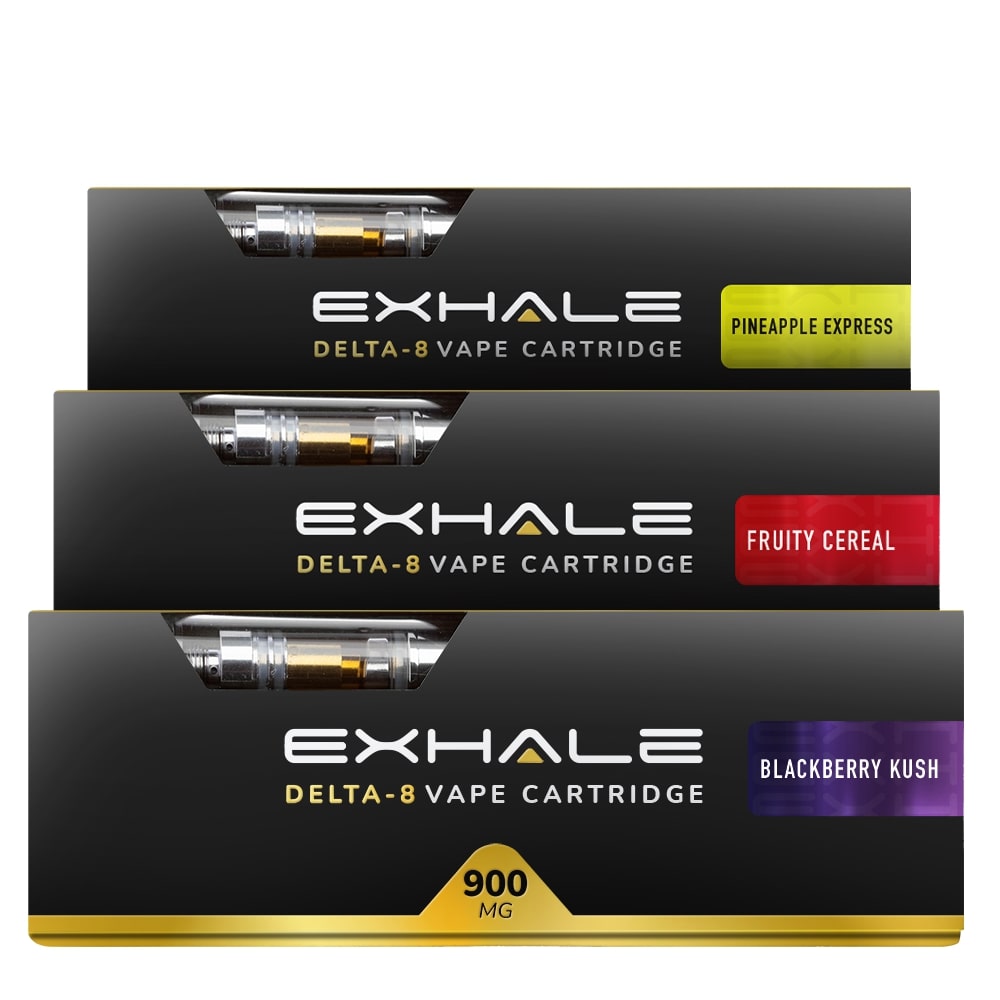 Wholesale Delta 8 Vape Cartridge Ingredients
Delta 8 THC vape cartridges from Exhale Wellness contain broad spectrum Delta 8 THC oil. Broad spectrum means that there is absolutely no Delta 9 THC in the vape carts. Our vape juice ONLY uses natural terpenes, with no solvents or chemicals, which can provide various tastes and aromatic odors, with no other solvents or chemicals.
Some brands may try to cut corners to make a profit at the expense of the consumer. These brands can offer contaminated or low-quality Delta 8 THC vapes. In addition, some vapes can potentially carry unwanted byproducts such as propylene glycol (PG), polyethylene glycol (PEG), vegetable glycerin (VG), and MCT oil.
Exhale Wellness uses the cleanest methods to convert Delta 8 THC from CBD. The process involves converting pure CBD isolate into Delta 8 with chemical conversion to isolate the cannabinoid. After cleaning and filtering, the result is a Delta 8 product at about 70% purity. Special chromatography processes make sure the final product stays under the legal limit of 0.3% THC.
The statements regarding Delta 8 THC's beneficial effects have not been evaluated by the United States Food and Drug Administration (FDA). On top of that, consumers should be aware that Delta 8 THC vape cartridges are not intended to diagnose, treat, cure, or prevent any disease. These products are not intended for people under the age of 18 or women who are pregnant.
Wholesale Delta 8 Vape Pricing
For more details and information on wholesale Delta 8 vape cartridges, please contact or email our customer service representative team to get more information from one of the Exhale Wellness sales team members.
You can reach Exhale Wellness customer service via email at support@exhalewell.com or call (323) 448-3810. Business hours are from Monday to Friday from 6 a.m. to 6 p.m. Pacific Standard Time.
Types of Delta 8 Oil Cartridges Available for Wholesale
Exhale Wellness has a variety of Delta 8 THC oil cartridges to meet the different tastes of consumers who enjoy vaping! Each container contains 900 mg of Delta 8 THC. Besides cartridges exhale wellness also have various flavors of delta 8 disposable vapes.
Each cart can be either Sativa, Indica, or Hybrid. While Sativa strains tend to have a more energizing effect, Indica is more physically soothing, and hybrids offer a balance of both.
Here are the different vape cart flavors offered by Exhale Wellness (for now):
Sour Diesel
Mango
Cactus Cooler
BlackBerry
Blackberry Kush
Fruity Cereal
Jack Herrer
OG Kush
Pineapple Express
Gorilla Glue
How Can I Buy Bulk Delta 8 Cart?
Purchasing Delta 8 THC vape cartridges shouldn't be a hassle. Let Exhale Wellness become your trusted source for not just Delta 8 THC cartridges but all other products too!
Keep in mind that not all states allow shipment of Delta 8 THC products within state borders. Here is the list of states where there are currently restrictions on sales:
Alaska
Arizona
Arkansas
Colorado
Delaware
Idaho
Iowa
Mississippi
Montana
Rhode Island
Utah
Remember to check your state's current policies regarding Delta 8! If you have any questions or want to order Delta 8 vape cartridge wholesale, contact us at Exhale Wellness today's!