If you suffer sleepless nights that prevent you from being the best version of yourself, delicious CBN gummies for sleep are here to help. These edibles come in different formulations and contain natural ingredients to help you fall asleep faster and stay asleep. CBN gummies also contain additional cannabinoids that deliver additional wellness properties.
When you're looking to perform at your peak, getting enough quality sleep is an essential part of the equation. CBN gummies provide the perfect sleep aid to help reduce stress and keep you in top form. Join us as we take a closer look at how CBN gummies can help create a nighttime routine that fully recharges your batteries and sets you up for success the following day. We'll also reveal why Exhale Wellness has the best sleep gummies in the industry to help your sleep issues.
What Are CBN Gummies for Sleep?
CBN gummies for sleep are small, chewy candies infused with hemp-derived CBN (Cannabinol), a cannabinoid with sedative effects. These bite-sized treats typically contain a delicious blend of natural fruit flavors to satisfy your sweet tooth.
If you struggle with sleep quality issues and are looking for a night of natural sleep, CBN gummies will help. Portable, convenient, and discreet, these edibles allow you to enjoy them whenever and wherever you want for restorative, healthy sleep. Many wellness-minded individuals have already made these edibles a natural, holistic alternative to many over-the-counter options, such as sleeping pills.
What Is CBN?
CBN is short for Cannabinol, a natural cannabinoid resulting from the degradation of Delta 9 THC (D9 THC, D9, Delta 9, THC). Environmental processes such as being exposed to light, air, or heat generate natural levels of CBN in a cannabis plant. Studies show that CBN creates a sedative effect that can help to encourage sleep.
CBN works its magic by engaging with the receptors in your endocannabinoid system (ECS). The ECS is an internal network of cell-signaling receptors that regulates a series of bodily functions. Some of these functions include mood, digestion, mobility, and, of course, sleep.
Unlike other sleep formulations, you won't wake up feeling groggy the next morning. These potential benefits have made CBN an increasingly popular choice for those seeking a good night's sleep.
What Are the Benefits of Using CBN Gummies for Sleep?
First and foremost, CBN gummies help you get a good night's sleep. Depending on the type of sleep disturbance you are tackling, these edibles can support your ECS to help you fall asleep, stay asleep, and get restful sleep.
In addition to providing deep slumber and a natural sleep aid, CBN gummies are a great smoke-free option for those who want to benefit from this cannabinoid's calming effects. And since their form function is small and bite-sized, you can take these treats with you anywhere you go for discreet consumption.
What Types of CBN Gummies for Sleep Are There?
There are several types of CBN gummies for Sleep to help you with your rest issues. These gummies typically contain melatonin to boost their sleep-inducing effects. Your brain produces this hormone in response to light patterns, especially when it's dark, and it helps to control your sleep cycle.
In addition to melatonin, CBN sleep gummies also contain additional cannabinoids, such as CBD and Delta 9 THC, to support their effectiveness. Let's take a closer look at these formulations, which you can find right here at Exhale Wellness!
CBD + CBN Gummies for Sleep
CBD + CBN Gummies For Sleep contains broad spectrum CBD and CBN distillate, accompanied by a helping of melatonin. The combination of CBD with CBN makes for a relaxing gummy that calms the mind and sets up the body for restorative slumber.
Let's take a closer look at the ingredients in CBD + CBN sleep gummies:
CBD. Great for helping you unwind your mind and prepare you for restful sleep. Additionally, CBD interacts with your ECS to provide greater overall well-being.
CBN. The sleep-inducing effects of this cannabinoid will have you naturally drifting off to dreamland.
Melatonin. Typically produced by the brain in response to darkness, this natural hormone helps to dictate our sleep patterns and feelings of sleepiness.
CBD + CBN Gummies For Sleep are a great non-euphoric option to help you sleep more effectively. Combining both cannabinoids provides greater sleep benefits than standard CBD sleep gummies or CBN sleep gummies would on their own. Throwing melatonin in the mix creates a balanced effect that forms a great foundation for falling asleep and elevating your overall well-being.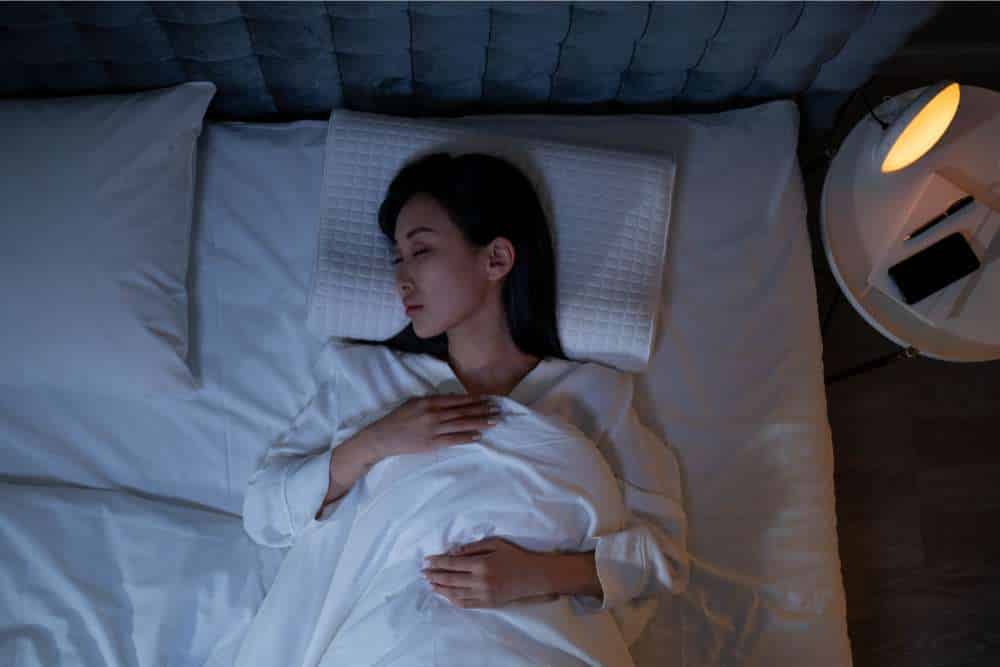 D9 THC + CBN Gummies for Sleep
D9 THC + CBN Gummies For Sleep blend hemp-derived Delta 9 THC and CBN distillate with melatonin. The pairing of D9 THC with CBN provides an enjoyable euphoric effect while easing the mind and body into a state of rest and relaxation, getting you ready for sleep.
Delta 9 THC + CBN Gummies For Sleep contain the following active ingredients:
Delta 9 THC. Delivers a pleasant euphoria that gives way to tranquil sleepiness.
CBN. As we mentioned previously, the sedative effect of this cannabinoid helps you doze off faster for undisturbed, good sleep.
Melatonin. Like its inclusion in CBN + CBD Gummies For Sleep, this natural hormone helps to support sleep and plays a key role in regulating your sleep cycle.
D9 THC + CBN Gummies For Sleep are perfect for those who want elevating, warming euphoria before settling down for slumber. Combining D9 THC and CBN allows hemp lovers to enjoy cerebral and physical relaxation before bed, an ideal basis for falling asleep and staying asleep through the night.
Are CBN Gummies for Sleep Legal?
Yes, CBN gummies for sleep are 100% federally legal, as long as they are hemp-derived from plants containing no more than 0.3% Delta 9 THC. The federal government established these standards in the 2018 Farm Bill, which legalized all hemp plant products as long as they followed these guidelines. However, certain states have installed their own laws that may not align with the Farm Bill. It's always best to check your local laws before purchasing any CBN products.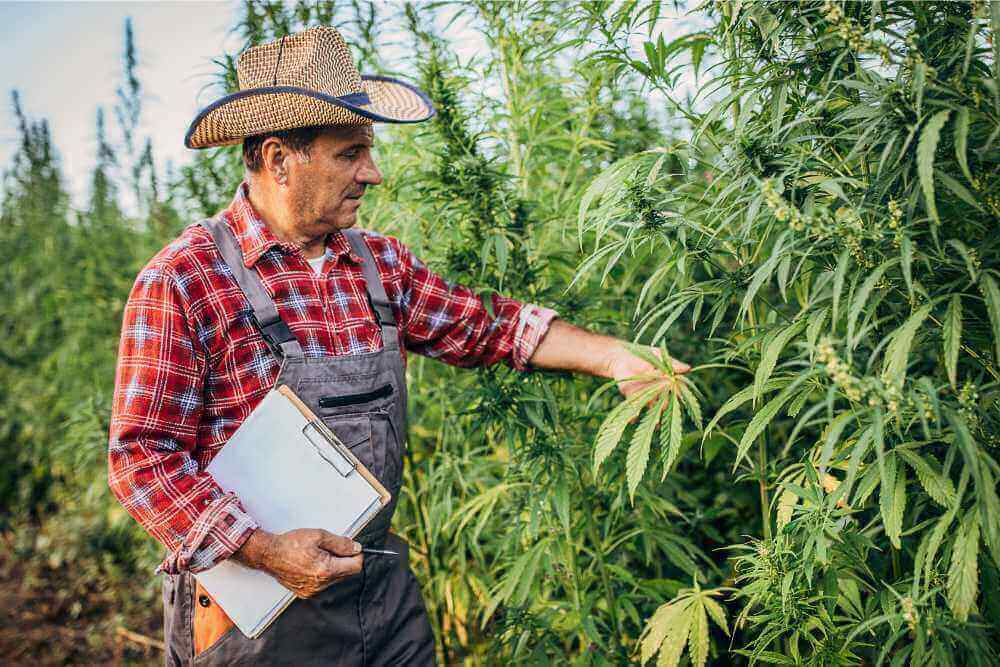 Are Delta 9 THC Sleep Gummies Legal?
Yes, Delta 9 THC sleep gummies are legal as long as they are hemp-derived and contain 0.3% or less THC. Delta 9 THC is the main cannabinoid in marijuana and is present in hemp plants in low amounts. Since hemp plants contain low amounts of Delta 9 THC, scientists must use ingenious methods to convert the plentiful amounts of CBD in hemp plants into other cannabinoids, such as THC. They can achieve this via a safe, clean, and effective multi-step process to produce legal amounts of hemp-derived THC for use in several consumer products, including delicious gummies for sleep.
How Many CBN Gummies Should I Take for Sleep?
Typical CBN gummy formulations recommend taking one gummy nightly. But if you are new to sleep gummies, start with a smaller amount. We suggest following the serving guidelines on the packaging, which typically tell you how many gummies you can take, and staying within your consumption limits for the desired effects.
However, if you are familiar with the CBN experience, you can adjust your portion size accordingly. Each person's CBN gummy dosage will be unique to them, and finding the appropriate amount to consume is crucial to getting a good night's rest.
What Are the Best CBN Gummies for Sleep?
The best CBN gummies for sleep will contain a blend of cannabinoids that work in tandem with CBN to maximize its potential benefits. Avoid gummies that contain artificial ingredients and opt for those made with natural flavors. Watch out for sugar-filled gummies, too. Remember that you are more likely to get the best sleep from gummies that contain low amounts of sugar, as too much can keep you up at night.
And always check to see if your favorite CBN gummies have a Certificate of Analysis (COA). These certified documents are third-party lab tests that verify the contents of your sleep gummies.
Fortunately, you don't need to look far when searching for premium-quality CBN gummies for sleep. At Exhale Wellness, we have a potent collection waiting to resolve your sleep issues and help you get the rest and relaxation you deserve!
Why Choose Exhale Wellness for CBN Gummies for Sleep?
Exhale Wellness is committed to producing the highest-quality CBN sleep edibles on the market. Our CBN Gummies For Sleep are 100% Farm Bill-compliant, infusing hemp-derived cannabinoids into a base of apple pectin for a cruelty-free, naturally flavored treat. We extract from premium, USA-grown hemp flower. A third-party lab tests all our products to confirm their contents, potency, and purity. You can examine these results by viewing the COA on our website.
We offer our sleep-deprived patrons two distinct formulations of CBN Gummies For Sleep:
CBD + CBN Sleep Gummies contain 25mg CBD, 10mg CBN, and 5mg melatonin per gummy.
D9 + CBN Sleep Gummies contain 15mg THC, 10mg CBN, and 5mg melatonin per gummy.
So whether you're looking for a little bit of CBD to optimize your wellness while you sleep or a steady trip to dreamland with THC, we got you and your sleep needs covered! No matter which formulation you choose, we know you'll end up putting your sleep troubles to bed!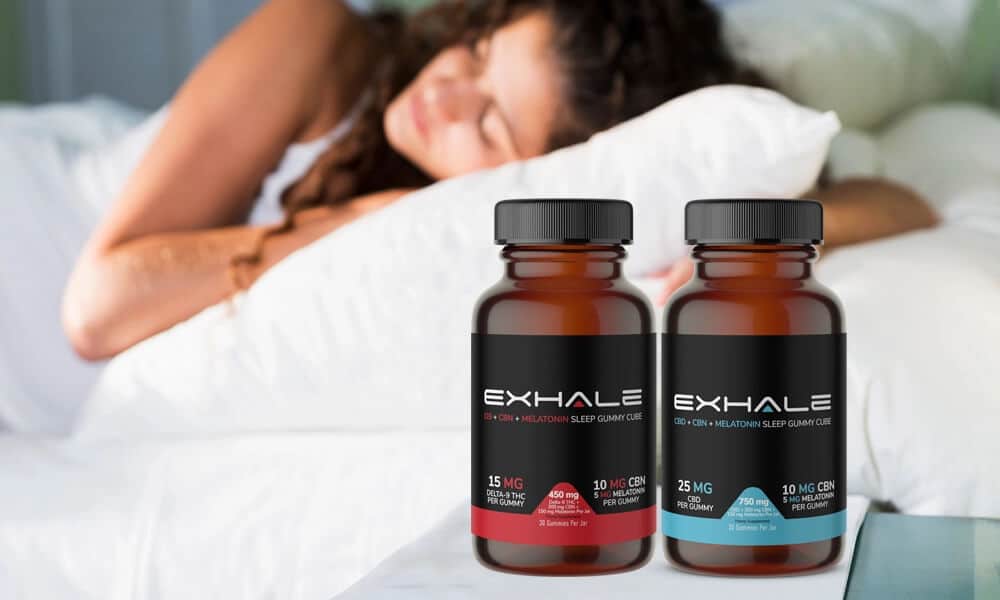 Sleep Longer and Save Money on Every Order of CBN Sleep Gummies
Alongside our commitment to quality, we also offer various ways to save money when you buy CBN Gummies For Sleep from us! Here are all the ways that we can give you the best value for your money:
Save 25% off our entire site — forever! Sign up for our free subscription program and save 25% off every single order for life! Choose between bi-weekly or monthly deliveries of your favorite gummies and all other Exhale Wellness favorites like Delta 8, HHC, and the best CBD products!
Stay informed about the latest deals and new product drops. Subscribing to our Exhale Wellness newsletter keeps you posted on our upcoming sales and any new products we release. So subscribe to stay in the know while you get deep, restful sleep!
Final Thoughts – CBN Gummies for Sleep
CBN gummies for sleep are a great natural way to help end your sleep troubles. That's because they contain CBN, a hemp-derived cannabinoid that has a sedative effect and helps your dose off quickly without issue. As with other cannabinoids, CBN is most helpful when combined with other hemp compounds such as CBD and D9. Adding the calming benefits of melatonin to these gummies further enhances the benefits of CBN.
When selecting sleep-supporting CBN products, remember to check your local laws, refer to packaging for serving guidelines, and look for high-quality products that are lab-tested for safety and potency. If you've tried other sleep gummies or plain full spectrum CBD gummies that weren't helping your sleep, the sedative effects of a CBN gummy with a touch of melatonin might be what you need. Give them a try and visit our shop to try our CBN Gummies For Sleep — you'll thank us when you wake up in the morning!